SourceAudio's very own Dan Korobkin joined Noel Webb on ExpandMusic with Noel Webb to talk SourceAudio and Music Licensing.  Listen to Dan and Noel as they take a deep dive into the evolution of the music licensing business and how SourceAudio is stepping up to meet the growing needs of music buyers and sellers.
Be sure to listen to the show at ExpandMusic with Noel Webb .  For more information on SourceAudio, please visit us at www.sourceaudio.com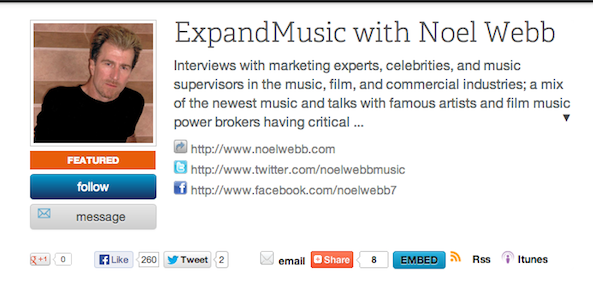 A Great New Resource For You and Your Clients
Ever wish you had a series of videos you could send to your clients to help them quickly familiarize themselves with your music hosting and distribution site? Well now you can! Jarrett put in a lot of extra work to knock out the first handful of feature-specific tutorial videos you can find on our new YouTube channel. From basic site features to the most advanced admin tool settings and configurations, your team members and clients can now watch and learn how to use the platform faster than ever before. We started out with the most commonly used features and we'll continue to add more and more over time. Check out the following video tutorials right now:
Navigating your site - basic layout and organization
Keyword search and filtering
SonicSearch: find music with music
Creating and retrieving saved searches
Downloading files
Creating and organizing playlists
Creating and exporting cue sheets
Setting up and using Music Access Profiles
Again, this is just our first pass at what will eventually be a deep library of feature-specific tutorials so if you don't see a specific tutorial today that you think should be there, chances are high that it's coming very soon.
So go for it, check out the new YouTube channel right here!
http://www.youtube.com/user/sourceaudiocloud/videos