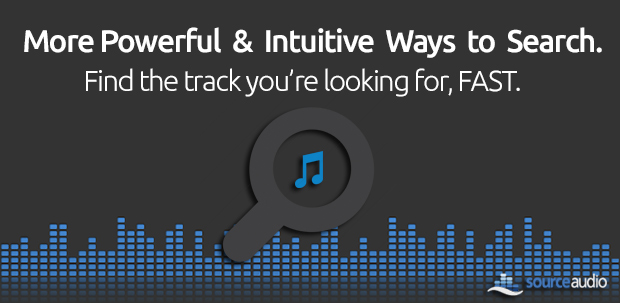 Try These New Techniques to Find the Music You're Looking For Faster
Search is absolutely core to all of our businesses. With that in mind we are always working on innovating and making our platform more powerful than ever. We have just launched a handful of new search capabilities that you can begin using immediately. This gives everyone 7 different, powerful, and easy-to-use search methods to use when finding tracks on your SourceAudio site. Here they are:
1. "AND" searches (default): By default when you type in more than 1 term you're running an "AND" search. The terms are reductive and you'll refine your results as you add more terms.
2. "OR" searches: To run an "OR" search, simply include "OR" between multiple terms like this: "upbeat OR happy".
3. Negative searches: To exclude a specific term from your search results set include a hyphen ("-")  before that term in your query. For example, if you want to look for something upbeat without drums, you'd type this: "upbeat -drums".
4. Active browsing: We know metadata keywords are often subjective. Something you consistently call "upbeat" could be referred to consistently as "happy" by another person. To solve for this we created this new active browsing feature. Now when you scan any search results page you'll notice that all of the terms are clickable. As you click the terms you'd like to explore further they instantly appear in your search field above, slowly building a new "AND" query as you add more terms. Give this new one a shot, it's great!
5. Column/field searches: This one is great. To search within a single column simply type the column/field name followed by a colon and the term you're looking for. For example if you want to find all tracks that have a mood of "upbeat", you would type this into your search field: "mood: upbeat". This works for all fields too so if you need to quickly find a specific track or artist it works great for that as well.
6. Phrase searching: If you need to find a specific phrase or string of keywords in a particular order just include quotes around your search terms. For example, if I'm looking for the song "Happy Birthday" I could search for "happy birthday to you" and you'll only see results that have that exact string of keywords in their metadata.
7. Sonic Search: This one isn't new but it's worth mentioning as part of an overall search update. Find music with music with our proprietary signal processing search technology. Whether you need to find an exact match on a file or you're looking for something that sounds similar to a song you have in mind, Sonic Search can handle it all for you.
We know you all have your go-to methods for searching and hopefully these new enhancements will give you more tools to help you and your clients find what you're looking for faster!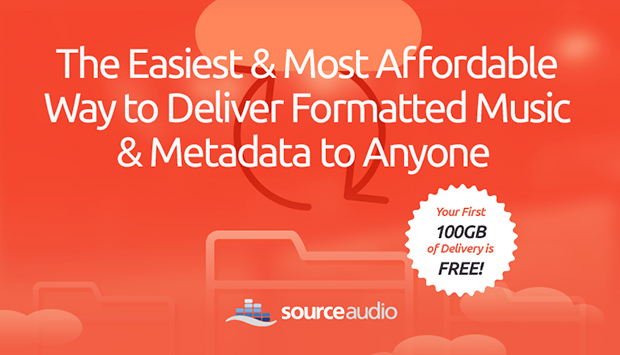 » File Delivery Just Got Easier & More Affordable Than Ever
SourceAudio now supports 3rd party file delivery. It's DIY, incredibly flexible, easy to use, and more affordable than any other file delivery solution out there. Here are a few of the highlights on this new feature that's available now within every single SourceAudio music hosting site:
• Unlimited Delivery Partners Supported for Free
• Deliver Files and Metadata via FTP, SFTP or Zip File Download - Whatever Method Your Partners Prefer
• DIY Tools Allow You to Set Up and Edit Delivery Specs on Your Own
• Full Technical Support & Setup Assistance Available If Needed
• Pay Only $249/Terabyte for the Files You Transfer -- That's a TON of Transfer!
• Utilize Preset Schemes for Faster DIY Setups

» Your First 100GB of Delivery is FREE!
Paying for file delivery is simple: You buy your file transfer by the terabyte. Need to send your entire catalog to a new sub-publisher? Need to send your latest releases to a long-time client? Perfect. Just visit the new File Delivery section of your Admin Panel, provide us with your credit card details, purchase your first terabyte of transfer, and send your files. We'll let you know how much transfer you have left until you need to purchase your next terabyte. Your terabytes never expire and there's no other hidden or recurring fees. Use only what you need and hang onto your transfer balance as long as you want!
» Need Help Getting Started?
We encourage you to send a couple test deliveries, for free. Run through the steps and send a handful of albums to yourself. Once you've gone through the flow and have saved a few new delivery partner profiles, let us know what you think! If you have any questions or need help getting started with your first partner delivery setup, shoot us an email and we'll get you started.
You'll also notice that there are several preset delivery schemas already built into your new File Delivery tool. These are schemas that are widely used so we set them up for you in advance so that you can quickly send files to any partners utilizing those systems. Feel free to test out deliveries to partners using those systems as well.
We hope you tap into the time and cost-saving benefits of our new file delivery feature...enjoy!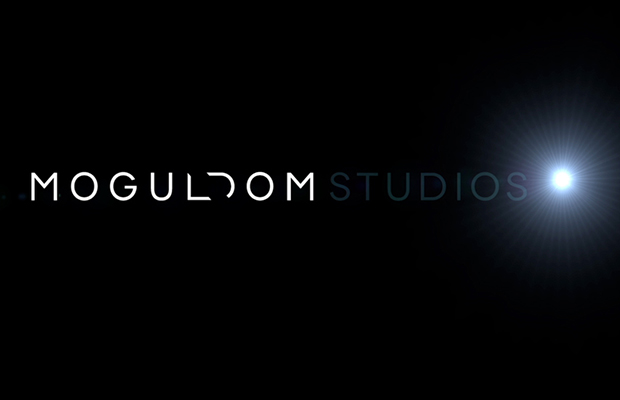 » Make Your Music Available to Moguldom Studios
We are happy to announce our newest music licensing program available to anyone hosting music on SourceAudio: Moguldom Studios. To review the program details and participation agreement that includes all of the specific term, usage, and payout information for this new licensing program please visit the Programs and Opportunities section of your SourceAudio site. Look for the new Moguldom Studios image and click the "Preview & Apply" button to learn more.
» Program Details & How It Works
Moguldom Studios is looking to search across multiple catalogs and once while being able to clear the cues they find quickly. By opting into this program from your SourceAudio site you are eligible to have your music and metadata instantly synced over to Moguldom's own SourceAudio site, showing up instantly in their music searches. This is a needle-drop, fixed rate program and you retain 100% of your writer & publisher shares.
For more details on Moguldom Studios go here ».
If this program sounds interesting to you we encourage you to enroll right away as the team at Moguldom has an immediate need to start licensing music!