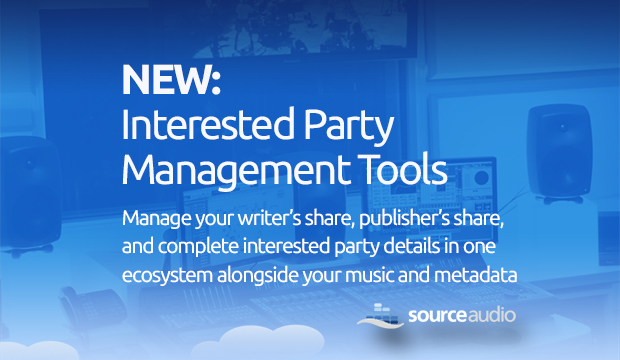 » Interested Parties - Managing Your Interested Party Metadata for Easier Catalog Management, Royalty Accounting and Administration
We have embarked upon the next evolution of the SourceAudio platform that will help you manage your creative rights administration business far more easily, affordably and effectively -- with much less time and money spent duplicating efforts across multiple systems -- than ever before. We know you pour a great amount of effort and detail into maintaining multiple systems to ensure your royalties and splits are tracked & managed so that your PRO payments can be distributed and reported as quickly and efficiently as possible. Our next goal as a platform is to make your catalog management and administration business easier on you, more efficient, and more powerful than it's ever been before.
» The New Interested Parties Tool
Up to this point on SourceAudio you've enjoyed total flexibility in displaying/managing your creative rights splits and metadata. For example, many of you use one field called "Publisher" and you include all splits within that field that probably look something like this: "Andrew Harding (ASCAP) 50% / Dan Korobkin (ASCAP) 50%". This data format helpful for quick reference and for looking up splits but it could be much more powerful by being organized in a way that allows it to better interact with external reports and systems (think cue sheet tools, file delivery, and PRO statements).
The new Interested Party Management Tool allows you to create and define each person/party on your site one time, and quickly assign them to your songs/recordings one-at-a-time or in large batches all at once. With this new tool you can create Writers & Publishers and store the following data for each of these types of parties:
First Name
Last Name
Affiliation
Affiliation ID
IPI #
Company
Email
Phone
Address
SSN/EIN
Notes (think CRM here, we're extending this tool for leads, customers etc. in the future)
Using the New Admin Panel Tool
To create and edit individual Interested Parties, visit your new "Interested Parties Tool" located in your main Admin Panel menu on the left. Create a new party on the right and manage/edit existing parties on the left. Like your metadata, we also support batch spreadsheet imports of Interested Parties now too! To use the new Interested Party import tool, first export a sample spreadsheet of your existing Interested Parties at the bottom of this new tool to see the format and fields we recommend you use. It's still very flexible and you can add as many parties as you'd like to add all at once.
Editing Individual Tracks Inline
Interested Parties can also be added and edited on individual track detail pages. To edit your Publisher or Writer splits on a track detail page go into Secure/Edit mode just like you would to edit any field. Then, click the edit icon next to one of the new 'Standard' fields called "Publishers" or "Writers". Once you're editing your Writers or Publishers inline you'll see a new interaction appear that allows you to assign an existing Interested Party, create a new one, and assign the appropriate % splits for each party. See this screenshot below for a quick look at how it works.
» We Made the Transition to this New Format Nice and Easy On You
Many of you had your Writers splits in your Composer field or in a custom field called "Writers". For Publishing splits, many of you had this data in your "Publisher" field or another custom field that you created. We retained all of this metadata 100% for you in your existing fields but we also ran some scripts to parse out Last Names, First Names, and related splits for the writers and publishers you had in your metadata (including PRO affiliations etc. when available) and placed them nicely into your new Writers and Publishers fields. For those of you who had metadata to move to these new fields you will see that you now have many Interested Parties already created in your new Interested Parties tool. You'll also see your new "Writers" and "Publishers" fields now contain the relevant data you previously had available in its legacy format on your site. We didn't remove anything from your site - if you had data in your Composer, Publisher (renamed to "Publishing" now), or a custom field that contained this data it's still there. Feel free to delete, keep or hide it - it's totally your call!
One important note: Because the previous versions of Writer and Publisher share data varied in format from site to site, we did the best we could to make sure it was parsed and put into the right place in the new Interested Parties fields. So, we hid these new fields for you so that you can have a look to see how the parsing turned out on your site. If you need to make any edits or do any clean up just go to your Interested Parties tool in the Admin Panel and edit each one right there. Save them once and they update site-wide. When you're ready to display these new fields (or if you want to display them at all) just un-hide them in your fields tool in the Admin Panel where you control the visibility of every metadata field on your site.
» This is Part 1 of Our Catalog Management & Administration Tools -- What's Next?
These new Interested Parties capabilities set the stage for the next phase of our new suite of catalog management and royalty administration tools coming very soon. Here's what you can expect to see next as we continue making progress on this empowering and time and money-saving suite of tools for you!
Works administration and management tools
Contract administration and management tools
License administration and management tools
PRO statement import tools for fast accounting administration and reporting
Full CRM capabilities with notes, tasks, reminders and more
More to come very soon...onward and upward!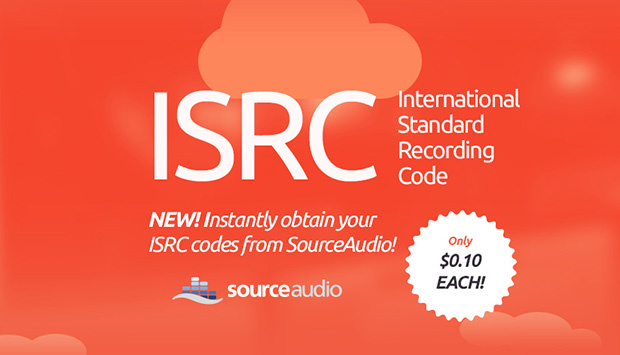 What is an ISRC and why do I need them?
The International Standard Recording Code (ISRC) is the international identification system for sound recordings. Each ISRC is a unique and permanent identifier for a specific recording which can be permanently encoded into a product as its digital fingerprint. The ISRC provides the means to automatically identify recordings for royalty payments and, in many territories, is increasingly becoming a tool in the fight against piracy. By identifying all sound and music video recordings that are released, regardless of the format that they are released in, the ISRC enables the tracking and tracing of these recordings through the music value chain. DSPs like Spotify, iTunes, Pandora, Amazon and many more all require an ISRC for every recording submitted to their platform. ISRCs are also becoming increasingly requested by production and media companies as a standard way to accurately track the usage and performance of recordings in their productions.
How do I buy and assign ISRCs via SourceAudio?
Anyone with an active site on the SourceAudio platform can instantly buy blocks of ISRCs from within their Admin Panel. Just go to Admin Panel > Add Ons & Tools > ISRCs to get started. ISRCs are a "standard" field on the SourceAudio platform so when you're on the new ISRC tab, we will display for you the total number of tracks you have on your site + the total number of ISRCs you already have assigned to your recordings. This will help you determine exactly how many ISRCs you'll need to buy if you want to make sure every recording on your site has this unique and standardized identifier.
To proceed with purchasing and downloading your ISRCs, enter the number of codes you wish to buy in the "Purchase" field. Click the "Checkout" button, complete the payment information section, and you're finished. Your ISRCs will be instantly downloaded in a CSV and a copy of the spreadsheet containing your ISRCs will also be emailed to you.
To assign your new ISRCs to your tracks, use your metadata spreadsheet export tool to grab a full dump of your current metadata on your site. Then, copy and paste your new ISRCs into this main metadata spreadsheet, associating each one with a track on your site (if you already have an ISRC field just paste them in there; if you don't have an ISRC field just simply create a new column called "ISRC" and drop them into this new field). How you choose to assign the numbers is totally up to you; you can put them all in sequential order or you can make it random -- there are no rules when it comes to associating new ISRCs to recordings that don't already have one. When you're done pasting your ISRCs into your main metadata spreadsheet save the CSV, upload it via your metadata spreadsheet import tool, and you're done!
One quick rule when it comes to assigning ISRCs: If you already have an ISRC for a track/recording, don't change it. Hang onto it. Each track should retain its original ISRC forever.
How much do ISRCs cost?
If you buy ISRCs direct from the US ISRC Agency you'll pay $80 up front + $150 for every 1,000 ISRCs (or $0.15 each). Other online services out there charge as much as $1 per ISRC. With SourceAudio you pay $0 up front and each ISRC is just $0.10 a piece. We ask that the minimum transaction be at least $10, due to our credit card processing fees on micro-transactions, but you can hang onto any unused ISRCs -- because they're yours -- and assign them to tracks at a later time.
Do I own my ISRCs forever?
Yes. We have obtained a giant block of ISRCs from the US ISRC Agency and can officially administer the codes but once you buy your codes and associate them to your track(s), your ISRCs will never need to be updated or changed no matter where you have them hosted.
ISRCs are a great way to identify your recordings on any platform or medium so if you don't have yours already, go get your ISRCs today!