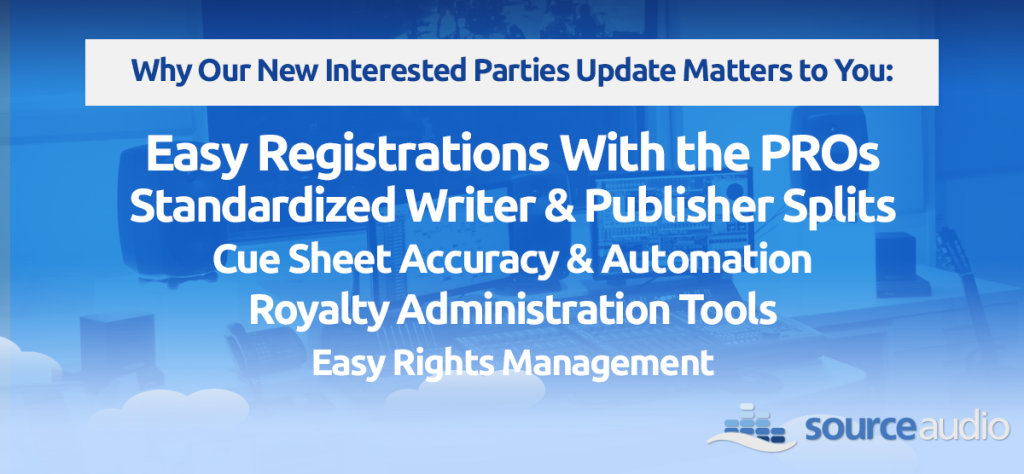 5 Important Reasons Why We are Sunsetting the Existing Composer & Publishing Fields on SourceAudio
We are sunsetting the current "Composer" and "Publishing" fields on all SourceAudio sites in early October. After the 31st your metadata from these old fields will reside in new fields that contain your Interested Parties -- the Writers & Publishers along with their splits -- for any given track/song/recording on your site. This metadata is still searchable, browsable, and visible to all users as it is today; we're adapting it to be more closely aligned with the PRO standard for Interested Parties that will help you save time, cut down on discrepancies, ensure that your data is displayed more consistently & accurately on cue sheets, and help you get paid. 
This migration will require a bit of effort on your part but with some simple spreadsheet work the exercise should be painless. Also, we're here to help. If you don't see yourself getting to this migration task by early October then just shoot Jarrett an email and we can work on one of a couple of ways to help you out depending on the size and state of your existing Composer and Publishing metadata.
» What Are Interested Parties?
For those of you who don't use this terminology regularly, Interested Parties are the Writers and Publishers who own all or a % of the rights on a registered piece of music. Interested Parties consist of the "Writer's Share" and the "Publisher's Share".  The "Writer's Share" can be allocated to one or more parties; the "Publisher's Share" can also be allocated to one or more parties. So, 100% of the Writer's Share and 100% of the Publisher's is defined by a piece of music's Interested Parties -- their names, PRO affiliations, CAE/IPI numbers, and the % of the rights they own.
The New Interested Party Format:
Metadata for Writers and Publishers under this new format -- again, moving toward the PRO standard -- on any given piece of music is stored and displayed in the following separate fields:
Writer or Publisher Name
PRO Affiliation
PRO ID CAE/IPI#
Writer or Publisher Share
Download the spreadsheet template below. Please note: To add more Writers or Publishers than what you see in the template, just add the additional columns as needed ("Writer 4 First Name", "Writer 4 Last Name", etc....).
Why Do I Need to Migrate My Writers and Publishers to This New Format?
By standardizing these fields on the platform you will be set up to become much more efficient, you will save time on an ongoing basis, and you'll be better prepared to collect on performances. Here are 5 great reasons why we are making this migration a priority now:
1. We are working with the PROs to make new Work registrations simple and integrated into your SourceAudio site. Instead of uploading your music and metadata to SA and then replicating some of that effort to register your Works with the PROs, we're going to make new registrations via SourceAudio very simple and to do so, we need the properly formatted Interested Party metadata.
2. We have seen a significant uptick in cue sheet creation and delivery on SourceAudio. We have also seen some less-than-perfect Interested Party data on these cue sheets, that comes directly from the existing Composer & Publishing fields on your site, and we want to be sure your cues are getting reported with 100% accuracy all the time.
3. The next big feature set we're working on is related to Catalog Management and Royalty Administration. Imagine a future where you can import your royalty statements and based on the Work IDs, Writers, Publishers and splits, your payouts get instantly calculated for you based on the Interested Party metadata you have stored on your site.
4. SourceAudio Detect sets the stage to automate cue sheet creation based off of the cues detected in a program and the corresponding Interested Party info we have stored on your site. If your Interested Party metadata is organized in these new standardized fields you're assured to get those detected cues represented accurately on all automatically generated cue sheets from SourceAudio.
5. We currently support two competing Interested Parties standards which clearly is problematic in the inconsistencies and lack of portability that they create. The existing "Composer" and "Publishing" fields allow you to include any text you wish and up until now this is where many sites have stored their detailed Writer & Publisher splits, all combined together into one field. By adapting to the "Writers" and "Publishers" PRO standard we eliminate all of these problems.
» How Do I Get Started?
To help you make this migration as easy as possible here are a few tips plus an offer to be of assistance to you if needed:
Option 1. Download the Interested Parties spreadsheet template here. You can work with this new template to adapt and migrate your existing Composer and Publishing fields to this new format.
Option 2. Email Jarrett and we can run an automated script that does a pretty good job of parsing and migrating your existing data automatically. If your current Composer field looks something like this -- "Andrew Harding, ASCAP (50%); Dan Korobkin, BMI (50%)" -- then chances are this automated script will work pretty well for you.
Stay tuned for upcoming feature release announcements that'll leverage the new Interested Parties metadata format in the future -- there's a ton of great stuff coming!