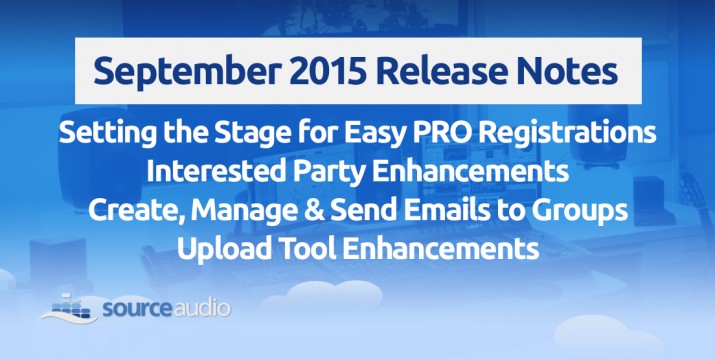 September updates at a glance: Interested Parties are the Writers and Publishers that have an ownership or royalty collection interest in any piece of music.  Our Interested Parties tool, located in your Admin Panel, has been significantly redesigned to help you comply with ASCAP, BMI and SESAC work registration requirements and to better manage your Writer and Publisher relationships. Give these new features a whirl in the "Interested Parties" section of your Admin Panel!
PRO Compliance Highlights
The "Split" field has been renamed to "Ownership Share". This is where you will now indicate copyright splits for each Writer and Original Publisher.
Publishers can be assigned Collection Shares for different territories. This is where you will now indicate collection percentages for Sub-Publishers and Administrators in their respective territories.
You can assign Roles to Publishers and Writers. Publisher Roles are either Original Publisher, Sub-Publisher, or Administrator; Writer Roles are either Composer, Author, Arranger, or Adaptor.
Writers can be linked to their corresponding Original Publishers for each track.
PRO Affiliations are now selected from a drop-down master list instead of just being a text box.
Writer & Publisher Relationship Management
You can add notes and files (ie. docs, agreements, contracts) to people and companies so you can keep all of your detailed info on your writers and publishers in one easy-to-access location. Upload files and docs to any Writer/Publisher by dragging and dropping it onto their page within the Interested Parties tool.
There are new fields for Interested Parties so you can add more information to each person/company. These include job title, contact info fields, and social media links. You can also add custom fields to your people/companies to track whatever we didn't think of.
You can add multiple addresses, emails, and phone numbers per person/company.
You can add people & companies to "groups", which can be emailed en masse in the email tool by typing the group name.
If a person/company has multiple email addresses, only the one that's starred will receive the email. We call this the "preferred" email. If the person/company only has one email address, that one is automatically preferred.
Importing and exporting Interested Parties supports all the new fields we added to people/companies.
On the track details page, you can associate people & companies with tracks by editing the Publishers and Writers fields. The interface to do so has been significantly improved. Note that only companies can be publishers and only individuals can be writers.
All of these new associations are exported and can be imported using the regular import/export tools. These spreadsheets can get big but it's all critical data that needs to be stored and reported so that all Interested Parties get paid on their performances!