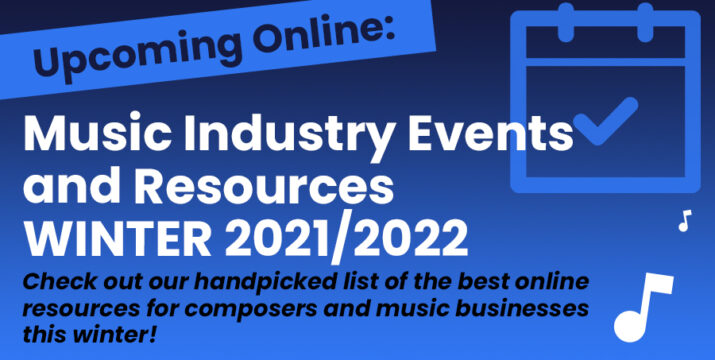 Upcoming Online Music Industry Events and Resources – Winter 2021/2022
Check out our handpicked list of the best online resources for composers and music businesses this winter!
IMSTA FESTA - December 12, 2021
IMSTA FESTA is a celebration of music technology that brings manufacturers face to face with their product users. These consumer shows have something for all musicians, songwriters, producers, audio engineers, music students and educators in the industry. From industry panels and master classes to software exhibits and song reviews, IMSTA FESTA is a free online event for everyone involved in making music.
Learn more and register here: https://www.imsta.org/2021_germany.php
NY:LON Connect 2022 - January 18-21, 2022
NY:LON Connect gathers top decision makers from the international music industry to discuss and debate key industry issues and set the agenda for the coming year. This marquee global music business summit features a high-level program that explores the future of music, with keynotes and presentations from industry power players focused on driving positive change in the business. In addition, the event offers focused networking opportunities which will build relationships that will impact the international ecosystem for years to come.
Register here: https://nylonconnect.com/
NAMM Believe in Music – January 20-21, 2022
The North American Music Merchant Show's Believe in Music event offers informational resources for music professionals. Previous years itineraries have included guides for music educators, production tips for pivoting to an online product, audio engineering seminars, and celebrations of culture. View this year's schedule at a glance at the link below which includes on-demand content, global livestreams, and more educational material.
Opt in to be notified when registration opens: https://attend.believeinmusic.tv/
Jason Blume Songwriting Workshop, presented by BMI – February 15, 2022
This February, Jason Blume will provide a constructive critique of one song from each workshop participant and will share a melody or lyric technique. Selected songs will be forwarded to up to 10 publishers (depending on genre). During the more than 25 years that Jason has been teaching this workshop, attendees have had #1 singles, signed staff-writing deals, and placed songs with artists, publishers, and in TV and films.
Learn more and register here: https://www.bmi.com/events/entry/585498