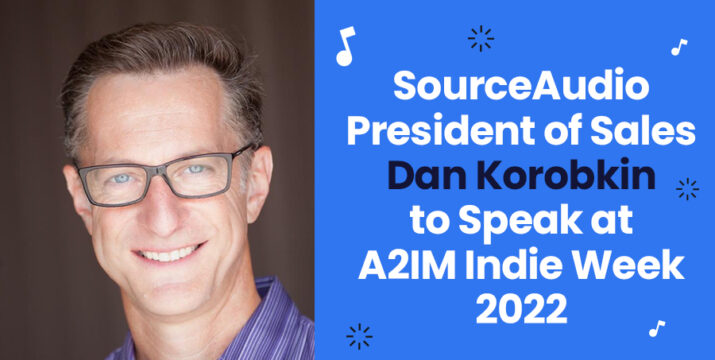 SourceAudio President of Sales Dan Korobkin to Speak at A2IM Indie Week 2022
Sync industry veteran Dan Korobkin will speak on a panel titled "How Tech is Revolutionizing Sync Licensing" at the upcoming event.
We're thrilled to announce that Dan will be sharing his insights on tech and sync this month at A2IM Indie Week in New York City. The panel will also feature Änna Marsh from Big Sync Music and will be moderated by Benjamin Verdoes from SyncFloor.
Watch the full panel, "How Tech is Revolutionizing Sync Licensing", and the rest of the week's streaming events from anywhere with purchase of "online-only admission" at a2im.org/events/indieweek. Indie Week 2022 will also include panels on the future of indie music distribution, simplifying digital royalties, web3, and much more!

About A2IM and Indie Week
The American Association of Independent Music (A2IM) is a 501(c)(6) not-for-profit trade organization that serves as a central voice for a diverse community of over 600 independently owned record labels operating within the United States. A2IM represents their interests in the marketplace, in the media, on Capitol Hill, and as part of the global music community.
A2IM Indie Week 2022 is a four-day international conference and networking event aimed at maximizing the global impact of independent music. Featuring keynotes, panels, exclusive networking sessions, and more, Indie Week has historically drawn an attendance of over 1200 participants from over 30 countries.
About Dan Korobkin
Dan Korobkin serves as a President of Sales for SourceAudio and is also the founder and owner of CueMx LLC, a post-production music supervision company based in Los Angeles. Prior to CueMx, Dan was the VP of Post Production at Creative Domain (currently Trailer Park), serving as Chief Production Engineer, Director of Operations, and Music Supervisor.

Looking for more online events for music industry professionals?
Check out our handpicked list of the best online resources for composers and music businesses in the coming months!