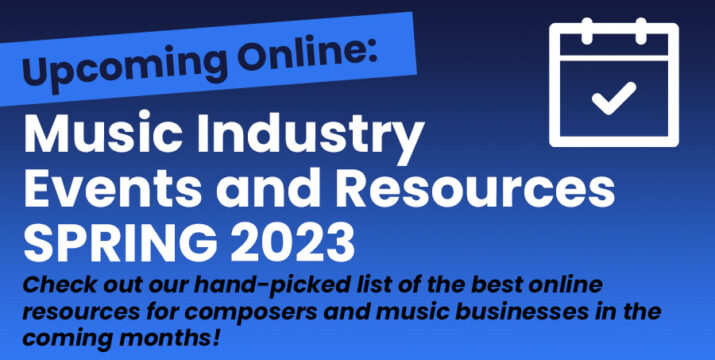 Upcoming Online Music Industry Events and Resources – Spring 2023
Check out our hand-picked list of the best online resources for composers and music businesses in the coming months!
The Future of Creator Tools is Now – March 1

All kinds of creators are exploring music-making in wild new ways—making music with a phone, in mixed realities, or with the help of AI, and distributing their work with the click of a button. The rapidly evolving creator economy is transforming A&R discoveries, fan engagement, and the music economy as a whole. The floodgates are open! Join Music Techtonic's live event to discuss the exciting, ongoing developments in the booming creator economy!
Register at musictectonics.com/onlineevents
SXSW ONLINE – March 10-17
The SXSW Online Pass is your key to experiencing SXSW studio interviews and keynotes with industry leaders across music, film, and tech. SXSW ONLINE also provides access to the SXSW XR Experience World in VRChat, hundreds of audio session recordings across all conference tracks (Interactive, Film & TV, and Music), and SXSW's live channel running throughout the event featuring 30+ keynotes and featured sessions.
Register at cart.sxsw.com
Music Ally NEXT – April 25
Presented in association with JKBX and supported by Boomy, Last.fm, and PRS for Music, Musc Ally's new annual event, NEXT, looks at what's next in technology and music, highlighting the most relevant trends, technologies, and companies helping to shape the future music business. This one-day event can be attended virtually or in person in London and will provide practical insight to industry professionals as well as the opportunity to learn from and connect with a wide range of relevant companies and industry experts.
Register at musically.com
ASCAP Experience – May 30-June 1
The ASCAP Experience brands itself as "the ultimate music creator community and event series." The three-day virtual event program features in-depth industry panels and workshops for songwriters, composers, and music industry professionals. More program details coming soon!
Register at ascapexperience.com
Thursday, 23 February 2023