Unleash the power of AI
Our best-in-class feature set, reliability, and consistent innovation make us the music CMS of choice for the world's biggest music companies, media groups, and broadcast/streaming networks. We are the launchpad for your music business. GET STARTED
WITH SOURCEAUDIO FOR:
Music Catalogs, Labels, & Publishers
Manage your entire catalog on our
best-in-class platform
Total control over settings, style,
and user access

Unlock all features & opportunities
Music Supervisors & Content Creators
Tap into your own perfectly
curated selection of catalogs and leverage our best-in-class AI
search tools + direct connectivity
to the music publishers.
Broadcast &
Streaming Networks
Enhance your creative, work more efficiently, find music faster, and benefit from a full suite of tools & features built specifically for 75 top broadcast networks and counting.
TRUSTED BY OUR FRIENDS AT: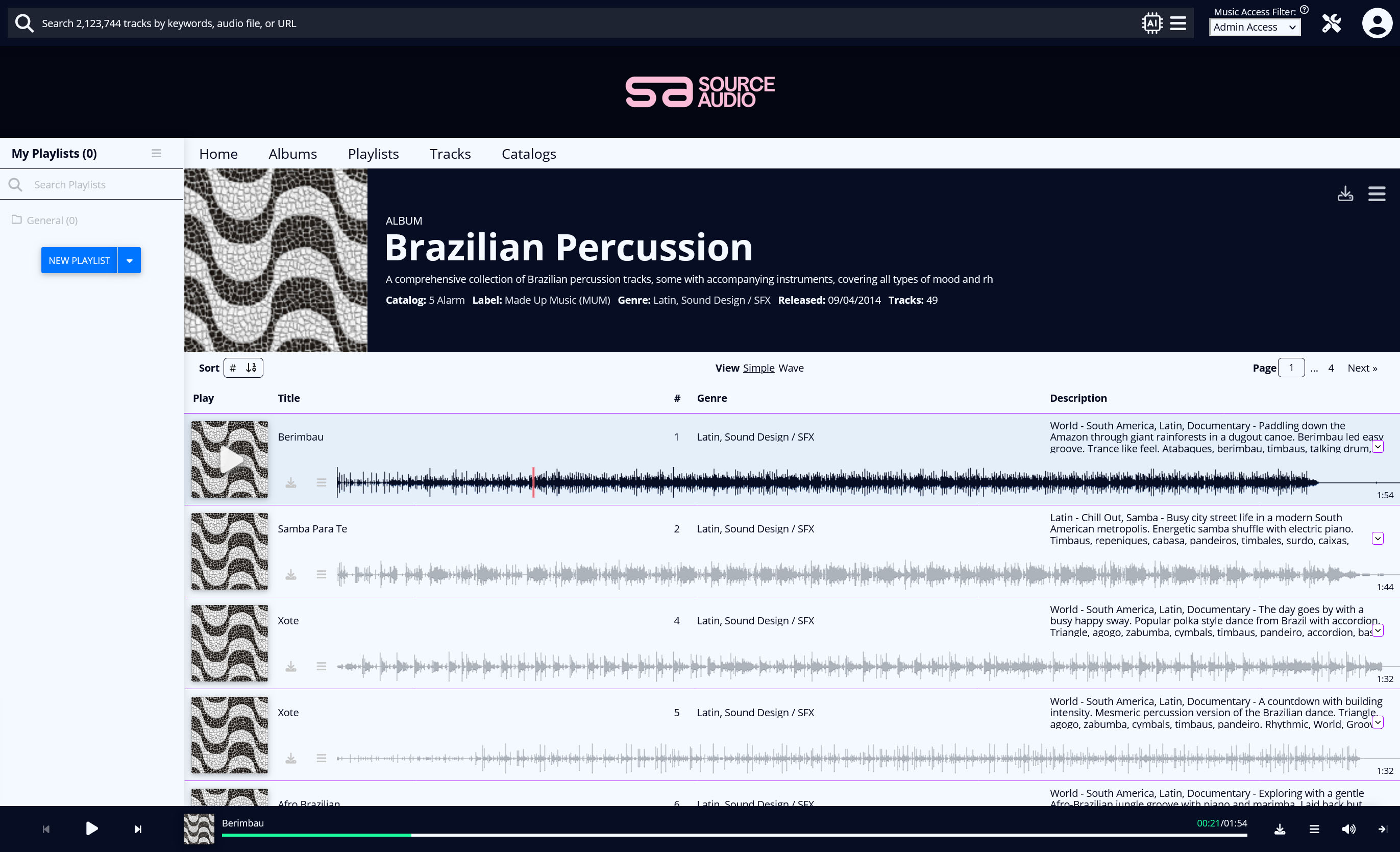 All This and More in One
Easy-to-Use Interface

The Power of AI
Natural Language Search

Generate rich, descriptive metadata for your catalog

Find similar music with audio files or links

THE CMS BUILT FOR THE INDUSTRY
14+ years of development & innovation

Super-serves catalogs, broadcasters, and end users alike

Integrated access to downstream essentials & opportunities

Sales & Distribution
Direct DSP distribution

YouTube Content ID

Synch licensing opportunities

Connect directly with broadcasters, partners, & clients

Royalty & Income Support
TV Monitoring

Radio Monitoring

YouTube

International publishing admin

Monitoring & Reporting
Television

Radio

YouTube

International
Driven by Data
Average # of music searches per week by industry professionals
Broadcast/Streaming Networks rely on our platform daily, and counting
TV & Radio Stations Actively monitored, and counting
Average # of new Projects/Productions created weekly

SourceAudio is a must-have production tool for every music production and music publishing company. The software is easy to navigate, customer support is fantastic. Most importantly, our end-user clients have told us how this helps expedite music searches. We're big fans!
– Rob Aster, RRHOT

We have found SourceAudio to be a valuable partner. In addition to the benefit of hosting our library, they have created several income-producing opportunities for our catalog. We have also utilized their technology to track down and collect on music performances that were never properly licensed.
– Bryan E. Miller, Sensory Overload Music

SourceAudio has been a game-changer for Tonal Chaos Trailers! We utilize many of their features daily, and we find it to be an irreplaceable tool. Creating and sharing playlists, monitoring search data, and the ease of distribution make SourceAudio our go-to platform for all things music!
– Marc Aaron Jacobs, Tonal Chaos

SourceAudio came highly recommended to us from trusted sources. We were impressed with what we saw from day one. The platform's embedded metadata handling is the best I've seen in this space. This helps clients and prospects find our music faster. We want to be taken seriously in this highly competitive industry and SourceAudio gives us that credibility. Great tech. Great team.
– Randall Shattuck, Supernatural Sounds

In my experience, SourceAudio is the only platform out there that integrates the full capabilities of running your own music library with e-commerce without the extensive need of hiring a web designer at all. It's like a Swiss Army knife when it comes to hosting either your own music or an entire label. It has all of the features you need, and you can be up and running in a matter of hours, love it!
– Rafael Krux, Dual Horns Studio LTD

SourceAudio is the production music standard for organization and delivery of cues. We've been using SourceAudio for years because its playlist creation and delivery functionality is crucial to our business.
– Abby North, North Music Group