The Only Music
CMS You Need
We are proud to be the solution of choice for over 1,000 music catalogs, publishers, content producers, broadcasters, and streaming networks.
Try it FREE for your first month! Plans starting at just
$29/month!
You're in good company (and good hands) at SourceAudio.
Broadcast/Streaming Networks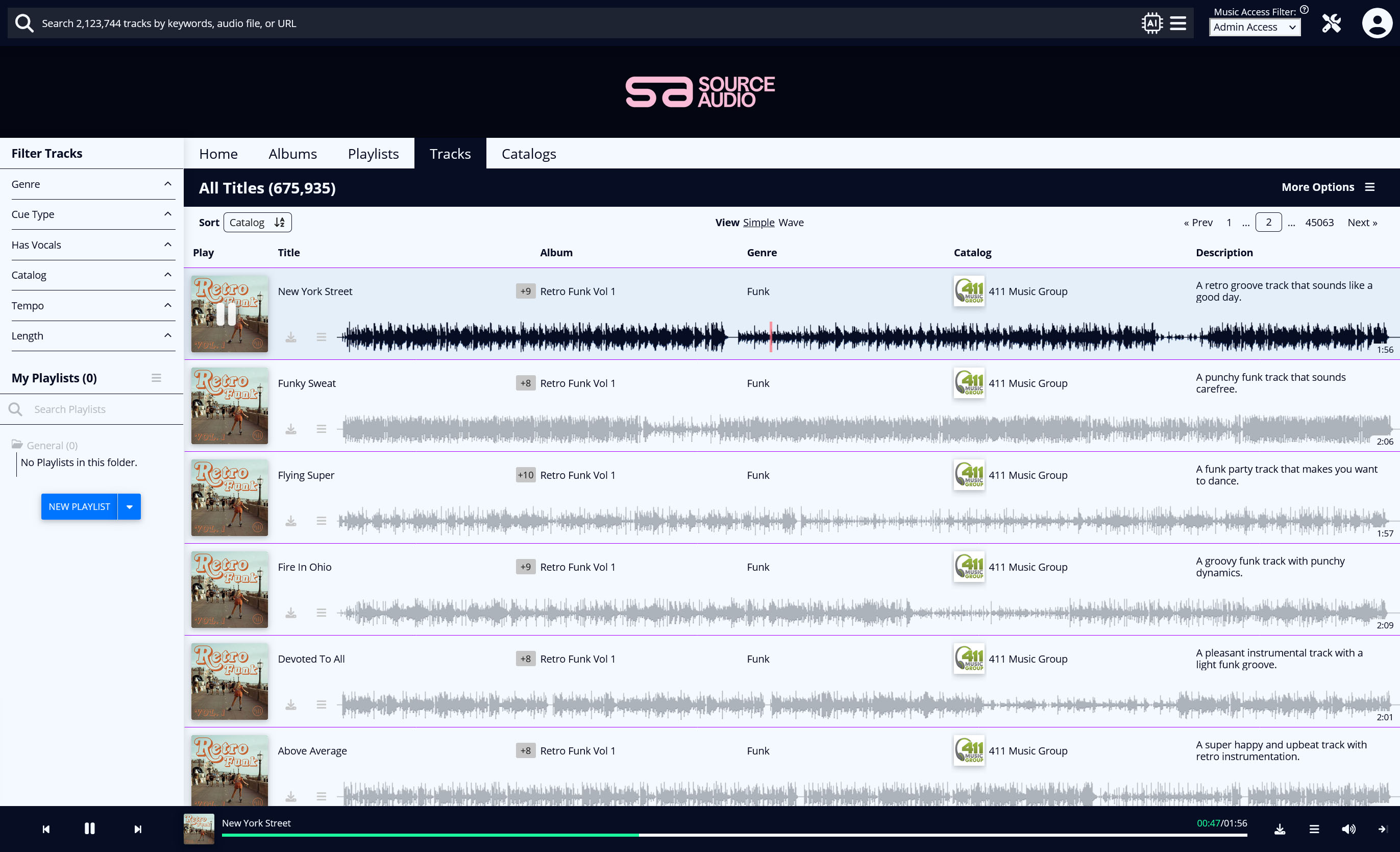 Your own branded interface,
ready for takeoff

Access Control
You control who has access and what they can see.

Customization
Creative appearance editing and custom URLs for staying fully on brand.

API
API access for 3rd party integrations like Corporate/Enterprise systems and more.

Mobile Optimized
Mobile optimized for on-the-go access for your teams and your clients.
Sync your music and metadata with
your clients & partners so updates
happen everywhere, instantly.

· When you update your catalogs on SourceAudio, it updates everywhere instantly
· Format and deliver your files to anyone, on any system they use (even easier if they're on SourceAudio too!)
· Custom-formatted CSVs, DDEX, you name it... we have you covered
Add e-Commerce for micro-licensing

+ DIY Setup
Let your customers add songs to their cart, check out, and receive their files and corresponding license doc, in real-time.

+ Multiple
Licensing Models
License single tracks, more than one track at a time, and offer subscription packages.

+ Custom
Rate Cards
Define your prices and usage parameters down to the track level.

+ Total Flexibility
Set up price tiers for different types of tracks or labels on your site.

+ Subscriptions
Monthly recurring download packages or pre-paid credits with or without rollovers.

+ Coupon Codes
Offer download credits, and % discounts on subscriptions.
Track music on live TV & Radio with SourceAudio Detect
Accurately identify your licensed music in Programs, Commercials, Promos, & Trailers on live TV & Radio
Cutting-edge inaudible watermarking technology makes positive detections in short durations and muddy mixes totally possible
Quickly submit PRO claims and make more money with integrated Gracenote and Competitrack data

Best-in-class Adobe Premiere Extension
Put your music right at the fingertips of editors &
producers without having to switch apps.
Stay in-app
Access every aspect of your music site without ever leaving the Adobe interface
DRAG & DROP
Drag & drop from the SourceAudio cloud directly into your project
CUE SHEETS
Export complete cue sheets with the click of a button!
Simple, Straightforward Pricing
Tracks Hosted
$/Month
0 - 99
$29
100 - 499
$99
500 - 1,999
$149
2,000 - 3,999
$199
4,000 - 19,999
$299
20,000 - 29,999
$349
30,000 - 49,999
$399
50,000 - 99,999
$599
Over 100k
$599 + $150 for
every 25k tracks
Distribute your music and releases instantly to Spotify, Apple Music, Amazon and beyond with our integrated DSP distribution feature.