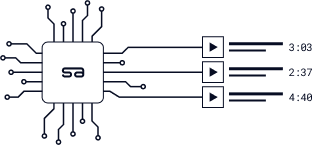 AI Playlist Generator
Unlock smarter playlists with AI
SourceAudio's AI Playlist Generator enhances curation, boosts retention, optimizes discovery, and stays on time & on trend for every user. This proprietary solution produces outsized results by leveraging the best audio similarity tech available anywhere, an ocean of exclusive descriptive metadata, and real-time trending & affinity data that is continuously being optimized by our AI engine.

For Playlist Curators
Reduce manual workload by at least 90%

Add variety, discovery, and fresh- ness to stale playlists

Leverage your entire library to its full potential

Drive ROI and KPI performance by programatically leveraging key metadata and other business terms

or inputs

Bring your dynamic playlists to life with smooth and creative transi- tions, making traditional playlists feel like a thing of the past

For Listeners
Enjoy perfectly sequenced, hyper-relevant playlists with elegantly designed transitions that bring life and artistry to every stream

Discover new artists and songs tailored perfectly to your tastes

Enjoy predictive playlists that pair your tastes with time, location, seasonality, and trends

Get local - Discover songs, artists, and styles trending in your city or region

With AI Playlisting You Get:
Best-in-class audio and metadata similarity/relationship analysis

The most comprehensive AI-generated metadata available anywhere, making prompting/searching for music in your library easier, faster, more accurate, and more engaging than ever before

Fully customizable, DMCA compliant feeds to match your app

Scalable solution across millions of users instantly

Ongoing model optimization for accuracy, freshness, staying on trend, and driving ROI
Playlist Examples & Possibilities
Location-Based
Get Local
Houston Hits - Songs from local Texas Artists - Nashville Country
Nashville Classics - Top country hits from Tennessee artists
Chicago House Classics - Top tracks from Chicago's house music scene
Miami Latin Beats - Uptempo reggaeton and salsa inspired by Miami
Seattle Grunge Throwbacks - 90s grunge anthems from Seattle bands
Context-Specific
Get Active
HIIT Workout - High energy tracks for intense interval training
Post-Workout Recovery - Calmer cooldown music
Yoga Flow - Meditative, peaceful songs for yoga sessions
Pump Up Jog - Upbeat pop and hip hop for runs
Gym Grind - Hard rock and EDM to power through strength routines
Trending Locally to Globally
Trending Now
Rising Stars - Songs from the most buzzworthy new artists
Going Viral - Tracks blowing up on TikTok and social media
Pop Phenoms - Top hits from pop's rising talents
Hip Hop Heat - Hottest tracks from rap's breakthrough acts
Country Crossovers - Country songs crossing over into the mainstream
Predictive & User-Specific
Your Songs, Your Way
You Will Love - Perfect predictive mixes based on your tastes + what's new
More Like This - Stay on your current vibe without a single miss
Your Mix - Predictive lean-back playlists based on time, location, and more
Your Weekend - Predictive playlists for your weekends, home or away
Your Favorites Remixed - Creative new versions of the user's top songs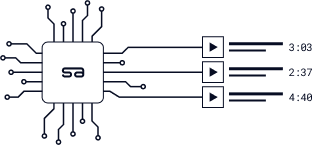 The result? Happier listeners, increased streaming hours, accelerated music discovery, and boosted KPI performance. Put the power of AI to work for your playlists and users.