What's New? Your SourceAudio Updates for March 2014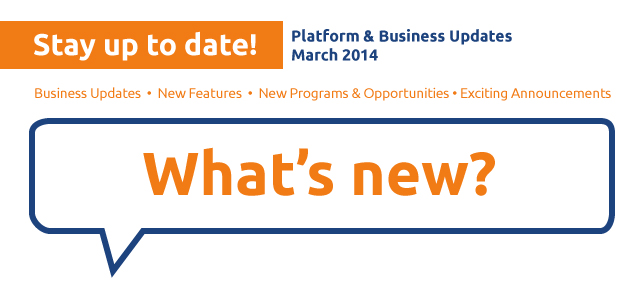 We're always working away on new features, programs and opportunities for all of our partners on the platform. We have a lot of great stuff to share with you this month so let's get right into it!
» Business Updates
Alpha Music Libraries has officially launched and we're excited to announce that we've already signed several radio station cluster blanket deals in large U.S. markets! Word is out that we've got the newest, freshest, and largest production music product for radio and stations are jumping on board. In addition to the clusters who have already signed, we've got a TON of demos out to stations across the country and we're excited to get them on board soon as well. All great news for each of you Alpha Music Libraries program participants!
Our new YouTube channel recently launched and we'll be adding more and more tutorial/walkthrough videos to it over time. Jarrett is knocking those out on a regular basis so feel free to point your clients and team members to this great video how-to resource anytime they would like a little instruction on how to best use the platform. You can find it anytime right here: https://www.youtube.com/user/sourceaudiocloud/feed
We will be at NAB all week long, and we're sharing a booth with 5 Alarm Music so if you're going to be at the show in Vegas during the first week of April, come by and see us!
» New Licensing & Distribution Opportunities
There are two new licensing & distribution opportunities we will be making available to you in the Programs & Opportunities section of your admin panels within the next few weeks. Stay tuned for full details on the two following licensing programs coming your way soon!
Radley Studios: Presented by Clutch Music Supervision, make your music available for license in television shows & specials created by Radley Studios.
CORE Media: Also presented by Clutch Music Supervision, make your music available for license in television shows & specials created by CORE Media.
» Product Enhancements & New Features
Here's what's new on the platform:
SOLR 4: We upgraded to the newest version of SOLR - the core search tech that powers many/most of the content and media sites we all use everyday - so searches and page loading is faster than ever.
New artist pages: We've enhanced the artist and composer pages to show larger images and to also display the artist/composer's bio whenever it's available in the metadata.
Send Grid: Send Grid is a great tool that helps system-sent emails to arrive in the recipient's inbox instead of their spam folder and it works great. SourceAudio now runs Send Grid to be sure your emails are always received and tests show that it's working incredibly well.
Multiple playlist tabs: Now when you publish playlists you can assign it to more than 1 playlist tab. Playlist tabs can be named and managed like any other tab and you can have as many as you'd like! Just publish a playlist and you'll see how to create your newest playlist tab.
Audio player enhancement: You'll notice that the player at the top of the site now always displays a small timeline scrubber, making it very easy for users to scrub through songs when they navigate away from the page they were on or when they are viewing their tracks in simple mode (sans waveform).
Stem/Alt-mix zip file downloads: Now you and your users have the options to download all related stems/alt mixes for a track when alt mixes are present and available. The download experience is the same as it was before, but you now have the option to download the single file or all related files at once.
» What else are we working on?
Lots of great stuff coming soon. Here are the highlights:
License ID: We're integrating a new technology created by our friends at Audiosocket called "License ID" that will allow copyright owners to more effectively manage and track their licensed audio files through a new watermarking and monitoring technology. Full details coming soon!
Shazam: In the near future anyone hosting music on SourceAudio will be able to instantly have their music assets fingerprinted and indexed by Shazam, making their music instantly identifiable by anyone who tags a piece of content containing their song(s). This opens up some really cool identification and post-engagement opportunities for music reps and brands associated to the content.
We hope you enjoyed this month's update. Stay tuned for another update next month and we look forward to seeing a lot of you in Vegas!