What's New This Month? April 2014 Updates Are Here!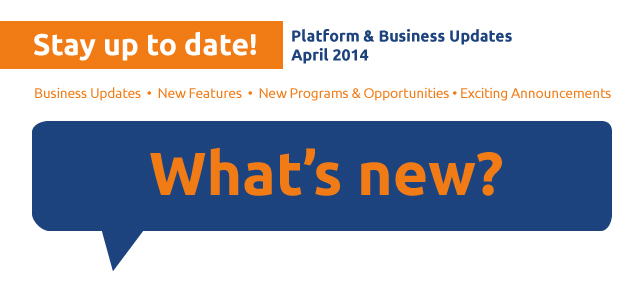 Lots of great stuff happened in April - let's get right into it!
» Business Updates
SourceAudio added 33 new sites to the platform in April, our fastest-growing month ever. Thank you to all of our clients both new and old -- we're just getting started!
We produced and distributed a new audio demo reel for Alpha Music Libraries. Whether you're part of Alpha or not, it's a cool listen so check it out by clicking the big blue play button right here when you have a minute. Eric Chase - a long time radio pro and a voice we've all heard on stations across the country for many years - performed the VO for us and we think he nailed it.
Alpha Music Libraries continues to add new stations and clusters and we're gearing up for a big second half of 2014!
» New Partners & Opportunities
We're working closely with two great companies to help copyright owners & representatives on our platform better monitor and collect on their assets. These new services benefit both rights holders and broadcasters so we encourage everyone to take a look.
License ID: The future of audio copyright protection is now. Learn how it works »
Royalty Vault: Royalty auditing and income tracking services. These guys are true experts who can seriously help you collect. Learn More »
» Product Enhancements & New Features
Here's what's new on the platform in April:
AVID EDL Cue Sheet Creation Tool (BETA): Upload Avid EDL's and quickly generate, organize, save and send cue sheets from your SourceAudio site. Just look for the new "Upload EDL" button at the top of any cue sheet on your site and give it a shot!
Lyric Search: Our new friends at Epitaph Records helped us make this a priority in April and we think a lot of you will enjoy it. If you have a "Lyrics" field in your metadata you can now search for words or phrases and we'll return track results that contain lyric matches. Look for the new "Lyrics" tab on your search results page the next time your search term appears in any song lyrics.
» What Else Are We Working On?
Lots of great stuff coming soon. Here are the highlights:
License ID: We're still cranking away at integrating License ID's watermarking technology into the platform. We're true believers that it'll be a game-changer and we're putting the resources behind it so that it's seamlessly available to you via your SourceAudio site. Stay tuned for the launch date!
3rd Party File Delivery Tool: For all of you who need to deliver files and metadata to 3rd party partners, agents, or clients, this new tool is going to make pushing updates to them easier than ever. You will simply set up the unique delivery requirements for each partner just once, save their settings for future use, and deliver your files and metadata to them with just a couple easy clicks. We're excited about this one and we know it's going to save many of you some serious time and effort delivering files in the future.
That's it for April. More great stuff coming very soon...stay tuned!