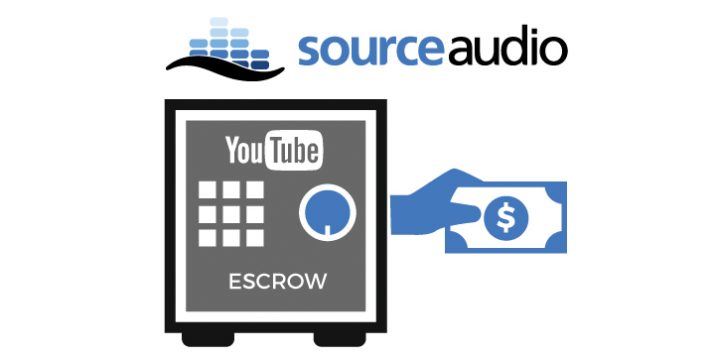 Let SourceAudio Help You Collect Your Portion of Unpaid Millions Owed to Music Creators and Publishers
YouTube recently reached an agreement with the Music Publishing community to pay out millions of dollars in royalties (Content ID money) it has accrued for compositions that it has not been able to identify due to missing copyright ownership information. These royalties were generated between August 1, 2012 and December 31, 2015 from views of YouTube videos in the US.
To help get this money into the right hands, YouTube launched an "Escrow Royalty Liquidation" program via an opt-in legal agreement.  Authorized entities will have from March 1, 2017 until May 31, 2017 to find their compositions and enter the missing information.  If a composition has earned escrow royalties, but no data is provided to YouTube before May 31, 2017, then that money will be paid out to participating entities based on their YouTube "market share" percentage.
» Don't Miss Out on this Significant Opportunity!
The opt-in window expired yesterday, but we as an authorized Content ID Administrator can still help you claim your share! Getting started is incredibly simple:
Review and digitally sign the YouTube Content ID agreement located in the Programs & Opportunities section of your site Admin Panel.

Identify the tracks, albums, and/or labels you want to monetize via your SA site.

 

No extra uploading or metadata submissions needed. Exclusive YouTube Content ID rights on music claimed is required.

Tracks are reviewed and compiled by SourceAudio and then directly ingested into the YouTube Content ID system.
The deadline for getting in on this opportunity and rightfully claiming any unpaid revenue that could be sitting in escrow is March 31, 2017. As an incentive to make your move now, we are lowering our rev share admin fee by 5% to any new SourceAudio Content ID clients who jump on board now. We already offer the best standard splits in the space and we're dropping them even more to help you capture more revenue than ever before!
Contact your SourceAudio representative today with any questions!