SourceAudio Redesign
We're releasing a redesign of the SourceAudio platform in a few weeks and we're giving all admins access to our beta so you can see all the improvements we've made before it goes live. The new design is faster, more modern, more secure, and we think you're going to love it!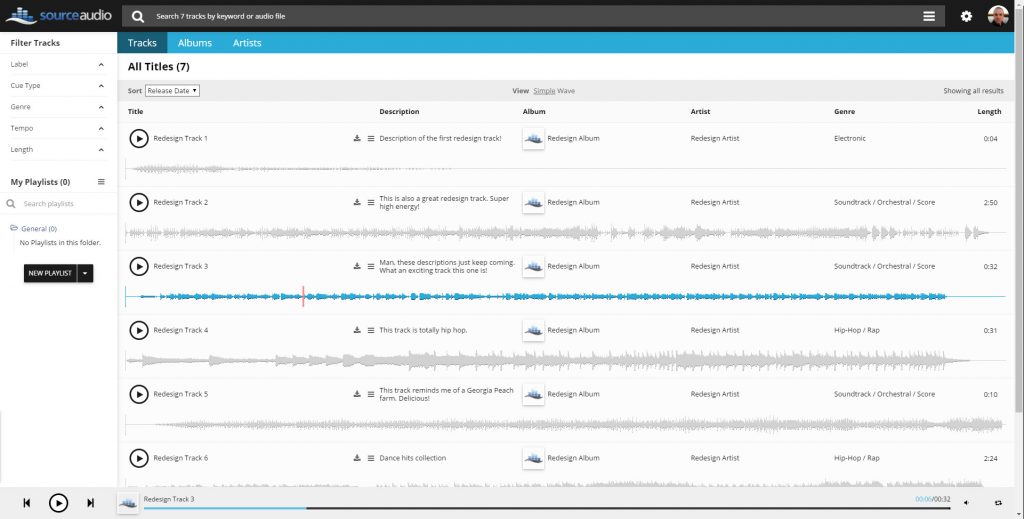 As with the current design, you can modify the colors and branding in the redesign, so please take this chance to adjust your site's appearance. When the redesign goes live, any changes you made in beta will carry over automatically!
Please note though, the appearance editor is the only section where changes will not affect your current site. Other sections will affect both the redesigned and current versions so use caution to avoid complications. Feel free to poke around though to check out how things will look and work!
To make your exploration easier, we've added a button at the bottom of your current site that takes you to a comparable page in the redesigned version. Only admins can see this button so you needn't worry about end users wandering over. However, links you share to the redesigned version of your site and emails you send using it will contain active links to the updated design and any recipients will end up on the new version. You're welcome to share it as much as you wish but please be aware that you are doing so. Links shared to the current version of the site will continue to go to that version during the beta period. Once the redesign is live, all links will go there automatically.
One other thing to note is that all URLs on the platform use SSL (HTTPS) in this redesign to ensure all your data is kept safe. The old, confusing bifurcation between "Normal Mode" and "Secure (Edit) Mode" will be gone and everything will be secure. Any old, unsecured URLs will forward to secure ones automatically, so any bookmarks will continue to work, and if you're interested in your site's SSO, you'll be happy to note that Google ranks sites more highly that use SSL, so you might receive a nice bump in search results.
We plan to have this redesign beta until at least June 14, 2017 and towards the end of that period, we'll reach back out with an updated schedule.
Please let us know if you have any questions. We look forward to your feedback!
Thanks
- The SourceAudio Team