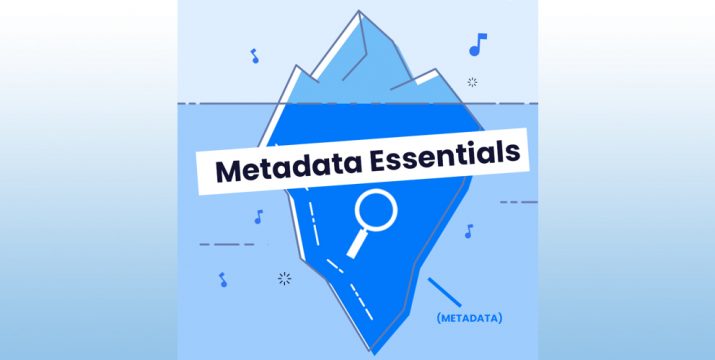 Metadata Essentials
Metadata is how music gets found and identified on digital platforms. Without it, your music has no identity, no way to be organized, and virtually no chance of getting listened to. SourceAudio's metadata editing and embedding tools make it easy to tag your files with all the necessary metadata for any use or application.
What is Metadata?
In the context of the music industry, the term metadata refers to text and graphic data that accompanies an audio file and provides essential information about that track. In practice, this is the artwork for the track, and a handful of text fields. ID3 is the industry standard field set for embedding into audio files (especially MP3's) comprised of the following text fields:
Title
Contributing Artists
Album
Composers
Release Year
Genre
Comments
Subtitle
Group Description
Unsynchronised Lyrics
Track Number
Publisher
BPM
ISRC
Involved Parties List
Metadata for Production Music and Track Searches
The production music industry depends on track searches to supply highly specific sounds on tight deadlines, while track searches depend on accurate, thorough metadata to track down and identify these assets. This is why SourceAudio lets music libraries create and utilize an unlimited number of metadata fields to hold all the metadata needed for their tracks to be quickly and easily found. Music libraries have total freedom to build upon an already robust set of fields that includes complete PRO registration data for writers and publishers, track descriptors, and all the ID3 standard fields (with some slight renaming for clients' ease of use).
Once your tracks are uploaded to your SourceAudio site, it's easy to make edits and adjustments. This library of data can be edited any of the following three ways for optimum ease of use:
1. Directly on the track listing itself (best for small, quick changes)
2. Using our conditional "Rules" tool (best for large but simple data shifts)
3. Importing metadata CSV spreadsheets (a complete metadata solution, the most thorough and powerful option, the industry standard for metadata management and delivery)
Whenever a search is run on SourceAudio, every piece of metadata on the site is combed for matches. Test out the searches you think your clients will run and build out your tracks' metadata to serve them your best tracks.
Metadata for Commercial Releases
Metadata applications extend well beyond search optimization; any track released through DSP's like Spotify or Apple Music should be always tagged with complete metadata before its release. In the past, artist discovery meant relying on crate-digging fans to stumble upon their work, and even then, tracks on CD's were still tagged with metadata. Today, artists take their discoverability into their own hands– first and foremost by tagging their releases so they can be properly categorized and served to their target audience.
Metadata can also contain essential information for the distribution of your tracks' royalties. Make sure your track is tagged with its unique ISRC and relevant interested party information so there's no confusion about where royalties should be sent.
Metadata Embedding
With so much riding on a library's metadata, it's never been more important to have a reliable metadata embedding solution.
SourceAudio makes embedding your metadata a breeze with ID3 standard embedding, easy to use metadata mapping tools, and metadata embedding profiles if you ever need certain clients to receive different metadata than others.
Don't run the risk of distributing your tracks with incomplete or faulty metadata, get in touch and let SourceAudio power all your metadata needs!