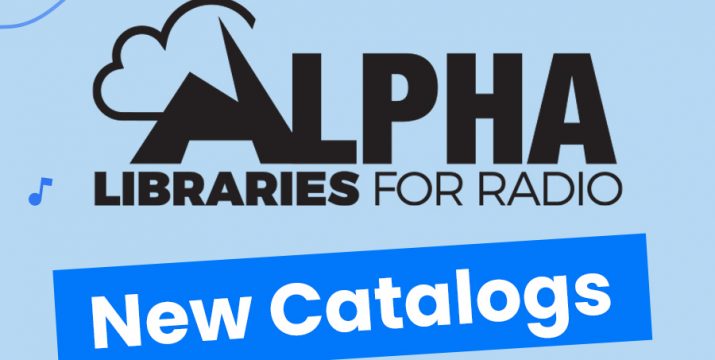 New Catalogs in Alpha Music Libraries
The Alpha Music Libraries track count continues to grow past 1.8 million tracks with our five most recent library sign ups: Scorekeepers, Move Music, InStyle Music, Soundfile Music, and Music For Sports. Here's a quick look into each of these great companies!
Scorekeepers
Scorekeepers houses and controls a massive collection of tracks ranging from emerging indie artists to Emmy Award-winning composers. The Los Angeles based company's tracks span all genres, moods, and instrumentations. Their extensive list of placements includes programming on Showtime, NBC, Fox, CBS, Disney Channel, SyFy, and Food Network, plus theatrical releases from Paramount, 20th Century Fox, Dreamworks, and Warner Bros Pictures. The company was founded by its current President, Vaugn Johnson, and now provides over 120,000 tracks to Alpha.
Move Music
Move Music LLC is a full-service music publishing, licensing, and administration provider based out of Los Angeles and Nashville. The library offers a wide array of genres and moods, with an especially strong selection of tracks designed as television underscores. Clients include UFC, Turner (now WarnerMedia), NBCU, TMZ, Discovery, The Style Network, and Masterclass. Move Music was founded by Timothy Andrew Edwards who heads creative, and Hunter Williams who heads licensing and operations (in addition to being the EVP of IP & Biz Dev at SourceAudio). The company provides over 2,000 tracks to Alpha.
InStyle Music
Launched in 2014, InStyle Music is a leading music licensing company for media, trusted by music supervisors, editors, directors, producers for television, film, advertising, promos, trailers, and now, radio broadcasters. Founder and CEO Pedro Costa leads the company from Toronto and has also played a major creative role in the company, keeping the library's sound on the cutting edge of broadcasting trends as their name suggests. Recent placement credits include programming on Netflix, E!, MTV, Vice, Nickelodeon, and A&E. The company provides over 2,000 tracks to Alpha.
Soundfile Music
Soundfile Music is a Los Angeles based full service music company created by composer and producer Michael Baiardi 20 years ago as a custom music house, recording studio, music library, publishing and music supervision company. The company's library of tracks offers a diverse array of music tailored for use in film, television, and now radio. Soundfile's music has been placed on The Avengers movies, ABC, VH1, TLC, Netflix, Hulu, and Amazon Prime Video, plus ad campaigns for Nike, Delta, and many more. The company provides over 7,000 tracks to Alpha.
Music for Sport
Music For Sport is a UK based sports music library specializing in high quality production music for television, film, radio, advertising, websites, social media, and now radio. The company launched in 1992 at the Barcelona Olympics and has produced ninety five albums to date in genres ranging from ambient to punk rock, to modern classical, to contemporary folk. Recent Music for Sport credits include BBC, CNBC, Sky Sports, ITV, Discovery Channel, Capital Radio, The History Channel, The Travel Channel, Inside Racing, and The National Geographic Channel. The company provides over 2,000 tracks to Alpha.



Friday, 11 September 2020