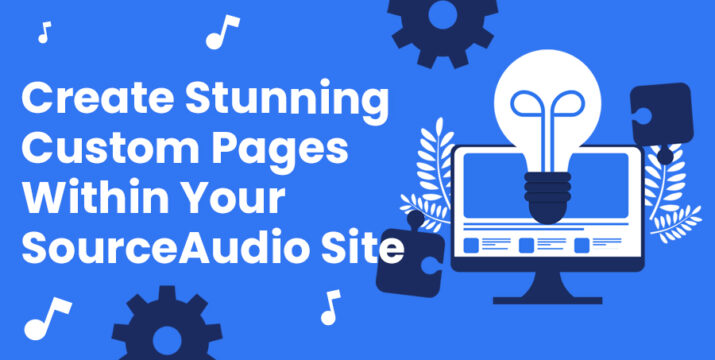 Create Stunning Custom Pages Within Your SourceAudio Site
Our custom page builder provides powerful tools to create custom content with or without the use of programming skills.
These tools are flexible enough to create just about anything you'd like. Here's a guide to a few of the most versatile and popular options.
Start With A Table
When designing a custom page layout, one of the best ways to get started is to insert a table that acts as a framework for the content.
To create a table, simply click the table icon and set the parameters for your preferred number of rows/columns, size (width and height), border size (enter 0 for invisible borders), and alignment. Now, all your elements have a secured space on your page.
Add Text
Simply click anywhere in the editor window and start typing to add text. Easily adjust text color, font, and size, and utilize the tools provided at the top of the editor window to set many more formatting parameters.
Add Images/Buttons
Upload local images to your custom page and link them to SourceAudio pages or pages elsewhere on the web. Create a local button graphic locally and you can upload it to your page and set it up to lead anywhere you'd like.
More Formatting Options
The editor window provides many more formatting options such as bullet points, horizontal line breaks, block quotes, and more, plus other handy tools like a built-in find-and-replace tool.
Create an iFrame
An iFrame provides a space to embed content like videos or contact forms created by third-party applications. User-friendly iFrame tools allow you to adjust size and alignment without the need to edit any code.
Edit the Page's Source Code
Engage the </> Source view to edit page contents using HTML and CSS. While it's entirely possible to create a great-looking page without ever opening its source code, editing with code provides an additional dimension of control over your page contents. Build out whatever content you'd like; just remember that Java or Javascript are not allowed on these pages and cannot be saved by our system.
When you're happy with your custom page, link it to a tab in your navigation bar so that your site visitors can easily find it!
Questions about custom pages? Reach out to support@sourceaudio.com.