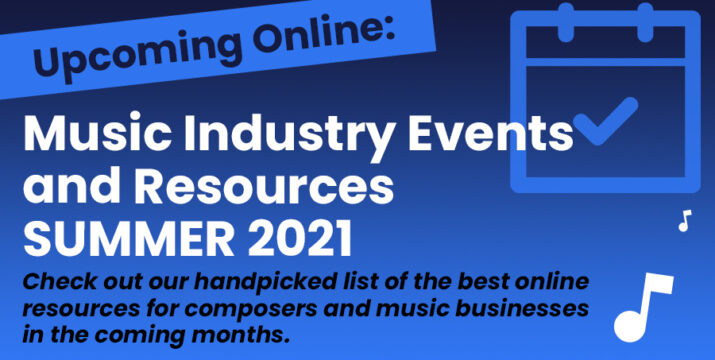 Upcoming Online Music Industry Events and Resources – Summer 2021
Check out our handpicked list of the best online resources for composers and music businesses in the coming months.


AIMP Global Music Publishing Summit 2021 – June 7-9

The Association of Independent Music Publishers (AIMP) will host its fourth annual Global Music Publishing Summit this summer, a three day virtual event full of keynotes, panels and creative forums for the independent music publishing community. The event will begin with Creator Day on June 7, followed by The Business of Publishing on June 8, and wrapping with International Day on June 9. The 2021 program will include keynotes from songwriter, producer, and Big Loud founder Craig Wiseman in conversation with musician, publisher, and ASCAP Executive Vice President of Membership John Titta; and from Gadi Oron, Director General of CISAC; panels such as with singer-songwriter Andrew Jannakos and his team on Tik Tok success; as well as talks with Richard James Burgess (A2IM), Mitch Glazier (RIAA), Bart Herbison (NSAI), David Israelite (NMPA), Teri Nelson-Carpenter (Reel Musik Werks/AIMP), Tony Alexander (MIME), Neil Gillis (Round Hill), Mike Molinar (Big Machine), Jim Selby (Concord Music), Kathy Spanberger (Peermusic), John Ozier (Reservoir), and many more!
Register to attend at aimp-nyc.square.site.
North American Conference on Video Game Music 2021 – June 12-13
NACVGM brings together professionals from all over the world to discuss music in video games. Segments from the 2021 program include "Rethinking Diatonic Rhythm through RPG Battle Music", "A Succession of Pitches and Witches: Musical Constructions of Madness in Final Fantasy VIII", "Seeing Musical Rhythm: Audiovisual Disruption in Thumper", "Video Game Sound as Educational Space", "Composing for Chinese Instruments", and much more!
Most segments are publicly sourced, and while the deadline for submissions for the 2021 conference passed in February, reach out to the NACVGM program committee at nacvgm@gmail.com if you'd like to submit content for the 2022 program.
Register to attend at vgmconference.weebly.com.
A2IM Indie Week 2021 – June 14-17
A2IM Indie Week is a four-day international conference and networking event aimed at maximizing the global impact of independent music. Featuring keynotes, panels, exclusive networking sessions, and more, Indie Week has historically drawn an attendance of over 1200 participants from over 30 countries. This year's events itinerary includes segments on NFTs, data driven marketing, consumer listening trends, Spotify, Bandcamp, and Amazon workshops for artists, the future of live music, neighboring rights, metadata management, building and scaling your independent label, elevating underrepresented voices, the future of streaming rates, and a fireside chat with SoundExchange President and CEO Mike Huppe.
Register to attend at a2im.org/indieweek.
Midem Africa – June 28-July 1
Midem Africa is the first pan-African digital music event dedicated to the continent's most vibrant music markets – accessible to all, free of charge. Embark upon a four-day journey that will map out the African music industries, highlight the most exciting trends and opportunities, and provide key insights and practical tools to foster networking and accelerate careers and business among key local music players and their regional and international counterparts. Africa is poised for tremendous growth in the global music marketplace. With increasing streaming volumes and revenues, all eyes are focused on the continent to see how music grows and exports. Through a series of panels and keynotes, leading artists and executives from all corners of the continent will share their insights into the key trends and the most exciting stories from their markets.
Register to attend at midem.com.