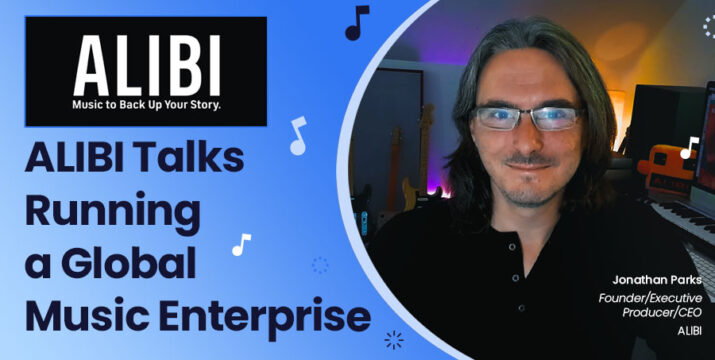 ALIBI Talks Running a Global Music Enterprise
ALIBI Founder / Executive Producer / CEO Jonathan Parks shares a comprehensive look into how he's built the company into one of the top production music libraries in the world.
How did ALIBI begin?
With the goal of starting my own production music company, I worked with roughly 50 composers to produce 88 albums of music and sound effects primarily focused on the trailer and advertising markets. We were fortunate enough to land our first theatrical trailer, network promo and national commercial within a week of ALIBI's official launch. The rest, as they say, is history: over the course of the ensuing 9 years, we have produced an additional 1,000 albums and counting. Our extensive, well-rounded catalog includes lyrical songs, underscores, epic trailer music and every other style, mood and genre imaginable based on the requests of the editors, music supervisors and producers we work with while providing near-immediate service for music search and licensing requests.
Can you give us a rundown of the different departments within ALIBI?
Each of ALIBI's core departments is equally important in contributing to the company's continued success. Here's the rundown:
The production department creates more than 120 new releases of music per year. They work directly with our roster of professional composers and songwriters to provide direction and feedback on new work, producing music that is not only on par with top 40 artists and scores, but also honed in a direction that is favorable for sync needs, including structure, lyrical content and production value for broadcast.
ALIBI's creative services team works directly with clients to provide them with music options based on their requests. This team also conducts any revised music searches. Although we always love to hone in on what's truly needed through back-and-forth dialogue whenever possible, fielding such requests can often take a bit of mindreading and guesswork that requires years of experience to do well.
When the creative services team has its weekly meeting with production to prioritize current and ongoing needs, the first question is always, "Are we getting stumped with anything?" (I hate being stumped.) Though it's rare that we don't come up with anything for a request, it does happen from time to time, and as long as it's something that could even possibly be asked for again in the future, we'll get it into the production schedule.
The data department is responsible for keeping everything organized. While a production music album release may feature 15 unique pieces of music, it may contain 500 audio files, including alternative mixes, stems and cutdowns. Each of these files is individually tagged, as a full mix of an EDM track may sound like a huge bombastic rave anthem, while the sparse mix or the stem could sound like a chill lounge track. All of these variations can be useful if they're able to be found, which requires proper tagging.
The original data sheet for each track contains approximately 50 columns of data, which is then run through a custom sequel database to parse out to over 400 columns per track, including separated instruments, moods, genres and other fields. The data department then creates audio files for each of these tracks in MP3, AIFF, WAV and MXF formats, uploads the tracks to ALIBI's website, and distributes them to our worldwide sub-publishers, television network partners and DSPs (Spotify, Apple Music, YouTube, etc.)
ALIBI's publishing department registers the songs with the proper performance rights organizations (PROs) worldwide, both directly and via a network of sub-publishers. They assign ISRC codes to our commercially released library works and deliver our catalog to DashGo for worldwide distribution. They also register the full catalog with agencies, such as the United States Copyright Office, Harry Fox, Sound Exchange, Soundmouse, Music Reports, CMRRA, MLC and more. Publishing continuously tracks audio detections, gathering and submitting Numerator codes and reviewing promo logs and cue sheets, all while working directly with the societies to ensure that ALIBI and our composers are being compensated accurately.
This is a major focus for us, and we're committed to leaving no stone unturned as we try to understand all revenue streams and sources of income. The music business is a rapidly changing landscape, and there are both new and well-established collection agencies out there helping to ensure full and accurate accounting of all performance, mechanical and sync income generated from every performance and digital download. It is this outlook that brought us specifically to SourceAudio Detect. Also of note, the recent establishment of the Mechanical Licensing Collective (MLC) is a major advancement in helping songwriters and publishers track down unclaimed earnings. Bottom line: If there is money out there, we will find it and our composers will receive what they have earned.
One of ALIBI's newest divisions is marketing. Over the past several years, we have been fortunate enough to grow and expand primarily by word of mouth, with high-level networks, trailer houses and advertising agencies sharing that they've had great experiences with us. This year, we're in a place to spread the word much further. Marketing is responsible for our brand image (we just had a rebrand over the last few months that we're incredibly proud of!), brand messaging, paid and unpaid social, targeted advertising, SEO, analytics and all the other fun stuff. In our early days, ALIBI had a very cohesive brand image, but it was soon incredibly outdated and disorganized based on what the company had grown to become. The marketing team works directly with all other company divisions to hone the message of what we're up to, whether it be new music, new work, new technology or something else entirely.
I have always loved marketing and have learned so much working with all of the agencies ALIBI has been fortunate enough to count as clients. It has been interesting to me that being so close to something can also make it very difficult to communicate effectively what that something is on a wide scale, so I'm thrilled we have an amazing team to listen to us and then hone our messaging in a simple way.
PR, the other relatively recent addition to the ALIBI company pie, works alongside our marketing team to turn messaging into press releases, updates and stories that are serviced to the media globally. Interacting closely with the ALIBI team, PR also develops thought leadership in the form of bylined articles, guest columns and blog entries – each capturing the unique voice and wisdom of the individual while offering helpful, interesting commentary for the industries we serve. These thought pieces are then placed on different news sites and/or published on ALIBI's own blog.
Seeking out and developing new opportunities for ALIBI, our business development team works directly with television networks, advertising agencies, production companies, technology companies, music supervisors, producers and editors. This team provides both business and creative solutions to any needs for needledrop or blanket licenses, preferred vendor rates and/or custom music requests. They will then work directly with our creative, accounting, publishing and legal departments to fulfill those needs to the fullest extent.
Technology has always been crucial in ALIBI's development, and over the last year we have had the opportunity to expand deeply into this realm with the assistance of our tech partners, with SourceAudio being first and foremost in that charge. The most exciting technology development for us is the launch of our new website developed by Magnetic Creative. By utilizing SourceAudio's API, we were able to create a heavily branded site with the search, browse and sorting features ALIBI needed for such a uniquely arranged catalog. I don't believe I've seen another catalog with as many options per individual track as ALIBI offers, and based on the technical hurdles to do so, I completely understand why. Along with the new site, we have also been able to launch our new Adobe Premiere Pro extension developed by Sonic Bloom. This extension encompasses the same unique discovery features as the site, requiring the site, extension, accounting, and CRM software to communicate together.
But the ALIBI department that really holds the ship together is accounting. While accounting may not sound as glamorous as making music, it is a true artform and a lot to juggle. Accounting is responsible for issuing invoices (and following up with those unpaid), accurate quarterly payment to all of our music creators, payroll, taxes (both for ALIBI US and ALIBI UK), distributing W9 and 1099 forms, development of programs in tech to facilitate the payments, and – honestly – more than I can possibly understand.
And, finally, legal is responsible for creating and reviewing contracts with our artists, licensees and business partners, as well as copyright registration, trademark registration and protection, and all other agreements. Legal works directly with all of the departments to ensure that everything is above board for the safety and peace of mind of both ALIBI and those who trust us as their music provider.
What's been the most important principle in building out ALIBI's many global partnerships?
Most important to us is outreach, networking, referrals from other production music libraries and word of mouth. ALIBI started with a clean slate in the sub-publishing sector, and was presented with an opportunity to bring on board a number of sub-publishers to help increase ALIBI's vast reach worldwide. After exhaustive research online, setting up meetings and lunches at conferences like NAB, PMC, AIMP and even private parties at our local haunt, The Magic Castle, we assembled the absolute best collection of partners to represent our expansive catalog worldwide.
ALIBI has branched into DSP distribution for its production music. Do you plan to begin working with commercial acts, or just focus on bringing great production music to the masses?
ALIBI decided to release all of its music commercially a couple of years ago for both fans and clients. The initial incentive to do this was years prior when we had our first viral hit with a track used in an "Outlander" promo. We were overwhelmed with new site visitors one day and googled "alibi music" to find out the source of it was a TV Guide article that somehow identified the track as coming from us after fans wanted to know. This happened more and more for songs heard on commercials, trailers, promos and both scripted and unscripted programming. I was always impressed that people were able to track down what the music was and where it came from. For this reason, releasing the music commercially had been on our to-do list for a long while. The hitch was that while ALIBI creates music that is intended to resonate with people, we did not format it for casual listening. Most all of our main tracks include breaks and alternate endings for editors to easily cut with. This required us to go back and create radio edits of what was then about 800 albums (matching each track's data to its original), register them and upload them. This took about a year to accomplish, and we now include radio edits as a version option for every track that is released.
We don't currently have a plan to work with commercial acts, though we have been trying to figure out a fair option for the possibility. Currently, ALIBI owns exclusive rights to all of the music in perpetuity. The primary purpose for this is to ensure that anything that goes into the catalog stays in the catalog, which makes it safe for our clients to use music from us and be assured that we will always represent it. Many editors and producers work with hard drives we provide them and have no control of after the fact, so it's important to us to make sure they're getting a source of music they are 100 percent confident is licensable through our agreements, even if they find a track from a 5-year-old drive.
Sync is one of the best bets an artist can make towards going viral. How would you advise young producers to enter the sync industry the right way?
I don't believe there is any one right way other than creating extraordinary music. Once that component is in place and it is put out into the world, it will find its way. We receive a minimum of 1,000 music submissions a year. Most of them are pretty good, but rarely is anything exceptional, unfortunately. For those roughly five submissions per year that are exceptional, we reach out immediately. This is a highly competitive market, and we're not just in the run for licenses with other libraries, but also with every other major and indie label and publisher, so the music needs to meet and even exceed that level of quality and usability.
What's the best way to get a music supervisor to listen to your tracks?
Make great music. Music supervisors are bombarded and can't listen to everything in their inboxes, which is understandable. I personally like the kind persistence route: reaching out frequently, but not overwhelmingly, which is a fine line. I'm always amazed at how many people submit to us but we never hear from again. There have definitely been times when I heard work from someone I like but then so many other things popped up at once, or it wasn't the right timing, and their email fell to the bottom never to be found again. We certainly understand both sides of pitching and being pitched to.
Nine years ago, when the company was about a year old, is this where you thought ALIBI would be today?
We're a bit behind our expectations, primarily because of the amount of technical hurdles that needed to be overcome with minimum resources. While it's really cool for some major networks to be utilizing ALIBI more than larger, more established catalogs, or even replacing them with us, we're still relatively unknown to many in this industry. That said, with all of our major hurdles overcome, a completely robust and relevant catalog, and a new brand to reflect the new ALIBI, we're just getting started!
Can you speak on what ALIBI's core value of "always be listening" has meant to you over the years?
Whenever I meet with any of the people we work with, they have always been wonderfully gracious and complimentary. While I appreciated this, I would always ask for critical feedback so we could serve everyone's needs better. Most didn't have anything on hand for me, so I kept listening to any requests and making sure that if we couldn't fulfill them, we would do so as soon as possible. Whether fielding direct or indirect feedback, reviewing a music search we couldn't fulfill, taking it upon ourselves to provide stems easily, creating an independent subscription model theatrical trailer editors could utilize for personal work – whatever it might be – the "always be listening" was about gleaning how we could be better and tackling each of these examples one by one over time. Even if they weren't super important issues at the moment, they are solutions that we were – and are continually – able to put in place for all future needs.
Any all-time favorite placements you're especially proud of?
ALIBI has provided music and sound effects to thousands of high-level, household-name projects, including Star Wars and Marvel franchise movies, network television show themes and commercials everyone has seen. My personal favorites are Adult Swim promos, such as A List of Requests To Car Spiders, as prior to working with Cartoon Network, I've always been a fan of their spots; the commercial for Timberland's Roaming London, because I'm terrified of heights and kind of obsessed with rooftoppers; the Reserved.com spot, which uses a track from one of my favorite ALIBI albums, Vintage Soul; The Disaster Artist trailer, because who doesn't love The Room?; and, finally, the gratis work we have done with The Art of Good, which is a nonprofit advertising agency that launched last year to assist small businesses struggling as a result of the pandemic, as well as the music we were able to provide gratis for creatives of any size to update their show reels during all of this. It was important for us to help out in some way while we've all been going through this, and though it may be a small way, we're glad we could do something.