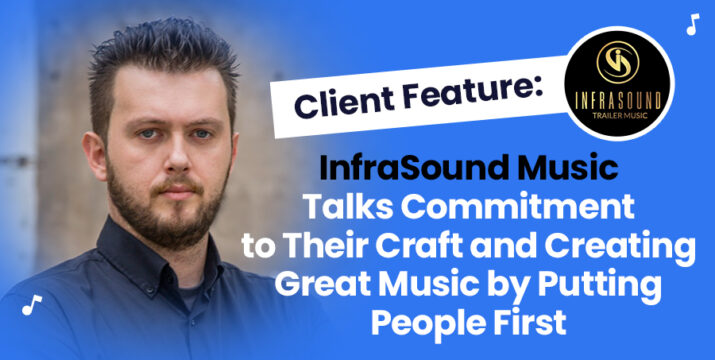 InfraSound Music Talks Commitment to Their Craft and Creating Great Music by Putting People First
InfraSound Music is a trailer music company that specializes in original, high-end music and sound design. The InfraSound team consists of trailer music veterans that spare no expense in delivering the highest quality material: contemporary, authentic and innovative work for motion picture advertising, video games, film and television, as well as commercials. In our interview, Co-Owner/Director of Music Goran Dragas shares his story of building a team of 75 composers, the importance of an in-house studio, and the thrill of hearing his music paired with a great story.
How did InfraSound Music first begin? What did the business look like in the early days?
November of 2019 is when InfraSound Music first opened its doors to the world. Before we even had a name for the company, we had a motto that we are still using today: We want to release editor-friendly trailer music with the highest standard of production. I'm glad that with each new album we are pushing that boundary slightly higher and higher.

The early days were spent trying to build up the material and letting people know that we exist, and that we aren't just another music publishing business out there. To say it was hard would be an understatement, but we wouldn't change a thing about it. I'm blessed to have met so many amazing people because of InfraSound Music. I truly feel we are all now a small family working together to achieve many amazing things.
What kinds of sounds or genres have been most in demand from your clientele recently?
We came out blazing with a couple of big, hybrid, "as epic as it gets" kind of albums since we all love those big orchestral themes that send shivers down the spine. After we had a fair share of those projects done, we did one horror album entitled DREAD which really opened doors for us and was used many times in various horror movies. Most people know us for our epic stuff, but a lot of our placements were horror and sound design. I'm really big on music supervision and we spend an insane amount of time polishing everything to the tiniest possible detail. I'm really known for saying "Make the hits bigger." Haha!
Is there any specific customer sector that's experiencing rapid growth right now?
TV usage, which is kind of strange. We are only releasing music made for trailers, but we are seeing a steady growth in TV usage all around the globe. We also did a complete visual redesign of our website and introduced something called micro-licensing, just to test how much traffic it will generate. We have been pleasantly surprised with how many YouTubers, small businesses and student filmmakers reach out for those licenses.
Do you pursue any marketing initiatives to make the company stand out from the crowd? Or does most of your business development happen through direct communication?
To be honest, we haven't spent one dollar on marketing services. We are releasing albums almost on a monthly basis, but we are mostly doing industry releases – only for the clients. We like to send albums and for them to know that songs won't see the light of day until they appear in their marketing campaigns. Because of that, there was no need for us to do marketing campaigns.
On the other hand, we are doing extensive marketing research, checking which new movies are coming out, trying to figure out what type of music might be popular in six or twelve months. Besides composing, this takes most of our time.
Besides music supervising, I'm also doing complete production on our albums, including mixing and mastering. We built a studio last year and I'm really glad that now everything regarding music is done in-house without having to outsource anything. This definitely is a big step because now when we do customs we can always deliver high-quality music and production instantly, especially when it is time sensitive.
Is your music available to listen to on DSPs?
Yes, it is. Our first few albums are available on around 60 streaming services. Even though we didn't do any marketing promotion for them, they have millions of YouTube views and our streaming count is getting higher and higher. And that's all organic. We are monitoring everything daily, how many new listeners we've had, subscribers, how did this song fair compared to the other, etc.
It really fills my heart with joy knowing that our music has a fan base which keeps expanding, especially since we are only doing this for such a niche market.
Where does InfraSound Music source its material? Are you currently looking for new composers?
We started out with just a handful of people and now we have around 75 composers working for us from all around the globe. I never thought we would come to this number, it's such a big one compared to just around 10 when we started out. We are getting submissions each and every day, but since we are keeping the standard so high and we have a good amount of composers already, we are accepting only the highest quality we receive, so with that being said, we are always looking and searching for high quality music and amazing people to work with.
Any advice for up-and-coming sound designers, composers, or recordists striving to create professional, industry-quality tracks?
I can give the advice which guided me through the business. Prior to creating InfraSound Music, I worked for years with some of the biggest publishing names out there. When I started out, I didn't know a thing about production music, about DAWs nor mixing and mastering. One day, I had just heard Two Steps From Hell and told myself: "I want to create something like this." And that was basically it. Step by step, 10 hours a day, working on your craft non-stop and I stumbled upon trailer music. It just blew my mind how you can create a song and tell a story in 2 minutes. I love reading those YouTube comments where people listen to your music and write a story line for it. And especially when you hear your music blasting through speakers in a cinema accompanying those amazing visuals in trailers. That's just another world of emotions. The first time I heard it, I knew I was put on this earth to do this.
So, my advice would be – work each and every day on your craft. There are no shortcuts. If you work on something for a long time, you will become better at it. If you work even longer and spend insane amounts of hours – you will master it. I know for sure that each and every publisher out there won't say NO to an amazing track. It just takes time to get to that amazing one.
Does InfraSound Music have a company mission that guides business development or client experience?
Yes, we do. Besides the one about creating amazing and editor-friendly albums, one of the main reasons we created InfraSound Music is because we wanted to treat our composers like human beings, almost like a part of the family. We are always there for them, spending time talking, phone calls, trying so hard to always give them proper guidance without having to wait weeks and weeks for inputs. I can't even put into words how many composers I've talked with over the phone, not just about music, but about everything in general. I know this company is business oriented, but it doesn't have to be business all the time. Since I was blessed to have my music used for so many movie trailers out there, I was also blessed to work with amazing publishers and some who were not so amazing. So I want to be one of the amazing ones for our composers. It takes almost all of my time, but at the end of the day, it is worth it when you know that you have amazing people you are working with. The least I can do is to be there for them for whatever they need.
Any all-time favorite placements?
There are a lot of them, but I'll just name a few. It definitely has to be the first one we ever did, even though it was sfx for a movie called Brightburn. It just gave us that wind in the back knowing that someone liked something we've created enough to use it in a TV spot.
I love our placement for The Irishman because... well, Martin Scorsese is one of my all time favorite directors. Cruella was an amazing placement too since it was such an awesome swagger track and the edit on the trailer was absolutely amazing.
My all-time favorite has to be Golden Globes Cecile B. DeMille award for Tom Hanks which has a cool story of how it came to be. They needed a track that was created with live orchestra and we had sent them the track, and after a few months of silence, we were contacted just a few days before the Golden Globes letting us know they'll use it. Seeing Tom Hanks and all those amazing actors watching footage of highlights from his career with our music throughout 90 percent of it... It brought me almost to tears and is something I'm very proud of.