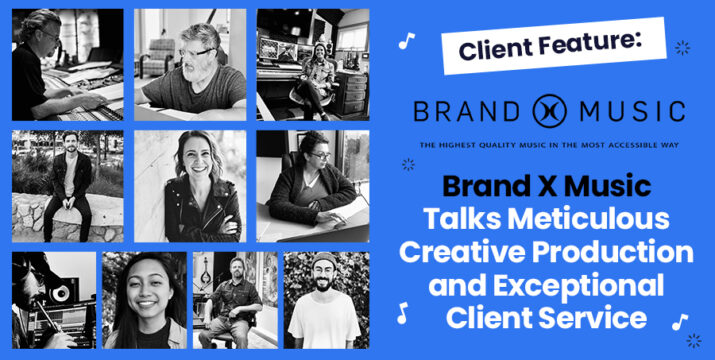 Brand X Music Talks Meticulous Creative Production and Exceptional Client Service
Brand X Music is a composer-owned music library, celebrating over 20 years of music for feature films, trailers, television, and much more. In our interview, John Sponsler, CEO; Tom Gire, COP; Elise Paradiso, DOP; Allison Wood, HOC; Corey Martin, HOP share their thoughts on creating a signature sound as a producer, business development, and the thrill of an incredible placement.
How did Brand X first begin? What did the business look like in the early days?
John Sponsler and Tom Gire met through a mutual friend and then worked together for Hans Zimmer. Both had a similar passion for music and a dream to explore a different career path that would allow for more creative freedom. Thus, Brand X was formed! They wanted to provide quality music solutions at a time when library music wasn't taken as seriously as it is today. Brand X joined other great music libraries to help change the perspective of production music in the industry. Suddenly this type of service became a commodity that had great value. The competition was still fierce, but the market was not nearly as saturated as it is today.
What kinds of sounds or genres have been most in demand from your clientele recently? 
Neoclassical has been highly successful this year. The movement it provides with an exquisite sense of emotions has proven to be brilliant to picture. We have also seen an increased desire for quartet and instrumental covers with a unique twist.
Is there any specific customer sector that's experiencing rapid growth right now? 
With the rapid increase in streaming services and content, this area has grown exponentially.
What's the best way to get a music supervisor to listen to your tracks?
This question has multiple layers to it. We respect how busy music supervisors are and want to ensure we're sensitive to this and not waste their time. It's essential to be a trusted source sending safe and reliable music. You always want to send music relevant to the pitch and that your metadata is clean and easy to understand. No one wants to get a messy track that they can't figure out where it came from. When we have a particular passion for a track or album, we'll communicate our authentic excitement in our pitch. All these things will increase the likelihood of a music supervisor checking it out.
Do you pursue any marketing initiatives to make the company stand out from the crowd? Or does most of your business development happen through direct communication. 
Currently, most of our communications are direct. We are exploring this area and will expand over the next year or two. Marketing initiatives via social media and the like are proving to be more and more influential.
Is your music available to listen to on DSPs?
Yes! It's rewarding to see our fan base grow each month.
Where does Brand X source its material? Are you currently looking for new composers? 
We have an in-house composing team that supports a percentage of what we create in our albums, but we also have many diverse composers from around the globe. The combination of in-house and outside composers have proven to be a successful model for us.
We are constantly looking for unique voices to incorporate into our catalogs. Whether it's someone approaching us or someone we find one random night at a local show in Los Angeles. With our ever-expanding catalog that now includes a roster of indie artists, the opportunities continue to grow to partner with Brand X.
Any advice for up-and-coming sound designers, composers, or recordists striving to create professional, industry-quality tracks?
Be innovative and not afraid to take risks. Make the kind of music that no one else can make! What are the sounds that uniquely inspire you? Dig deeper into those and develop your signature sounds that can carry across genres. All the best producers and composers worldwide have a signature sound regardless of the genre they are working in. Production is king, and the lines between genres are very blurry. Use the tools you have to make the best material you can, don't get stuck in 'if I just have one more plug-in, it will sound great.' It's the ideas and what you do with them that matter most!
Does Brand X have a company mission that guides business development or client experience? 
The Highest Quality Music In The Most Accessible Way! We start every project with the priority of creating relevant, top-tier music. Our brilliant composers work diligently to develop tracks that perk your ears and drive emotion. Our process then demands the highest attention to detail, where we go through a meticulous process of making usable stems and comprehensive metadata. And that's just the beginning! We pride ourselves on excellent customer service and a customized client experience. We are in constant communication with our clients and work to satisfy all of their creative needs.
Any all-time favorite placements?
John: Hunger Games, Mockingjay Part 1. As a composer, the creative process is often a moving target. Rarely does your vision remain the same from the first sketch to the final master. But every once in a while, you get one right. When writing our track Auryn, I threw up scenes from the first Hunger Games for inspiration. My working sketches for Auryn were even called Hunger Games v1, v2, etc. So, when I found out that Auryn's first placement was for the Mockingjay trailer, I was thrilled!

Tom: Harry Potter and the Prisoner of Azkaban. The studio wanted to use a custom intro to the John Williams track Toil and Trouble. The final trailer blended Brand X's opening and John Williams' score into one spot. We ended up watching John Williams conduct a kid's choir singing the trailer intro using notes we had written!

Elise: I love Star Wars and spend a lot of time at Disneyland Galaxy's Edge, so whenever our music gets placed with the Star Wars brand, I'm excited to watch the trailer!

Corey: My very first placement will always be my favorite, the trailer for Concussion. I remember obsessively checking every trailer I could find on the internet, just waiting to hear my music sync'd over Will Smith yelling, "TELL THE TRUTH." It was a dream come true!

Allison: Only Murderers In The Building using our notable NeoClassical cues! I have an unending love for the violin. Hearing the stunning intensity these tracks have to such an amazing creative campaign is very rewarding.