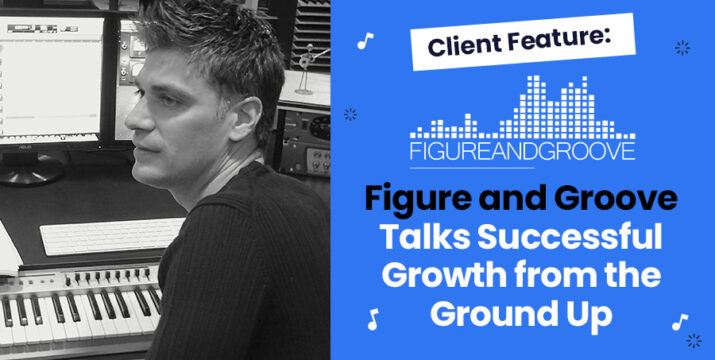 Client Feature: Figure and Groove Talks Successful Growth from the Ground Up
Led by Emmy Award-winning composing duo The de Luca Brothers, Figure and Groove is a truly independent music company with a global reach, dedicated to providing premium quality music and service using an international team of in-demand composers alongside a staff that's experienced in every aspect of music production, licensing, and publishing. In our interview, co-founder Matthew de Luca shares his thoughts on how Figure and Groove grew from the ground up to become a highly sought-after original music house and production music library.
How did Figure and Groove first begin? What did the business look like in the early days? 
We started out as songwriters and musicians in rock bands in the 80's and 90's, and our journey took some wild and twisted turns! After bouncing around various record labels for over 15 years, we decided to switch gears and focus on another passion of ours which had always been composing for the film and TV world. In the early days, we developed clients by going above and beyond to prove ourselves and show what we could bring to each project, and we've maintained that kind of hands-on, personalized approach to this day. We started out just doing original music scoring and a few years later started the library back in 2008. Our goal for the library from the beginning was to always work with top composers from all over the world and have a really high-quality, authentic, and diverse catalog.
What kinds of sounds or genres have been most in demand from your clientele recently? 
Thankfully our clients are so creative we get every kind of request! Something that's always in demand from agencies to sports clients is the kind of modern orchestral music we have in our library's 'Transitions' series, which is music that builds or shifts from 'dark to light' or 'problem to solution'. The demand for this type of subtly transitioning music is always strong so we are continuously adding new volumes to that series. We have quite a few 'series' in our library to represent the styles we find to be in the most constant demand, another big one is our "Groove Pop" series with vibey sophisticated electronic music. That gets a lot of use too.
Is there any specific customer sector that's experiencing rapid growth right now?
Our main focus has always been original score and custom music, and we are definitely seeing a trend of networks and studios wanting to invest and commission more original music. With the massive amount of content being released these days, it really helps to give each project a unique sound and identity. We love collaborating with our partners and the challenge of finding just the right sound palette and tone for every project. With the library, we are getting a lot of political spots since it's another election year and there are agencies who specialize in political spots that we are a top source for, so we're currently making more music specifically for that growth area as well.
Is Figure and Groove still hiring for a new UK Director of Sync and Licensing?
Yes, we are! We have an incredible network of sub-publishers all over the world and have been developing business directly in the UK market for some years now, with both original score and the library. We'd currently like to expand our presence across the pond in both areas, and whoever fills this role will be a dynamic addition to our global team.
In your experience, what's the best way to get a music supervisor to listen to your tracks? 
This is a question that gets asked a lot and while there are no sure-fire ways to get a music supervisor to listen to your music, we have always believed in developing relationships over time and becoming a trusted, go-to source for the best quality music available. We believe it's important to walk a line of being educated, consistent, respectful and patient, while also offering creative ideas that may expand preconceived boundaries. We believe that the overall high quality of our music is what ultimately gets anyone to listen, and we are consistently promoting our independent artist catalog of vocals tracks called 'Artist Friendly' that we started a few years ago too.
Is your music available to listen to on DSPs? 
Our entire catalog outside of our AURA sound design collection is available on all major streaming platforms worldwide, and it definitely has helped grow our reach and global presence.
Any advice for up-and-coming sound designers, composers, or recordists striving to create professional, industry-quality tracks? 
As longtime songwriters and award-winning composers, we truly understand what is needed to make sure we stay at the top of our game both creatively and sonically. Open your ears to what you hear around you whether it is a series, film, trailer or commercial. Someone gave us advice years ago to not just watch a program but rather close your eyes and listen to it and you will find you can hear so many more nuances than if you are also viewing it. We believe in this kind of 360-degree approach…sonically, mentally, emotionally, creatively.
At the core, creativity and talent will always be the driving force to your music, but investing in your equipment is also a key component in staying relevant and not getting stagnant. If you tend to be a more organic composer/songwriter, consider trying a new instrument! Something outside of your wheelhouse to bring a new dimension to your sound. Try a new tuning or something with a different type or amount of strings, and so on... you will be surprised at the new tones you can create with simple additions to your sound palette. If you are a more in-the-box composer, make sure you are always staying on top of the latest trends and sounds out there, and always try and stay away from just opening a sample package and just putting pre-made sounds together. With so much talent and competition out there, we can definitely hear when this is happening and will generally avoid investing in music that is created this way. Always be creative and original, it will show!
Does Figure and Groove have a company mission that guides business development or client experience? 
Our priority is building relationships and truly listening and working closely with clients to make sure we are giving them exactly what they want and what is most useful to them. We want to be full service, from the actual music to every other aspect of the experience, including attention to details and deadlines, accuracy on cue sheets, project deliverables, solid music searches, ease of finding music on library sites, you name it. Whatever is required, we want to exceed that. It's this most basic foundation of our company philosophy that we've held since day one that also guides our internal decision-making process in every way, keeping it a truly personal and independent company with organic growth. And we wouldn't want it any other way!
Any all-time favorite placements? 
Our music director is a tennis nut so her all-time favorite job of ours was the theme package we did for ESPN/ABC for the US Open Grand Slam that they ended up using for many years! We also love the hip-hop music we've had placed in several Pizza Hut commercials this year, including one that ran on Super Bowl Sunday – that was a lot of fun for us. Ultimately though, we value every placement because we know the teamwork that's put in and how good it feels for our composers to get that sort of validation, and as composers ourselves, we know that none of what we do is possible without the amazing collaborators we work with. It always starts with the music.   both original score and the library. We'd currently like to expand our presence across the pond in both areas, and whoever fills this role will be a dynamic addition to our global team.