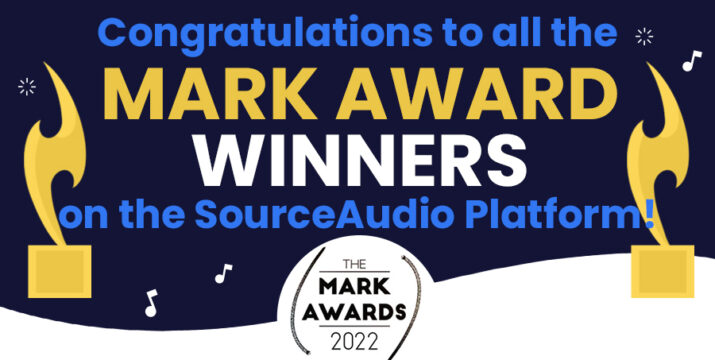 Congratulations to All the Mark Award Winners on the SourceAudio Platform!
We're so proud to have all of these award-winning companies on SourceAudio. Congratulations on your well-deserved recognition at this year's Mark Awards at the PMC!

BMG PRODUCTION MUSIC
Hip Hop Track of the Year
"He's Been Good"
Rasheed Jamal Washington & Farnell Newton
In collaboration with SOUNDS OF RED BULL
Orchestral Track of the Year
"Welcome Home"
Damien Deshayes
In collaboration with SUPERPITCH
Contemporary R&B Track of the Year
"Electricity"
Ciel Eckard-Lee, Andrew Allen & Derian Higginbotham
In collaboration with BIGGER STORY MUSIC
Folk Track of the Year
"Underneath The Moonlight"
Jeffrey Thomas Kightly & David Goldsmith
In collaboration with THE HOME OF HAPPY
---
VIDEOHELPER
Crime/Investigative Track of the Year
"Dark Desires"
Saul Guanipa
Best Cover Art
"MODULES 17"
Mark Brye
---
MACHIAVELLI MUSIC
Best Use in a Documentary Film/Series
"Cesare Lombroso and His Ghosts"
Francesco Cerrato
Jazz Track of the Year
"Criminal Swing"
Alessandro Di Virgilio
---
MEGATRAX
Vocal Performance of the Year
"I Am Unstoppable"
AJ Afterparty
Country Track of the Year
"57 Coup de Ville"
Mike Noble & Randy Hart
---
LEVEL 77 MUSIC
Pop Track of the Year
"Be Mine"
Shanell Woodgett, Anthony Arasi, Patrick Avard & Caleb Tillman
In collaboration with VIVE MUSIC
---
BRAND X MUSIC
Suspense Track of the Year
"Little Nightmares"
Gabriel Saban
---
5 ALARM MUSIC
Best Use in a Movie Trailer
"That There"
Manus Dunbar, Stephen Ruchelman & Samuel Grace
In collaboration with BEAT XPLOSION
---
GROOVEWORX
Best Use in a Video Game Trailer
"Soar (featuring Daisy Gray)"
Qiaro Xue, Yue Wu
---
John Houlihan, Senior Vice President at FOX MUSIC
Winner of the Ambassador Award
---
And a very special thank you to the PMA for another fantastic convention!