New Feature Release: Artemis Natural Language Music Search is Now Available via the SourceAudio API
By SourceAudio | Updated August 11, 2023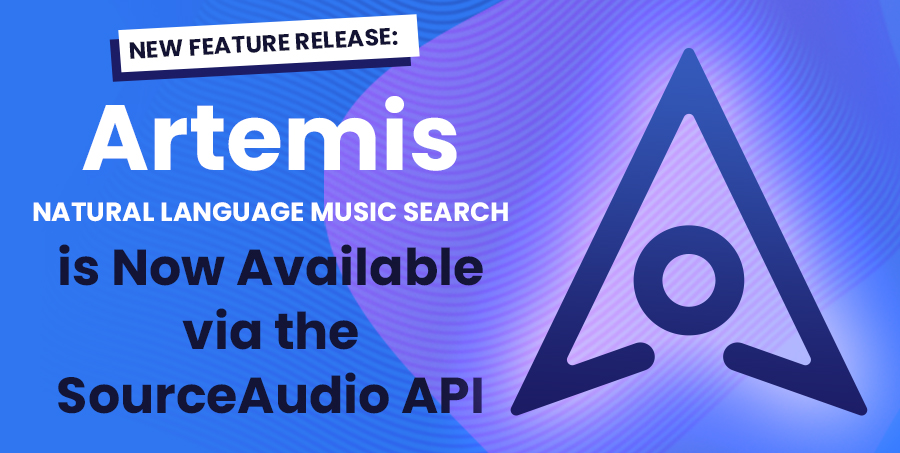 Equip your custom UI with the most powerful AI music search tool available anywhere. By providing your users with the opportunity to collaborate with SourceAudio's AI, they gain access to the industry-leading search tool that's saving time and providing better results for music supervisors, content creators, and anyone who needs music.


"By mentioning a reference track or just asking for a specific mood, track quality, usage scenario, or genre, Artemis synthesizes the perfect keywords for running that search in our library. It's made searches faster and more accurate than ever!"
– Eddie Caldwell | Music Of The Sea Inc.
Leverage all the value of AI-powered music searches alongside the many other benefits of our REST API.

Unlock Endless UI Possibilities, and Let Us Handle the Back End
Save time, effort, and money by tapping into all the power of SourceAudio's many features and applying them to your UI. Once your front end is online, utilize our API's secure authentication processes and access tokens to get your library up and running quickly and easily.
Navigating and Discovering Tracks
The SourceAudio API provides your site with extensive search capabilities and allows you to design a completely customized track exploration journey for your users. Utilize any of our advanced search parameters, result filtering options, and even integrate audio-based searching through SonicSearch v2.0. Combine these functionalities with your custom interface to create a truly unique and intuitive track discovery experience.

Seamless Track Metadata Management
Customizing the presentation of track metadata is vital for providing your clients with an engaging and intuitive user experience. Use the SourceAudio API to retrieve and manage track metadata fields, allowing you to tailor the presentation and categorization of tracks in exactly the ways that align with your brand's unique vision. Manage metadata simply CSV export/imports with updates to your library appearing in real-time according to your tracks' current metadata.

Easily Import Tracks and Execute Content ID Functions
Rights owners can use the API to streamline track uploads or mirroring by pulling tracks from an external location such as an FTP, then protect their intellectual property and manage copyright claims with SourceAudio's powerful Content ID suite. Retrieve claim data, release claims, manage channel allowlistings, and control API access with ease. 
Licensing Solutions
Easily implement comprehensive licensing solutions on your custom site such as subscription plans and rate card-style licensing options with transparent, user-facing pricing details.

Cue Sheets
Utilize seamless integration with SourceAudio's cue sheet management and automation tools for accurate usage reporting without ever leaving your custom site.
With the SourceAudio API's powerful and dynamic capabilities—now including Artemis—you can build a reliable, fully customized, AI-equipped music library site in less time than ever before.
Try it out today by contacting sales@sourceaudio.com.