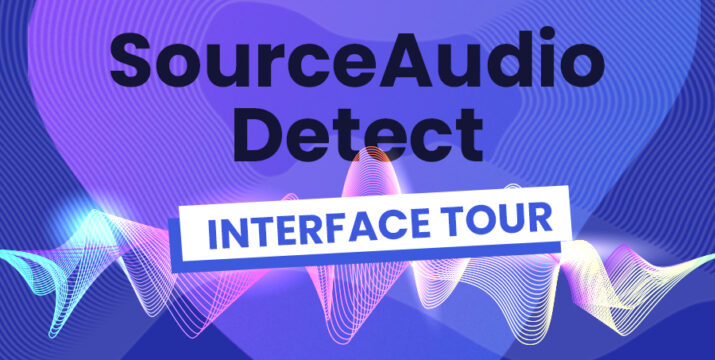 Here's an exclusive look at the in-depth reporting tools that SourceAudio Detect subscribers leverage to ensure proper reporting for all their tracks that hit the air on our monitored stations.

---

Real-Time Detections
Data arrives in the real-time detections panel as soon as your watermarked tracks hit the air.

1. Use filters to view only detections that apply to your dropdown selection. Use the Type drop-down to view only programs, commercials, promos (such as network promotional content), or matches that have been confirmed—more on that below. Use the Network drop-down to view only detections from a certain network. Use the Date fields to view only detections from a given date range.

2. Export all the detections visible on your current filter settings using the Export Current View button.
3. Click the camera icon under the Clip header on any real-time detection listing to view or download an audio-visual clip of the track as it was synced on the broadcast, and use this clip to unequivocally confirm exactly when and where your track aired. These videos are also available with even more data in the Identified Programs & Ads panel.
---
Identified Programs & Ads
Real-time data appears in the Identified Programs & Ads panel 3-4 weeks after it's initially detected, during which time its metadata is optimized for accuracy by our AI algorithms. This page of "confirmed" detections features the same powerful filters from the Real-Time page and even more data.
1. Every program detection lists a ready-made cue sheet, every commercial detection lists ASCAP and BMI claim forms filled out with the relevant details to verify the detection, and both commercial and promo detections list downloadable spreadsheet logs of the detection data.

2. Click the number on any line listing indicating how many detections occurred in the recent airings of a given program/commercial/promo, and you can view just those detections with videos on each line listing as seen below.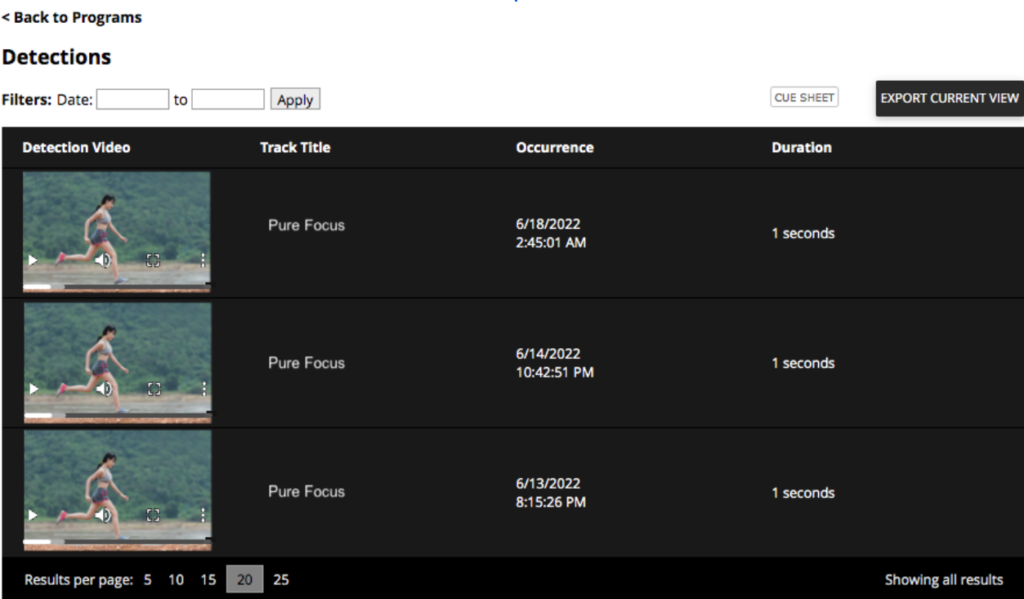 3. Click the track count on any program/commercial/promo listing to view a line listing of data for each unique track. Click the Detections number on any of these indented listings to see detections listed in the same manner as shown above. Click the camera icon under Clip on any of these indented listings to view or download the video clip for that specific detection as shown below.
---
Check for Watermarks in a File
Our watermark identifier allows you to check an audio or video file for any SourceAudio watermarks in a matter of seconds. Just drag and drop the file onto the tester, and all watermarks present in the file are listed according to their associated track. Never worry about missed detections or false positives—each SourceAudio watermark is completely unique.
---
SourceAudio Detect monitors all of these networks 24/7, and we're adding more all the time!

ABC • A&E • AMC • American Heroes Channel • Animal Planet • BBC America • BBC World News • BET • Bravo • CBS • CBS Sports Network • Cartoon Network • Chiller • CMT • CNBC • CNN • Comedy Central • The CW • Discovery Channel • Discovery Family Channel • Disney Channel • Disney XD HD • E! • ESPN • ESPN2 • ESPN News • ESPNU • Food Network • Fox Business Network • Fox News Channel • FOX • Freeform • FS1 • FS2 • FX • FXX • FYI • Galavisión • Game Show Network • Golf Channel • Great American Country • Great American Family • Hallmark • Hallmark Movies & Mysteries • HGTV • The History Channel • HLN • IFC • INSP • Investigation Discovery • Lifetime • Lifetime Movie Network • LMN • MLB Network • MSNBC • MotorTrend HD • MTV • MTV2 • MTV Classic • MyNetworkTV • NBATV • NBC • NBC Sports • NFL Network • National Geographic • Nat Geo Wild • Nick Jr • Nickelodeon • Ovation TV • OWN • Oxygen • Paramount Network • Pop • Reelz • Science • Smithsonian Channel • Spike TV • SYFY • TBS • Telemundo • TeenNick • TLC • TNT • Travel Channel • truTV • TV Land • Univision • Universo • USA • VH1 • Vice • WE tv • The Weather Channel • WGN
---
Get started in just a few clicks to instantly watermark all your tracks, and ensure proper royalty compensation by never letting an airing of your track go undetected.

Email hunter@sourceaudio.com to get started with SourceAudio Detect today!