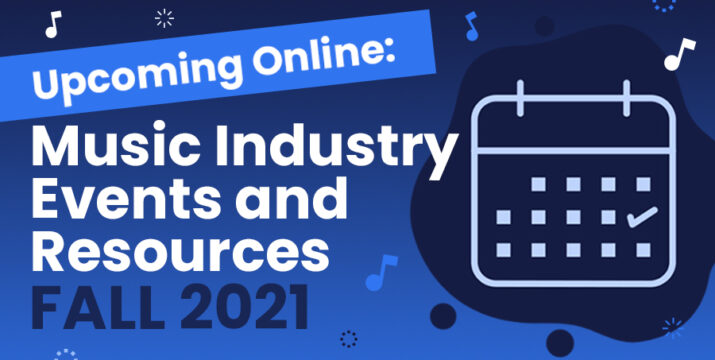 Check out our hand-picked list of the best online resources for composers and music businesses in the coming months.

Music Pro Pummit - Sept 8-11
The 2021 Music Pro Summit is a venue for the art and business sides of the industry to intersect, and showcase the next wave of music technology in the process. The 4-day online event will feature speakers from Songtrust, Livenation, Downtown Music Holdings, Musiio, Audioshake, Splice, CD Baby, and many more!

Register to attend and learn more at musicprosummit.com

All About Music 2021 - Sept 27-29

Now in its fifth year after 4 previous sold-out editions, All About Music brings together experts & stakeholders from every vertical of the industry to create a global gateway into the Indian music market. This year's conference aims to celebrate the evolution of the Indian music industry with a focus on discussions surrounding the rise of regional music consumption, independent & non-film music releases, music technology apps, innovation in revenue streams, and more.
Register to attend and learn more at allaboutmusic.in

Music Finance Forum - Sept 30
The 3rd annual Music Finance Forum will virtually bring together driving forces in the music sector to discuss the digital landscape, live performances, and new perspectives on upcoming trends. Presented by Winston Baker, a leader in entertainment industry conferences addressing finance, innovation, and growth design to bring together the most seasoned entertainment, finance, and technology executives to educate the industry on effective strategies to thrive in an ever-changing market
Register to attend and learn more at winstonbaker.com/events

IMSTA FESTA - Oct 6
IMSTA FESTA is a celebration of music technology that brings manufacturers face-to-face with their product users. These consumer shows have something for all musicians, songwriters, producers, audio engineers, music students, and educators in the industry. From industry panels and master classes to software exhibits and song reviews, there's even a songwriting competition that could land you in Santorini, Greece!
Register to attend and learn more at imsta.org/imsta_festa.php

Music Tectonics Conference - Oct 26-27
Explore the seismic shifts in technology that continue to rock the music business while connecting with music tech innovators. The Music Tectonics Conference is back with the perfect blend of formats for global reach and in-person serendipity, uniting music tech innovators across industry boundaries to share ideas and get business done. Their 2021 hybrid event invites a global audience to participate in parallel universes: in the metaverse and across the planet.
Register to attend and learn more at musictectonics.com

ISMIR - Nov 8-12
The International Society for Music Information Retrieval is a non-profit organization seeking to advance research in the field of music information retrieval —a field that aims at developing computational tools for processing, searching, organizing, and accessing music-related data. Among other things, the ISMIR society fosters the exchange of ideas and activities among its members, stimulates research and education in MIR, supports and encourages diversity in membership and disciplines, and oversees the organisation of the annual ISMIR conference, which is held annually and is the world's leading research forum on MIR.
Register to attend and learn more at ismir.net


Midem Digital - Nov 16-19
Midem designs an insightful and thought-provoking conference and content program to help participants overcome the main challenges and harness key trends shaping the future of the international music business. Through inspiring conversations, concrete case studies, and workshops, participants benefit from their peers' insights to grow their international business all year long via our digital platform and during the event. From highlighting exciting new music markets around the world to analysing new business and monetisation sources, our expertly curated programme provides a complete toolkit to understand the future of our industry and seize unique opportunities to grow your business internationally.

Register to attend and learn more at midem.com