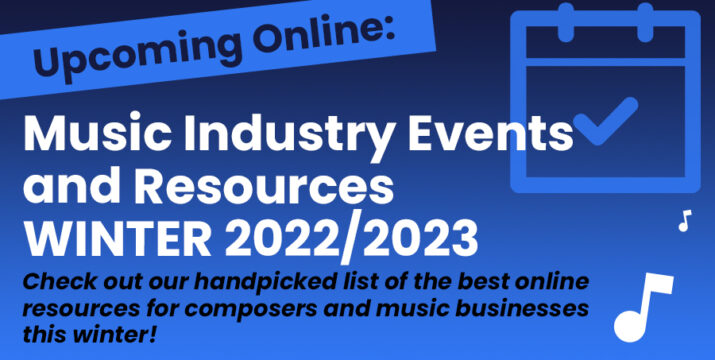 Check out our handpicked list of the best online resources for composers and music businesses this winter!
NY:LON Connect 2023 – January 16-17, 2023
NY:LON Connect gathers top decision-makers from the international music industry to discuss and debate key industry issues and set the agenda for the coming year. This marquee global music business summit features a high-level program that explores the future of music with keynotes and presentations from industry power players focused on driving positive change in the business. In addition, the event offers focused networking opportunities to build relationships that will impact the international ecosystem for years to come.
Register at nylonconnect.com
---
California Copyright Conference Webinar – January 17, 2023
The California Copyright Conference presents Don't Get Short Changed, Understanding the Nuances of SoundExchange, a panel taking place via Zoom and moderated by Garrett Johnson and Charley Londoño. Garrett Johnson is a member of the Bars of New York and the District of Columbia, specializing in entertainment and tax law. He represents a cross-spectrum of creative talent and industry participants. Prior to practicing law, Charley Londoño was a music industry executive in the radio promotion departments of major label record companies, including Arista, A&M, IRS, and MCA. Panelists TBA.
Register at theccc.org
---
Jason Blume Songwriting Workshop, presented by BMI – January 24, 2023
This January, Jason Blume will provide a constructive critique of one song from each workshop participant and will share a melody or lyric technique. Selected songs will be forwarded to up to 10 publishers (depending on genre). During the more than 25 years that Jason has been teaching this workshop, attendees have had #1 singles, signed staff-writing deals, and placed songs with artists, publishers, and in TV and films.
Register at bmi.com/events
---
Sync Summit – February 7-10, 2023
This year's Sync Summit will be a hybrid event that will take place live in Los Angeles and online throughout the world. By combining the live and online experiences, the program aims to provide its attendees with more opportunities to learn, connect, and create with people throughout the world than ever before. The event will include four days of panels, keynotes, and demos from over 100 speakers from brands, TV, film, production, sync agents, and more industry players. Benefits also include networking opportunities throughout the event, composition showcases, workshops on practical elements of sync and scoring, an EPK for every attendee on the Sync Summit website, a final contact list of speakers and attendees, and the opportunity to submit music to every speaker at the event.
Register at syncsummit.com