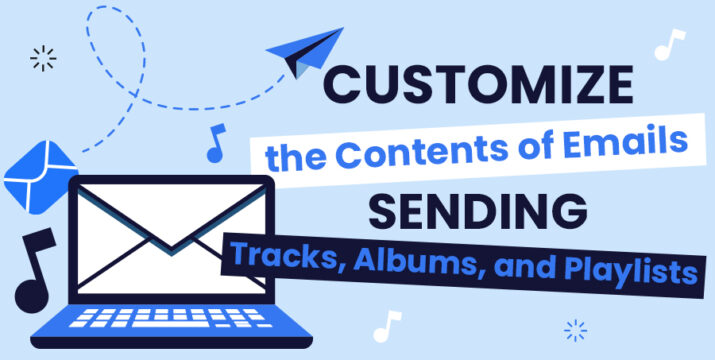 We make it easy to control the material in the emails delivered when you send tracks.
Email template customization occurs on a per user basis, so any changes you make won't affect what appears in an email sent by another user. Both admins and non-admins can use these tools to customize their email contents when sending material in accordance with their designated permissions.
To customize the contents of the email sent out when sending a track, album, or playlist, first make sure you're logged into your SourceAudio user account. Click your user icon in the top right » Dashboard » Email Settings, and make sure the checkbox for "use custom mail template" is ticked.
Edit the contents of your email directly in the "your email template" box. No coding is necessary (or permitted) in the customization of your email template.
To customize the contents of the email sent out when sending a track, album, or playlist, first make sure you're logged into your SourceAudio user account. Click your user icon in the top right » Dashboard » Email Settings, and make sure the checkbox for "use custom mail template" is ticked.

Edit the contents of your email directly in the "your email template" box. No coding is necessary (or permitted) in the customization of your email template.
| | |
| --- | --- |
| This page includes instructions for adding: | |
| - Images and text | - Download buttons |
| - Links | - A coded link to the tracks |
| Plus "magic variables" to drop in: | |
| - A message to be included with the delivery | - A link to the homepage of the site |
| …and more! | |
When you're finished formatting your email template, click Save Changes towards the bottom of the page, and the new formatting of your emails will take effect immediately.
Looking for more info on SourceAudio playlists? Check out our complete guide to playlists here!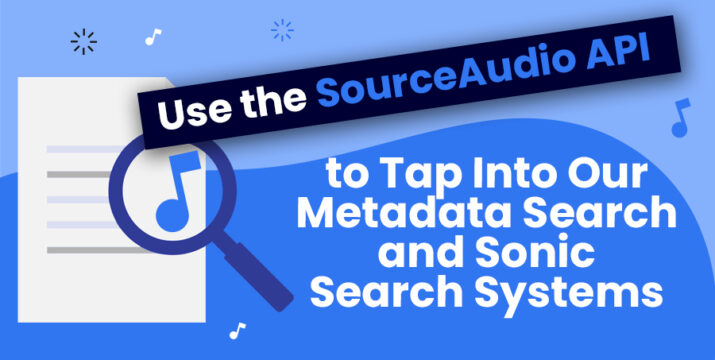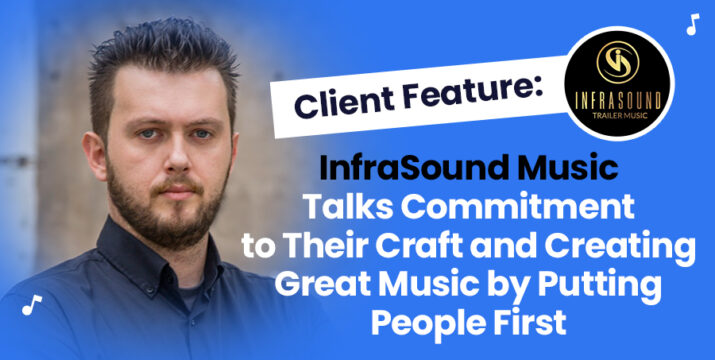 InfraSound Music Talks Commitment to Their Craft and Creating Great Music by Putting People First
InfraSound Music is a trailer music company that specializes in original, high-end music and sound design. The InfraSound team consists of trailer music veterans that spare no expense in delivering the highest quality material: contemporary, authentic and innovative work for motion picture advertising, video games, film and television, as well as commercials. In our interview, Co-Owner/Director of Music Goran Dragas shares his story of building a team of 75 composers, the importance of an in-house studio, and the thrill of hearing his music paired with a great story.
How did InfraSound Music first begin? What did the business look like in the early days?
November of 2019 is when InfraSound Music first opened its doors to the world. Before we even had a name for the company, we had a motto that we are still using today: We want to release editor-friendly trailer music with the highest standard of production. I'm glad that with each new album we are pushing that boundary slightly higher and higher.

The early days were spent trying to build up the material and letting people know that we exist, and that we aren't just another music publishing business out there. To say it was hard would be an understatement, but we wouldn't change a thing about it. I'm blessed to have met so many amazing people because of InfraSound Music. I truly feel we are all now a small family working together to achieve many amazing things.
What kinds of sounds or genres have been most in demand from your clientele recently?
We came out blazing with a couple of big, hybrid, "as epic as it gets" kind of albums since we all love those big orchestral themes that send shivers down the spine. After we had a fair share of those projects done, we did one horror album entitled DREAD which really opened doors for us and was used many times in various horror movies. Most people know us for our epic stuff, but a lot of our placements were horror and sound design. I'm really big on music supervision and we spend an insane amount of time polishing everything to the tiniest possible detail. I'm really known for saying "Make the hits bigger." Haha!
Is there any specific customer sector that's experiencing rapid growth right now?
TV usage, which is kind of strange. We are only releasing music made for trailers, but we are seeing a steady growth in TV usage all around the globe. We also did a complete visual redesign of our website and introduced something called micro-licensing, just to test how much traffic it will generate. We have been pleasantly surprised with how many YouTubers, small businesses and student filmmakers reach out for those licenses.
Do you pursue any marketing initiatives to make the company stand out from the crowd? Or does most of your business development happen through direct communication?
To be honest, we haven't spent one dollar on marketing services. We are releasing albums almost on a monthly basis, but we are mostly doing industry releases – only for the clients. We like to send albums and for them to know that songs won't see the light of day until they appear in their marketing campaigns. Because of that, there was no need for us to do marketing campaigns.
On the other hand, we are doing extensive marketing research, checking which new movies are coming out, trying to figure out what type of music might be popular in six or twelve months. Besides composing, this takes most of our time.
Besides music supervising, I'm also doing complete production on our albums, including mixing and mastering. We built a studio last year and I'm really glad that now everything regarding music is done in-house without having to outsource anything. This definitely is a big step because now when we do customs we can always deliver high-quality music and production instantly, especially when it is time sensitive.
Is your music available to listen to on DSPs?
Yes, it is. Our first few albums are available on around 60 streaming services. Even though we didn't do any marketing promotion for them, they have millions of YouTube views and our streaming count is getting higher and higher. And that's all organic. We are monitoring everything daily, how many new listeners we've had, subscribers, how did this song fair compared to the other, etc.
It really fills my heart with joy knowing that our music has a fan base which keeps expanding, especially since we are only doing this for such a niche market.
Where does InfraSound Music source its material? Are you currently looking for new composers?
We started out with just a handful of people and now we have around 75 composers working for us from all around the globe. I never thought we would come to this number, it's such a big one compared to just around 10 when we started out. We are getting submissions each and every day, but since we are keeping the standard so high and we have a good amount of composers already, we are accepting only the highest quality we receive, so with that being said, we are always looking and searching for high quality music and amazing people to work with.
Any advice for up-and-coming sound designers, composers, or recordists striving to create professional, industry-quality tracks?
I can give the advice which guided me through the business. Prior to creating InfraSound Music, I worked for years with some of the biggest publishing names out there. When I started out, I didn't know a thing about production music, about DAWs nor mixing and mastering. One day, I had just heard Two Steps From Hell and told myself: "I want to create something like this." And that was basically it. Step by step, 10 hours a day, working on your craft non-stop and I stumbled upon trailer music. It just blew my mind how you can create a song and tell a story in 2 minutes. I love reading those YouTube comments where people listen to your music and write a story line for it. And especially when you hear your music blasting through speakers in a cinema accompanying those amazing visuals in trailers. That's just another world of emotions. The first time I heard it, I knew I was put on this earth to do this.
So, my advice would be – work each and every day on your craft. There are no shortcuts. If you work on something for a long time, you will become better at it. If you work even longer and spend insane amounts of hours – you will master it. I know for sure that each and every publisher out there won't say NO to an amazing track. It just takes time to get to that amazing one.
Does InfraSound Music have a company mission that guides business development or client experience?
Yes, we do. Besides the one about creating amazing and editor-friendly albums, one of the main reasons we created InfraSound Music is because we wanted to treat our composers like human beings, almost like a part of the family. We are always there for them, spending time talking, phone calls, trying so hard to always give them proper guidance without having to wait weeks and weeks for inputs. I can't even put into words how many composers I've talked with over the phone, not just about music, but about everything in general. I know this company is business oriented, but it doesn't have to be business all the time. Since I was blessed to have my music used for so many movie trailers out there, I was also blessed to work with amazing publishers and some who were not so amazing. So I want to be one of the amazing ones for our composers. It takes almost all of my time, but at the end of the day, it is worth it when you know that you have amazing people you are working with. The least I can do is to be there for them for whatever they need.
Any all-time favorite placements?
There are a lot of them, but I'll just name a few. It definitely has to be the first one we ever did, even though it was sfx for a movie called Brightburn. It just gave us that wind in the back knowing that someone liked something we've created enough to use it in a TV spot.
I love our placement for The Irishman because... well, Martin Scorsese is one of my all time favorite directors. Cruella was an amazing placement too since it was such an awesome swagger track and the edit on the trailer was absolutely amazing.
My all-time favorite has to be Golden Globes Cecile B. DeMille award for Tom Hanks which has a cool story of how it came to be. They needed a track that was created with live orchestra and we had sent them the track, and after a few months of silence, we were contacted just a few days before the Golden Globes letting us know they'll use it. Seeing Tom Hanks and all those amazing actors watching footage of highlights from his career with our music throughout 90 percent of it... It brought me almost to tears and is something I'm very proud of.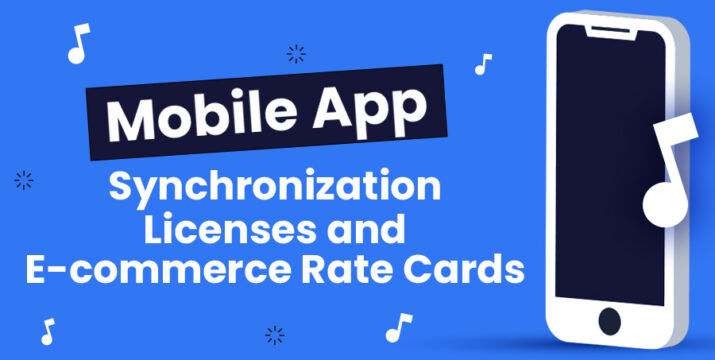 New apps are brought to market every day, and many of them include some kind of music or sound. This presents a massive synchronization opportunity for rights holders, especially if they use a well constructed rate card to fairly value the license.
Unless the licensee insists on a buy-out, the rights holder's first responsibility in procuring a license is to collect information from the licensee that gives an accurate and complete picture of the usage that will occur.
This includes where the app will be available for download or purchase, as well as which countries will have access to the app. Additionally, you as the rights holder will want to agree with your customer upon how much the music will be used within the app, or if the licensee is entitled to unlimited "needle drops" i.e. usage of the audio.

Often this evaluation happens through a conversation, but if you're dealing with a high volume of licensee customers, you can save valuable time by automating this process with a detailed rate card in the e-commerce suite.
After a licensee clicks to add a track to their cart, they'll see their first set of multiple choice options appear from the rate card. Then depending on their selection, they'll see another set of options pop up, and then another based on that response, specifying as many variables as you the rights holder would like.
For instance, your first question might be the format of the media, whether it's an app, film, OTT streaming, NFT, a catch-all selection or other formats, or whatever types of licenses your company wants to offer. Then if the licensee selects "app", you could ask about the platforms it will be released on, and then the countries, and needle drops. You may even want to ask the total budget of the project.

Finally, the licensee will receive a price quote for the license depending on the answers given. Rate card creators also always have the opportunity to set a rate card selection to trigger a "contact us" message. This can serve a variety of purposes and certainly ensures that your biggest clients receive special attention.

With great tools and the right knowledge, a music library can tap into a vast and high-value market in the mobile app space!

Thinking of running a promo for mobile app synchronization licenses? The e-commerce suite makes it easy to create custom coupons for licenses and licensing subscriptions!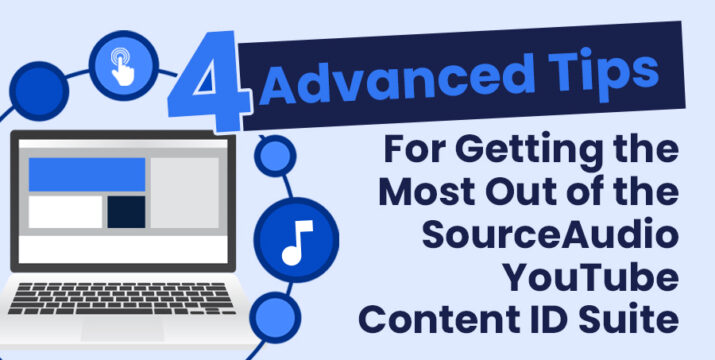 Our feature-rich Content ID suite provides powerful tools for all facets of your YouTube department's operational needs!
1. Integrate Allowlisting with Your E-commerce Checkout Process
Our allowlisting tools ensure that claims are never placed on a channel that shouldn't receive ads for using your content. When you integrate allowlisting with your e-commerce checkout process, your customers can input their YouTube channel ID when purchasing a track, then following checkout and payment, they won't receive any claims on their channel for use of your music.

It's an entirely hands-free way to be sure your clients are never bothered with an unwanted claim, while Content ID remains active for all other channels, generating passive revenue on all other uses of your tracks on YouTube.
2. Sub-Publishers Can Use the Content ID API to Directly Release Claims and Allowlist Channels on Behalf of Original Publishers

SourceAudio's proprietary YouTube panel allows rights owners to release claims and allowlist channels in real time, and our platform powers sub-publishing distribution for millions of tracks from thousands of companies around the world. That's why we built an API that allows sub-publishers to release monetization claims and allowlist channels in real time. Following one-time authorization from the original publisher, a sub-publisher can manage claims for any of the content they distribute.
For detailed information on how a developer can leverage our YouTube Content ID API, check out the documentation page here.
3. Monetize Territory Specificity with Ease
When you monetize your tracks on YouTube with SourceAudio, you can be sure that claim ads only run when videos are streamed in the territories that you specify. Our instructions on the Content ID ingestion page tell you everything you need to know to easily designate the exact territories you want to monetize. You can even set up worldwide monetization and select the territories that should be left out.

Additionally, our Custom Rules allow site admins to easily designate different territory specifications for certain tracks by album, artist, label, catalog, composer, or publisher. For the most precise degree of specificity, a CSV spreadsheet import may be used to designate territorial monetization on a track-by-track basis.
4. Export Claims Reports to See Where Your Tracks are Being Used
We make it simple to obtain detailed information on any of your tracks' claims. Head to the admin panel > YouTube Content ID > Claims, and click Export Claims in the top right. Set your desired date range, and whether you want to see only active, released, or all claims. Then click to export. A CSV spreadsheet will download immediately containing each claim's date and time that it was placed, claim ID, video ID, channel ID, video title, channel title, release status, a link to the video and channel, and essential metadata for the claimed track. You can also export claims data from the YouTube Earnings sub-tab to export a CSV containing each claim's amount payable and number of views for the selected month, as well as the track's YouTube Asset ID, title, ISRC code, label, artist, and composer.
Questions about YouTube Content ID?
Reach out to our support department at support@sourceaudio.com