What's New: Hunter Williams Joins SourceAudio, New Features, NAB 2015, and More!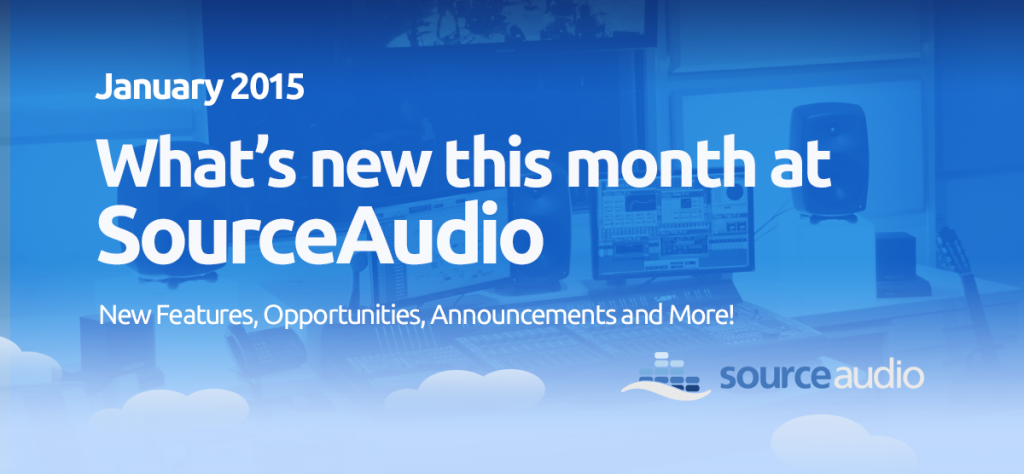 » SourceAudio Welcomes Hunter Williams to Our Team

We are incredibly excited to announce Hunter Williams as the newest addition to our management team. As many of you already know, Hunter is a very respected and distinguished professional in the music industry with 20 years of experience in management and executive roles at a leading music rights organization (SESAC). He is also currently the Executive Director of the Production Music Association.
Hunter will be our leading force behind several exciting new initiatives we will be announcing this year. His masterful understanding of copyright & asset management, the PRO space, and his vision of the current landscape, opportunities, issues and new solutions that can be realized through technology make him an absolutely perfect fit for our team. Please welcome Hunter to SourceAudio the next time you see him and feel free to contact him anytime at hunter@sourceaudio.com.
» NAB 2015 -- Make Sure You Come See Us at The Wynn!
SourceAudio will be exhibiting again this year at NAB, this time we won't be on the show floor but we'll be in one of the official NAB exhibitor suites at The Wynn! We will be hosting a variety of fun sessions, cocktail hours and much more in the suite so be sure to come by and see Dan, Geoff, Andrew and Hunter while you're in Vegas!
» New Feature Updates & Enhancements
Album Genre Filters: You can now assign genres to albums making filtering albums by genre a new standard feature on your site! Assigning album genres works just like any other metadata field - by editing the album on the site or by using a spreadsheet - and once your albums have assigned genres the new genre filters will instantly appear on your album list page.
We also helped you get started with your album genres! If your albums contained all tracks from the same genre then we already applied that genre to your album as well so there's no work to do on your end. Your album genre filters should be live and working right now!
The New Genre Page: We recently added a new standard page to all sites -- the Genre browsing page. To preview this page simply go to your site and replace the end of the URL after the last "/" with "#!genres" so that it looks like this: yoursite.sourceaudio.com/#!genres . To enable your new Genres page just visit the Tabs tool in your Admin Panel. You'll see it as a new standard tab that can be added just like tracks, albums, catalogs, labels, artists and composers.
The new genre page simply pulls in all of your site's genres and displays them in alphabetical order. Give it a shot!
File Delivery Tool Enhancements: We further improved the speed of our new file delivery tool and we added several new delivery agent/partner "presets" including Soundminer, Soundmouse and many more. If you haven't tried out our fully-integrated, low-cost file delivery tool that allows you to send formatted music and metadata to any of your agents/partners, you should give it a shot! The first 100GB of transfer are free!
» New Licensing Opportunities - Red Fuse/Colgate
Red Fuse, Colgate's dedicated agency within the WPP family, is in need of temp animatics for over 1 hundred projects this year. These temp spots will be for internal use only but there's always a good chance for some temp love! Check out the full details of this new opportunity in the Programs and Opportunities section of your Admin Panel and if it sounds like a good fit for you, opt-in and sign the agreement digitally on your site to enroll!
We have some big announcements coming in 2015 that we can't wait to tell you about. Stay tuned!