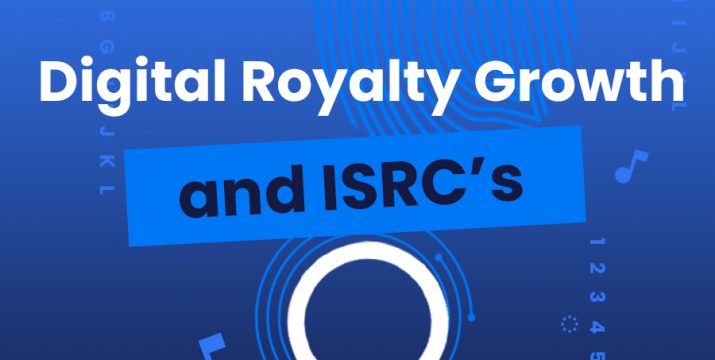 Digital Royalty Growth and ISRCs
Digital royalties are on the rise with no signs of slowing down and ISRCs are the universal cataloging agent responsible for identifying these sound recordings for royalty distribution.  Make sure you're familiar with how this essential tool works, and that you're not overpaying for your codes.
What is an ISRC?
ISRC stands for International Standard Recording Code. Created by the International Standard Organization (ISO), each ISRC is a specially composed series of 12 alphanumeric characters that identifies a song or music video audio recording. Every country has its own national organization which supplies codes to registered distributors. For example, in the United States, the national administrative agency is the U.S. ISRC Agency, which is part of the Recording Industry Association of America (RIAA).
Each ISRC is designed to act as a unique and permanent identifier for a sound recording. This means that only one ISRC should ever be issued to any track, and an ISRC should never represent more than one unique recording. Stems or alternate versions of a track should each get a unique ISRC. Re-releases of the same recording should use the same ISRC.
While the Performance Rights Organizations have their own systems in place to collect and distribute royalties for the composer and publisher of a song, ISRC's are used worldwide to facilitate the distribution of royalties for the master recording, paying out to the recording's featured artist and sound recording copyright owner.
The Steady Growth of Digital Royalties
One of the many companies that utilizes ISRC's to distribute sound recording royalties is SoundExchange, an independent non-profit that pays out on royalties from non-interactive digital streaming services such as internet radio, satellite radio, and cable TV music services that all use the statutory license to access any commercially available sound recording. Rights owners enroll by making a free SoundExchange account, and registering their audio recordings and their respective ISRCs to collect royalties from airplay.
SoundExchange has seen steady growth over the years. 2020 was the company's largest Q1 payout to date with $224 million going out to rights owners as they continue to add channels to their roster and poise themselves for continued growth. The same goes for music streaming revenue as a whole, which takes up a larger share of the music industry's total revenue every year. Statista reports that streaming revenue is projected to reach $16.39 billion in 2020, up from $14.25 billion in 2019, and $13.24 billion in 2018.
Streaming services like Spotify and Apple Music all require that any song be assigned an ISRC code before it's released on the platform, so if you're working with a label to release your music, the label is almost certainly going to take care of acquiring these codes, applying them to your songs, and registering them for collection; however, if you plan on retaining the rights to your recordings and releasing your music yourself, you'll need to acquire and apply these codes yourself.
Where's the Best Place to Acquire These Codes?
As an official ISRC distributor, SourceAudio offers ISRC codes at just 10 cents a code with a minimum purchase of 100 codes for $10. Other ISRC suppliers require registration fees and still charge 20x more per code, but with your free 30-day trial of SourceAudio you can purchase as many ISRC codes as you need at no additional cost.
SourceAudio also makes embedding your ISRC's easy for AIFF's, WAV's, and MP3's of all your tracks. We use ID3 standard metadata embedding to embed your codes into the designated ISRC field. This encoded data acts as a digital fingerprint to ensure proper tracking and tracing of your sound recording so there's never a question of where your royalties should be paid.
Questions? Reach out at support@sourceaudio.com