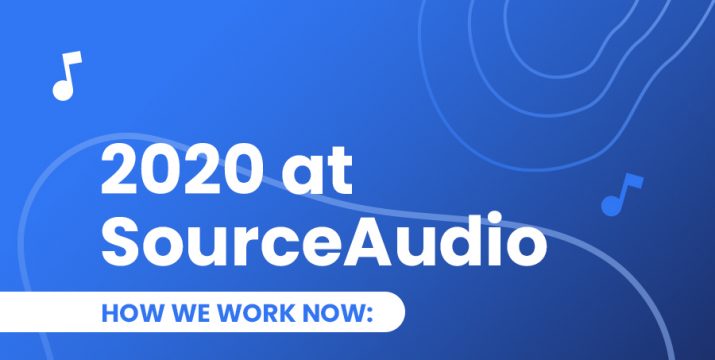 How We Work Now: 2020 at SourceAudio
In the face of global catastrophe, SourceAudio continues to power the music licensing economy around the world.
In the beginning of 2020, the ability to work from home was a modest perk enjoyed by professionals of certain industries. Today, it typically means the difference between whether a business survives, or ceases to exist. Now a fully remote company itself, SourceAudio is proud to enable music companies around the world to manage and execute their everyday tasks without ever leaving their homes.
From the ground up– How we work now at SourceAudio
Our support team, previously based in Culver City, CA, works with companies of all sizes and specialties to ensure that their needs for digital asset management are met from the robust SourceAudio suite. This support team works closely with our development team, located all across the United States, who continually work to build out new features and capabilities for the platform. Our detection service, led by EVP Hunter Williams in Nashville, is one such program that is constantly expanding, as we add the latest broadcast channels to our roster of monitored content. Data from these detections goes straight to our clients, who leverage this data to collect on their entitled royalty payments from their respective PRO.
Youtube royalty collection through SourceAudio, led by Jarrett Santarsiero in Culver City, is one of four major monetization programs where revenue is collected by SourceAudio, and paid out directly to rights owners on a quarterly basis. The second is SourceAudio Collect, also led by EVP Hunter Williams, which brings global PRO royalties together into a single quarterly payout. The third is Podcast Music, led by EVP Doug Reed in Philadelphia, which provides distribution in the leading music library for podcasters. Finally, Alpha Music Libraries, also led by EVP Doug Reed, provides distribution in the largest and most widely used production music library for terrestrial radio anywhere in the world. These passive streams of income bring in millions of dollars every year for the companies that rely on SourceAudio.
Our roster of clients is the work of our President of Sales Dan Korobkin in Los Angeles, who has turned SourceAudio into the premiere sub-publishing and sync distribution network for every industry where music is used. Our road map is forged by CEO, Geoff Grotz, and Head of Strategic Partnerships, Andrew Harding, both based out of Los Angeles, who started SourceAudio just over 10 years ago as a cutting edge "cloud company", a move that would change the digital music industry forever.
Marketing Representative Max Monahan has been with SourceAudio for just over 6 years. He now works from home and shares his experience on pursuing a career in the music industry mid-pandemic:
"It's tough to fathom just how fortunate I am– just to have a job right now at all.  Life is never certain, least of all now, but to have a team like the one we have at SA is more than I could even ask for.  That being said, we earn our keep as a company.  Office hours start at 9:30am, but I'm getting my day sorted out and starting in on projects well before that.  I'm still a night owl, I just don't discriminate against mornings anymore.  From 9:30am on, my day is a barrage of emails, phone calls, and zoom sessions with clients, exactly the same as it would be in an office.  Slack and Github are also blowing up in perpetuity, never a dull moment.  I truly enjoy the social aspects of my job, but more than that, I like my space.  I catch myself savoring the luxury of a home office pretty often, but of course, the reality of these changes is a sobering one.  I read the news quite a bit and try to participate in meaningful dialog about the issues we're facing right now.  I can say of the people in my life that we're all pulling for each other, and I'm happy to work at a company where that idea is intrinsic to the business model."
For more info on any of these programs, contact the following:
Alpha Libraries for Radio: doug@sourceaudio.com
Detection Services: hunter@sourceaudio.com
Podcast Music: doug@sourceaudio.com
SourceAudio Collect: hunter@sourceaudio.com
Youtube Content ID: jarrett@sourceaudio.com