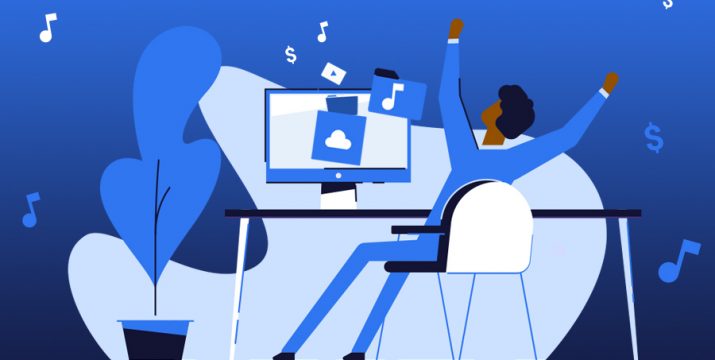 The Buyer Network, Sub-Publishing, and Networking Online
With the cancellation of all in-person networking opportunities, it's time now for companies to dial in a complete strategy for online networking in 2020. Leverage seamless delivery to all your buyers and sub-publishers with just a few clicks. Here's an up-to-date look into how to get the most out of these powerful tools available only at SourceAudio.
Sending to Potential Clients and Partners
It's never been easier, or more important, to get your material out to leads, quantify results, and start building value-driven relationships online. Send a link to a track, album, published playlist, or use a coded link to send a private playlist with download access. If you've restricted access to the track, album, playlist, or to your site in general, you can use a coded link that overrides these restrictions, or send the material to your recipient through the platform by clicking "More Options" » "Email" for more precise access settings and additional centralized reporting on your different sent items. In any sending scenario, once a site user is logged in you'll see each track they play or download (if enabled) and when exactly the activity took place, all from your Statistics panel. Even if a site visitor is not logged in, activity on each track is cataloged with the listener's IP address and the time of their activity. Hook your sales leads and make your best first impression; both your sound and your visual brand are on full display when you send them to your SourceAudio-hosted library.
The Buyer Network
Since its inception in 2012, the network of music buying sites on SourceAudio has grown to house over 100 million tracks from SourceAudio libraries, catalogs, and labels. Top agencies rely on the buyer network to find the latest tracks from their site-to-site connections via the SourceAudio Buyer Network. Once you've gotten in touch with a buyer who wants to connect to your library, syncing up your sites is just a flip of a switch from each party. The seller controls exactly which of their catalogs and labels get sync'd over to the buyer when connecting, while new labels added after a connection is established need to be manually accepted by buyers so that they always know what they're getting. A connected buyer and seller can also exchange track requests and/or briefs that list budgets and reference tracks for their project along with an integrated, easy-to-use brief-response tool.
Connect With Your Sub-Publishers
Expand your network with sub-publishers that operate in different territories. SourceAudio has become an integral tool for publishers that utilize a network of sub-publishers to drive more business. Whether you're the original publisher or the sub-publisher, whenever you and your other party are ready to send over a mirrored copy of the material just reach out to our dedicated support department. We have all the tools to ensure that sub-published material shows up exactly how it's supposed to on its new listing.
Questions about sending, buyer sites, or sub-publishing?  Reach out to our support department at support@sourceaudio.com.