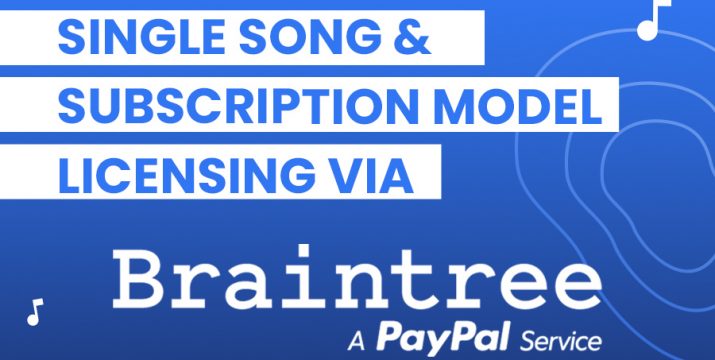 Single Song & Subscription Model Licensing via Braintree
A division of PayPal, Braintree is the preferred payment processor for the SourceAudio e-commerce suite. Since its foundation in 2007, the company has become the industry standard for secure, reliable, high-performance online payment processing.

Braintree and SourceAudio work in cooperation to empower licensing merchants in building out a complete and fully automated checkout process. The integrated system accepts over 130 different major currencies, providing payment infrastructure for music licensing businesses around the world.
Prioritizing Security
In addition to basic fraud tools like AVS and CVV, powering your SourceAudio e-commerce suite with Braintree provides advanced fraud protection powered by intelligence harnessed from decades of PayPal and Braintree activity. Every Braintree-processed checkout is encrypted with secure tokenization to protect sensitive data, and Braintree's system of risk threshold rules monitors your site for any suspicious payment activity to maintain rock-solid cyber security against online threats.
These security features set your licensing site on a fast track to PCI compliance, the universal payment card industry standard for security that every e-commerce vendor must meet. Working with a trusted partner like Braintree means a short and simple SAQ (self assessment questionnaire), which is the application form for PCI compliance, that can otherwise be very lengthy and complex.
Even as new security standards emerge, Braintree's suite stays up to date, keeping merchants PCI compliant, secure, and in full control of their check out process.
Unparalleled Ease of Use
A delay of just a few seconds during the checkout process can have a dramatic impact on your sales conversion rate. That's why the e-commerce suite touts an infrastructure that has stripped away any unnecessary processes, leaving only what's needed to efficiently execute sales and keep conversion rates high. Run your checkout with Braintree to accept all major card types with no additional integration required beyond a bank account for revenue to be transferred out to.
The Braintree suite makes it easy to set up recurring billing for subscription based plans on your SourceAudio site. Customers have the ability to upgrade or downgrade their subscriptions at any time and their sensitive information is kept safe in the Braintree Vault. If there's ever a payment failure from the customer's end, Braintree's reporting makes it easy to track down the error and any relevant details.
Comprehensive Reporting
All transaction information is centralized in its own page in the Braintree suite. Filter by card type, date created, date settled, and more. See any transaction disputes and submit supporting documentation as needed from directly within the control panel. Set up webhook notifications to receive real-time information on events taking place in your gateway. Braintree even offers a sleek API that allows merchants to build custom reports for their specific needs.
Enrolling and Connecting Your SourceAudio site
Visit the Braintree site to begin the process of applying for a merchant account. New merchants start by providing basic company information as requested by Braintree. Requests are verified using an intelligent assessment algorithm that ensures streamlined onboarding in line with industry compliance requirements. Once verified, grab the verification key codes from within your Braintree account, enter them on our SourceAudio e-commerce panel, click to save, and you're all set to start accepting payments!
If needed, you can also set up your SourceAudio e-commerce site with a PayPal account, but a PayPal account does not support e-commerce coupons or subscription plans. For complete access to all payment processing features, apply for a Braintree account here.