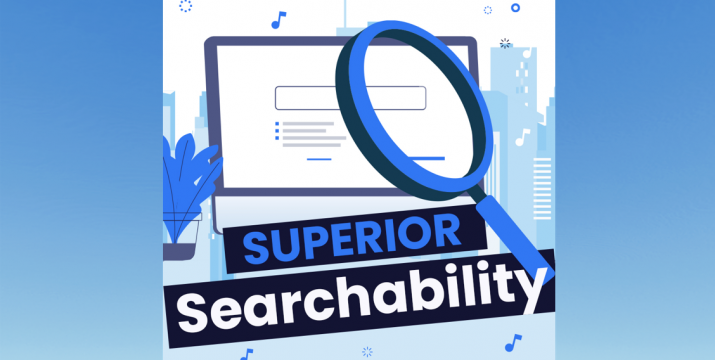 Superior Searchability
When a music supervisor needs the perfect track from a massive library on a moment's notice, searchability is everything. We've leveraged decades of industry experience to create the most powerful, flexible, and comprehensive music search tools available anywhere.

Basic Search: How It Works
Search results are powered first and foremost by track metadata. When a search is entered from the search bar at the top of any SounceAudio site page, every piece of metadata on every track is combed for matches to each word of the search entry.
If there's a misspelling or a user enters a word that's similar but not quite identical to anything in a library's metadata, our autocorrect always points them in the right direction by changing the entry to the closest possible match from the site's metadata.
Search results return any metadata matches sorted by relevance and can also be sorted by length, release date, or alphabetically by title.
Advanced Search
Field-specific searches and compound searches can be a huge time saver, especially if you already have some familiarity with a site's material. Open the advanced search tools by clicking the icon of three horizontal lines in the search bar, and run an advanced search to comb through only a single, specified metadata field for your search entry. The advanced search tools also allow for multiple search entries to be run in unison; toggle the "and/or" setting to show tracks that match either entry of your compound search, or only the tracks that match both entries.

Sonic Search
Search for audio with audio! Put your reference tracks to work with our Sonic Search tool that brings back sonically similar cues to your reference track. Open the advanced search tools, then just drag and drop your reference track onto the Sonic Search module. Also search with mp3's and YouTube URL's. In a few seconds, Sonic Search analyses timbre, tempo, vocals, and more to bring back the library's most similar tracks to your entry. It's that easy. Try it out and save yourself tons of time, especially when searching a new, unfamiliar library.

Track Filters
For a user who may feel intimidated by an open ended search, track filters are the way to go. Let's say a site features many different genre tags. A user can use track filters to quickly see all the genre values and select to only see tracks labeled with the genre they're looking for. They can then select an additional filter, like tempo, to view only tracks of that genre and tempo. Filters can even be applied in addition to basic, advanced, or Sonic Searches to further narrow down search results.

Saving Searches
Running a search you'll need to come back to in the future? Click "Save This Search" just above your results to save the search on your user account. You can revisit these exact results any time by heading to your User Dashboard > Saved Searches. We designed this feature to make sure that once you've dialed in the perfect search, you'll never have to worry about losing it or starting over again.