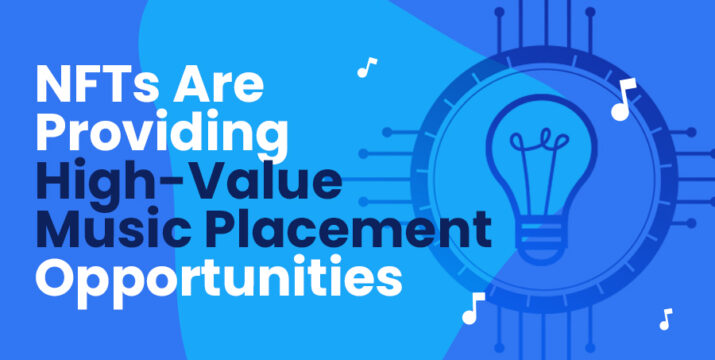 NFTs Are Providing High-Value Music Placement Opportunities
NFTs have made headlines in recent months after the medium went mainstream when a single jpeg sold for $69 million in March.
Creators everywhere are having a field day with the high-value, low-friction nature of NFT commerce, which offers music producers an equally extraordinary licensing opportunity.
An NFT, the acronym for "non-fungible token," acts as a certificate of authenticity for both tangible and virtual assets. "Non-fungible" means the NFT file is unique and unable to be duplicated or replaced by any kind of copy. The NFT file is stored within a worldwide blockchain network, and any ownership changes are verified and recorded in a log that can be accessed by the public.
While there are no limits to the assets that can be tied to an NFT, short-form videos are top sellers, and some music libraries have seized the opportunity to secure high-value placements.
One such library belongs to SourceAudio client Abel Okugawa Music, LLC. Founder Abel Okugawa explains the nature of NFT music licensing is a perfect complement to the boutique music library business model and his SourceAudio library.

Okugawa also relays that collaboration with an NFT artist ultimately demands quality over quantity, while a branded, well-organized library interface allows him to shop his tracks to NFT collaborators and utilize references to create bespoke audio assets.
NFTs featuring Okugawa's music and sound design have sold for tens of thousands of dollars on Makersplace, one of the most popular NFT marketplaces. The company's self-proclaimed goal is to "[empower] creators to better protect and sell their digital work to a global audience." Makersplace also actively works to curate their platform by reviewing and approving seller accounts. Additionally, their marketplace offers creators a unique value add wherein they receive a 10% royalty for any resale of their work.
Other NFT marketplaces include Foundation, Nifty Gateway, OpenSea, SuperRare, and Crypto.com, where you can find drops (NFT releases) from music industry leaders like Beatport, a platform that recently released a series of short-form audio-visual collaborations.
Check out some of the NFTs that feature Abel Okugawa's music here, here, and here, or browse his works on his SourceAudio library and Foundation page.