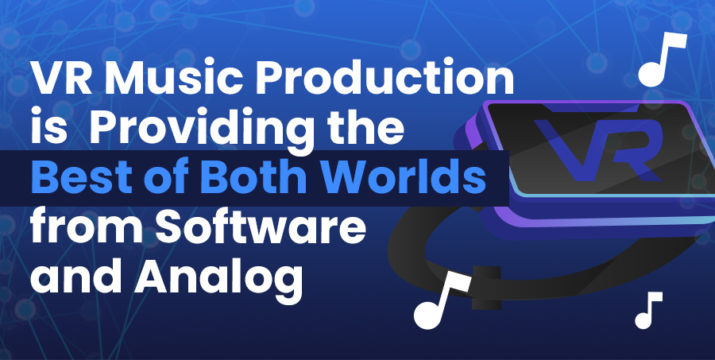 VR Music Production is Providing the Best of Both Worlds from Software and Analog
Virtual reality technology brings together the convenience of soft synths with the tactile experience of analog hardware.

VR music production has hit the market, offering music producers a whole new production experience. These programs provide a 3D, virtual space wherein users can interact with a wide array of full-scale synthesizers, sequencers, drum machines, and a variety of effects.

One of these programs is Synth VR, a fully virtual modular synthesizer developed by 42Tones. Just like plug-ins in a DAW, the program makes it easy to instantly create modules. However, in this case they float in a VR space and are connected with drag-and-drop patch cables. Synth VR currently offers over 30 synth modules, including oscillators, LFOs, mixers, sequencers, effects, and more. Among many program highlights, users can slave units into one another, utilize "spectral speaker mode" to set panning in 3D VR, and create multitrack recordings from a virtual set up.
SynthSpace, developed by Bright Light Interstellar, is another VR program that offers similar tools to Synth VR but features more realistic graphics and a more true-to-life experience, generally speaking. Sample importing and the ability to customize environment graphics are two additional features, enabling you to work from the middle of a virtual forest just as easily as from a virtual state-of-the-art sound studio. Head over to GitHub to find the SynthSpace Audio Layer source, released by the program developers, which allows program users to code their own custom modules. 
Korg's move into the VR space comes in the form of their Gadget program development, a self-described "all-in-one music production software and plugin collection" originally designed for the iPad. Many other VR music creation programs exist, but for now, the market for professional-grade VR production software remains very small compared to the larger world of soft synths and effects.
These programs are compatible with a growing number of VR headsets including the Oculus Rift and Quest, HTC Vive range, and Valve Index.