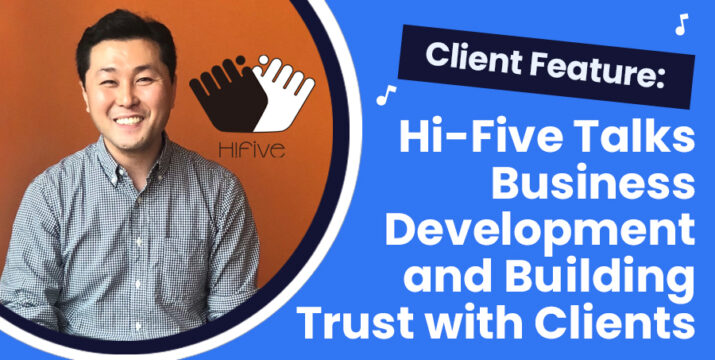 Hi-Five Talks Business Development and Building Trust with Clients
After more than a decade of success supplying music for South Korean film and television, Hi-Five shares their strategies for building a highly effective global music company in our interview with CEO & Founder, Chan Wook Kim (CK).
1. How did Hi-Five begin as a company?
Hi-Five first started out in the publishing sector specializing in movies and television dramas where we administered Korean writers. However, having a lot of experience and a good reputation in the music library field, we started getting requests for production/library music from my clients which has led to our expansion as a global company that sub-publishes music from all over the world. The company was launched on Christmas back in 2010.
2. Can you describe the different departments within Hi-Five and what they do?
Our departments are mainly divided into Music, International Business, Publishing, Production, Marketing, and Operations - Business & Administration. 
The members of our Music team are the main players when it comes to organizing any new music we receive. They review and classify new tracks for our clients to use for future projects as well as pitch tracks to our clients. 
The International Business team oversees researching and communicating with foreign original publishers and sub-publishers. They chase down future international leads, review partnership contracts, and keep a healthy relationship between our original publishers and sub-publishers.
Our Publishing team mainly deals with commercial works – music used in TV and films and works closely with Korean writers/composers.
Our Operations and Marketing teams work together when it comes to certain projects, but Operations is typically in charge of accounting and logistics while our Marketing team is responsible for customer service, sending out ads/newsletters, etc.
Last but not least, the Production team focuses mostly on A&R, artist management, and content production.
3. What are the most prominent changes within the Korean market that you've seen since the company's foundation in 2010?
Maybe media – though that applies to everyone in the world (although we do have the fastest internet in the world). There's the capability of sending/receiving audio through platforms such as SourceAudio, as well as the impact of media platforms like YouTube and Netflix. It's how we "consume" information and content as well as how we communicate and interact with clients and customers.
4. Has the pandemic affected the company's work much?
We would be lying if we said the pandemic didn't affect us. It definitely had a big impact on our business and work. A lot of production work regarding movies or TV shows have either gotten delayed or cancelled due to the requirement of social distancing and just being safe in general. It also seems a lot of production companies are also struggling due to their funding being cut. We're trying our best to stay positive and push through these times like how everyone else is.
5. Hi-Five works with music companies from all over the world. What's the most important piece of advice you can give on building a global network?
Communication. We try to be there for our clients and keep them updated whenever we can because we appreciate their work and effort. Even though we can't meet in person as of now, we love catching up at conventions such as PMC or NAB. Hope to see everyone soon!
6. What's the best way to get a music supervisor to listen to your tracks?
We try to get our clients to listen to music in a couple of different ways. The first step would be to do some research on the company/music supervisor first. Figure out what they like or don't like, and it'll most likely give you some sort of direction. For example, we like to try and create personal playlists that fit our clients' needs instead of just giving them access to our SourceAudio to search for music themselves. We also think meeting face to face is important as it builds the relationship when reviewing the tracks together.
Once we start working with a client, we regularly review the usage including what each client downloaded and what was used and placed. Then for future briefs we'll have a better idea of what they want so the playlists are more trustworthy. Ultimately, the quality of music for their specific needs is what makes us different – we let them know which music library is unique or special for a specific genre or style!  The details are unfortunately a secret!
7. In the US, synch can be a crowded space. Is there a lot of competition to secure placements in the South Korean market? If so, how have you worked to make Hi-Five stand out from the competition?
Yes, it is definitely a competitive space here as well! For us to compete with well-known commercial tracks and rising platforms for content creators, we think that having a repertoire with comprehensive genres and high-quality tracks as well as great customer service for music search and licensing is a good combination for us.
8. Is there a specific media format that you focus on as a customer base? Or does the company pursue many different media formats?
We focus on every area – television (including advertising), film, OTT (including television shows and Netflix Originals), public offline events, corporate internal broadcasting, education, mobile, etc.  We don't discriminate.
Having a deep and extensive library has allowed us to separate ourselves from our competition. Also, in order to stay relevant, it's important to try and stay open-minded on all media formats whether it's new, old, or groundbreaking technology. The more diverse, the more opportunities we can try to capitalize on. 
Most of the customers in traditional media are also transitioning or getting familiar with "new" media and we think it is necessary to expand if we do want to grow further.
Our workflow is based on trust. Although each client is different, our Music team is highly detailed and knows each labels' strong points. By having a strong and reliable team, we can always rely on them to satisfy our clients' needs.
9. Do you have a company mission that guides your business development or customer experience?
Our focus is to definitely be the best in the music licensing sector in South Korea. To do that, we identify and research trends, stay on the lookout for upcoming projects, and just know what the landscape is looking like. We also make sure to stay up to date on any copyright law changes and try our best to put it into practice.
10. Any all-time favorite placements you're especially proud of?
No Sheet Music's track called "Something New" by Lee Henry which was used in an ad for a café called A Twosome Place. A lot of people were curious about where the track came from and ended up going to the label's website to look it up. Also, if you look up the ad online, it's one of the most viewed and commented placements we have.