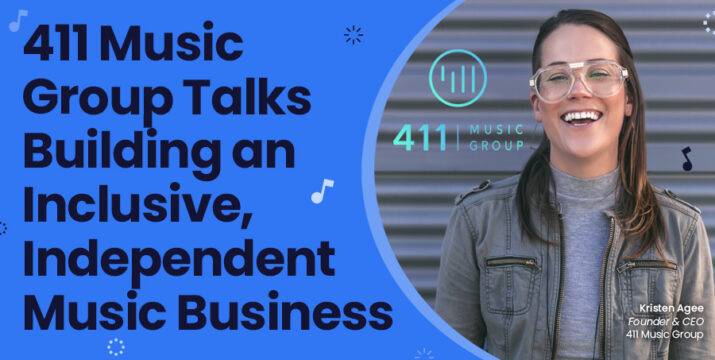 411 Music Group Talks Building an Inclusive, Independent Music Business
411 Music Group is a creative music house specializing in music solutions for visual media including synchronization licensing, custom music, scoring, publishing, administration and digital distribution for music rights holders.  Founder and CEO Kristen Agee shares her story of building a successful music company from scratch.
How did 411 Music Group first begin?
I started as a composer/producer writing for other music catalogs and artists. I was in bands playing violin and bass, and then shifted gears to sound engineering and writing full-time. At a certain point, I thought, 'why don't I aggregate my own music rights and rep different artists and composers?' Much easier said than done, but that was the basis for starting 411. I started signing one-stop, indie artists with sync in mind, and then expanded into score, sound design, trailer music, and then traditional publishing and custom music.
When the company was getting started, what parts of the business were more challenging than expected? What parts came very naturally?
Because of my musical background, the creative side came easily. And, actually, meeting people was fairly easy. Getting people to listen and to trust us took time. That part you have to prove. Going into it, I thought we would have a series of wins and then everyone would want to work with us. That bit took way longer than I thought. I think I underestimated how long it takes to start a company from scratch and do everything on your own. We're unique in many ways because of this - I was a young woman starting a company from zero with no board, no investors and no advisors…I just had to figure it out. It was a lot of trial and error in the beginning. There are always new challenges and hoops to jump through, but we are a trusted catalog with a reputation that speaks for itself, and that took time to build.
Can you give us an overview of the different departments within 411?
We have a one-stop, production music side with approximately 60,000 tracks. We've also built a 'traditional' publishing arm that reps bigger Billboard-charted artists like CupcakKe, Qveen Herby, commercial artist catalogs, and covers. And finally, we write award-winning custom songs and score for ads, shows, trailers, films, and games.
About how many artists and composers are you working with currently? Are you currently looking for new artists?
We work with a few thousand composers and artists. On the custom side, though, I would say we work consistently with about 65 different composers and artists. We're always looking for more music and more diversity in our catalog. We are choosy about what we bring in, but always happy to listen!
Do you have any advice for an artist or small label trying to break into the sync sphere?
I used to say 'don't do it', but I think that's a bit of a cop-out. The truth is, it is very hard to 'make it' as an indie label, artist, publisher, etc. It takes time and money and requires something extremely unique for you to stand out from the crowd. How can you compete with all of the major artists and labels out there who have the personnel, funding, and creative support to make people pay attention? You have to be relentless and persistent past the point when everyone else stops, but you also have to support yourself through it. You really need to develop thick skin because you will probably hear 'no' a lot. Practically speaking, I'd say it's worth partnering with people to fulfill the vision. You can't do it all by yourself. You need to have a team to back you up on some level, and accepting that early on will make the process more bearable and potentially allow for a faster growth timeline. Having 25% of something is better than 100% of nothing, so I say partner with people who are better at certain things than you are who you trust. And, as a general note, just be nice to everyone. The time of egos and bullying is over.
Can you share anything currently on 411's roadmap, whether it be an upcoming creative initiative or business development?
Since COVID, we've been setting up a lot of virtual songwriting camps. This year, we put together an LGBTQIA+ writing camp that went really well. We also hosted a BIPOC camp, a Holiday writing camp in May, and we're sending some of our producers and writers to Czech Republic and Finland later this month/next for sync initiatives in different territories. I've always been a believer in mixing different styles and musical cultures to create something new. Now more than ever, there is finally a big push for diversity, and we are there for it! We're signing and composing more music than ever and are excited about pushing the creative limits forward.
Does 411 have a company mission that guides your business development or client experience?
We have always been a supporter of minority and underrepresented artists, composers and businesses in the industry. As a female-owned and operated business, we know what it's like to fight your way to the top (and by top I mean middle, cause let's be real, it's not 2050). We are honest, fair, and hustle the s--t out of our catalog. We're very proudly an indie and stand independently on our own. We have a personalized approach to finding the perfect song, and we create amazing custom songs and score. Our composing and writing teams are seriously the best in the business, and we give good notes 🙂 We are focused on creative and clean licensing, and that's why our clients keep coming back.
Any all-time favorite placements?
My personal favorites right now are the viral TikTok branded campaigns we've done in the last year. We did one Laura Mercier campaign with TikTok and two Victoria's Secret Pink campaigns. Each had over 10+ billion (with a b!) views. The last VS campaign we did has over 14 billion views. The scale on TikTok is incredible, and we're very happy to be a part of the creation of these user-generated videos. I also love the Bad Boys for Life license we did for the film, the sound design we produced for the Game of Thrones season finale trailer, and the Bunga Bunga themes we wrote for the Wondery podcast.