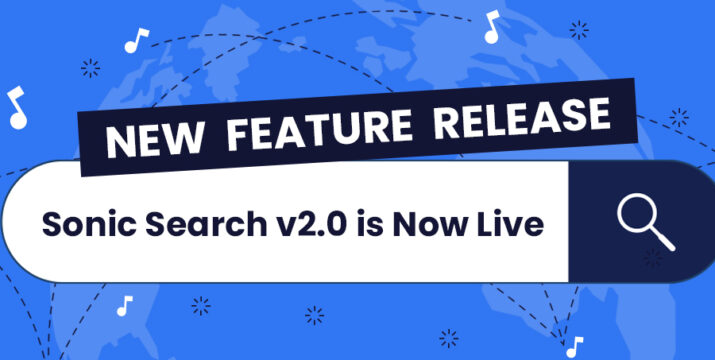 NEW FEATURE RELEASE: Sonic Search v2.0 is Now Live
Our Sonic Search tool just got even faster, smarter, and more accurate – try it out on any SourceAudio site now!
What is Sonic Search?
SourceAudio's Sonic Search tool is the fastest way to find soundalikes to your reference tracks. 
Drag and drop your reference track into Sonic Search, and in a matter of seconds, our algorithm analyses your track's timbre, tempo, vocals, tonality, and more against every track hosted on the site to bring back the library's most sonically similar tracks.
Our team has reconstructed Sonic Search's audio analysis capabilities using machine learning to create an even more powerful search engine for sonic similarities.
Sonic Search v2.0 is twice as fast as v1.0 on average.

Better, more useful matches in less time than ever before – from MP3s, WAVs, AIFFs, YouTube links, or SoundCloud links as references.

You can even leverage the Sonic Search tool with any track on a library site without any downloading or uploading. Just click the
icon on any track line listing > Similar Tracks (Sonic Search).
Sonic Search Tips and Tricks
Select only a specific segment of your tracks to reference in your Sonic Search – Simply adjust the beginning and end markers on your reference track after uploading, and you can narrow your search to the exact segment of your track you choose to reference.
Combine a Sonic Search with:
Metadata filters at the top of the left rail navigation tools
Additional search terms that comb every piece of metadata on every track for matches to each word of the search entry
Advanced field-specific or compound searches for pinpointing the exact data you're looking for

Save your search results for later – Running a search you'll need to come back to in the future? Click "Save This Search" just above your results to save the search on your user account. You can revisit these exact results any time by heading to your User Dashboard > Saved Searches and ensure that once you've dialed in the perfect search, you'll never have to worry about losing it or starting over.
Questions about Sonic Search or any of our other powerful search tools? Reach out to support@souceaudio.com!