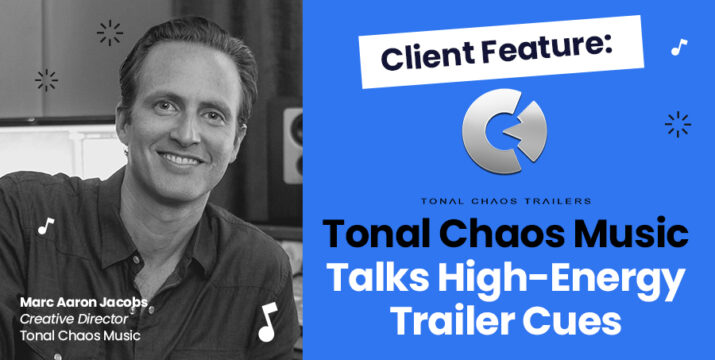 Tonal Chaos Music Talks High-Energy Trailer Cues
Tonal Chaos Music + Sound Design is a premium boutique trailer library with refreshingly bold and innovative music from top trailer talent and mixing and mastering engineers. Their music can be heard in theatrical campaigns, promos, feature films, television spots, and video game trailers. In our interview, Creative Director Marc Aaron Jacobs talks trailer music for horror, thrillers, and high-energy ad campaigns.
How did Tonal Chaos first begin? What did the business look like in the early days?

The early days of Tonal Chaos consisted of only me, myself, and I, digging around through my categorized folders on my hard drive trying to locate tracks to send off for music searches. It was literally, Tonal Chaos. Once the business became "official", we built our SourceAudio site and brought in a team to help support the demand that I knew was coming. We've got an incredible team in place, and a workflow where we produce extremely high-quality trailer music on a consistent schedule throughout the year.
What challenges did you face in the beginning of the business and what came easily from the start?
What came easily to me was building our roster of talented composers. For some reason, that just felt natural and worked itself out. Maybe because I'm a composer myself, so I can easily relate to the writers I bring on, and I'm always looking out for their best interests.
Our challenges were many! I don't think most people know how many moving parts are involved in creating a music catalog. It's intense…but I love it! Learning and building systems to help with a smooth workflow was a challenge at first, but now that we've got these implemented into our day-to-day, things run very smoothly! To be specific, it was important to me to monetize our catalog in every possible way. Performance royalties, neighboring rights, Youtube, Spotify, Sub-Pubs, etc. Navigating this and learning what needed to be done was a hurdle initially. This leads me to the next challenge, getting our catalog into the hands of the people who need it, and will use it. It's been a long and ongoing process, but developing meaningful working relationships with music supervisors, editors, creative directors, studios, etc., definitely isn't easy but essential in the "challenges" category. To tackle this, I've brought on a sales/marketing team to make sure people know who Tonal Chaos Trailers are and that they're aware of all of our latest and greatest releases.
What kinds of sounds or genres have been most in demand from your clientele recently?
We receive a lot of searches and usage in the horror and thriller genre these days.
Is there any specific customer sector that's experiencing rapid growth right now?
We've seen a trend in commercial advertising coming to us for our big epic and high-energy action trailer cues. In addition, our music outreach on YouTube has been pretty strong, which is translating into micro-license e-commerce sales directly on our SourceAudio site.
Any production secrets you can share on what goes into a great horror, thriller, or high-energy trailer cue?
When we produce any track, regardless of the genre, the priority for our team is to create very unique and custom sounds (signature sounds) in every piece. These are created from scratch and help each track have its own identity and sound. This is something I focus heavily on because Tonal Chaos Trailers need to have an identifiable sound, which in the end, makes us stand out among our competitors. When it comes to specific genres, such as horror, we focus on scary sound design, unnatural rhythms, and cues that climax in a horrifying and chaotic way. We want to make the viewer jump out of their seats!
What does a typical day look like, if one exists?
There really isn't a typical day but there are elements of this business that seem to repeat themselves. First things first, I start every day with some exercise to keep my mind fresh so I can tackle what may come. Our industry is high-pressure and stressful, and I personally find exercise a great way to handle it. Every day does include some composing. I could be writing a track for an album release, creating a custom, or possibly creating sound design for one of our Trailer Tools compilations. I'm also always listening and reviewing music submissions and making sure everything stays organized so we keep to our release schedule. I try and release one big trailer album per month, and we squeeze in a sound design Trailer Tools release as well. I'm also receiving music searches from music supers fairly often, so there are many days when I'm putting together playlists for specific projects.
Do you pursue any marketing initiatives to make the company stand out from the crowd? Or does most of your business development happen through direct communication.

Our head of sales and marketing handles the majority of our direct communication with our clients. We don't use any paid ads or marketing. Just your standard meetings, calls, and new album release emails!
Is your music available to listen to on DSPs?

Yes. We are streaming on pretty much all platforms.
Where does Tonal Chaos source its material? Are you currently looking for new composers?

I have an amazing team of composers on our roster. That being said, I'm always looking to bring on new talented trailer composers.
Any advice for up-and-coming sound designers, composers, or recordists striving to create professional, industry-quality tracks?
Practice, practice, practice! First and foremost, you have to be a great composer, but just as important is the production value you bring to your music. Watch YouTube tutorials, take classes, and ask questions to established writers. I receive music daily, and I know if I will continue listening or move on to the next submission within the first few bars. If the production quality isn't top-notch, I have a hard time listening to the entire track.
Does Tonal Chaos have a company mission that guides business development or client experience?
Our mission has always been to create high-quality music and develop genuine and meaningful working relationships with our clients. We curate our catalog based on industry needs, thanks to consistent conversations with music supervisors, editors, and studio executives.
What's the best way to get a music supervisor to listen to your tracks?
For us, it was patience (it takes a while), consistency, and of course, creating a high-quality product. Developing relationships with music supervisors will happen over time. Be kind, offer truthful expectations, and be respectful, and if your music is the right match for whomever you're trying to connect with, I'm confident you'll make that connection. Music supervisors are always looking for great, new, and fresh tracks, so if you can provide that, it's a win-win. Get out of your studio and meet them face to face at conferences, music showcases, or wherever else the industry comes together.
Any all-time favorite placements?
Every new placement is my favorite. I loved being in the latest Scream campaign. That was a "thrilling" one!