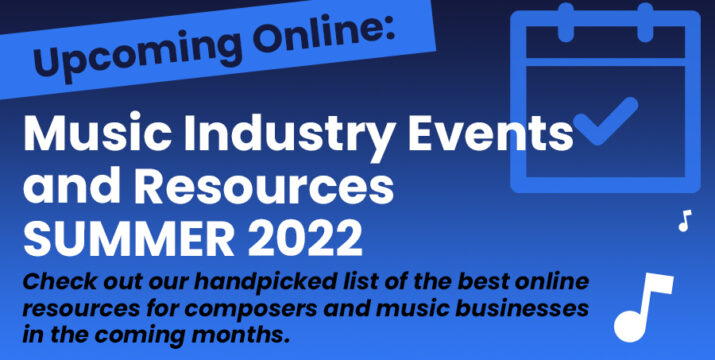 Upcoming Online Music Industry Events and Resources – Summer 2022
Check out our handpicked list of the best online resources for composers and music businesses in the coming months.
Introducing the Songwriters of Mrs. Maisel: Thomas Mizer and Curtis Moore – June 3
Broadway songwriters Thomas Mizer and Curtis Moore to talk about their hit songs in 'The Marvelous Mrs. Maisel' and how they bring that same Broadway sound to their projects. Emmy-nominated songwriters Thomas Mizer and Curtis Moore are an accomplished composing and storytelling team whose work has appeared on stages and screens around the world. Most recently, they returned for another season as official songwriters for the Amazon Prime Video series The Marvelous Mrs. Maisel — composing three new original songs (and a few other surprises) featured in the fourth year of the award-winning hit.
Register at asmac.org
Canadian Music Week – June 6-11
Now in its 40th year, Canadian Music Week is Canada's leading annual entertainment event dedicated to the expression and growth of the country's music, media and entertainment industries. Combining multifaceted information-intensive conferences; a trade exposition; awards shows and the nation's largest new music festival which spans 6 nights of performances June 6 – 11 with hundreds of bands at dozens of live music venues in downtown Toronto.
Register at cmw.net
A2IM Indie Week – June 13-16
A2IM Indie Week 2022 is a four-day international conference and networking event aimed at maximizing the global impact of independent music. Featuring keynotes, panels, exclusive networking sessions, and more, A2IM Indie Week has historically drawn an attendance of over 1200 participants from over 30 countries. A2IM's panels cover a wide array of topics from music licensing to emerging technologies.
Register at a2im.org
Jason Blume Songwriting Workshop Online – July 20
Jason Blume will provide a constructive critique of one song from each participant and will share a melody or lyric technique. Selected songs will be forwarded to up to (10) publishers (depending on genre). During the more than 25 years that Jason has been teaching this workshop, attendees have had #1 singles, signed staff-writing deals, and placed songs with artists, publishers, and in TV and films. Jason Blume is a professional songwriter with more than 50 million album sales, as well as singles on Billboard's Pop, Country, and R&B charts.
Register at bmi.com