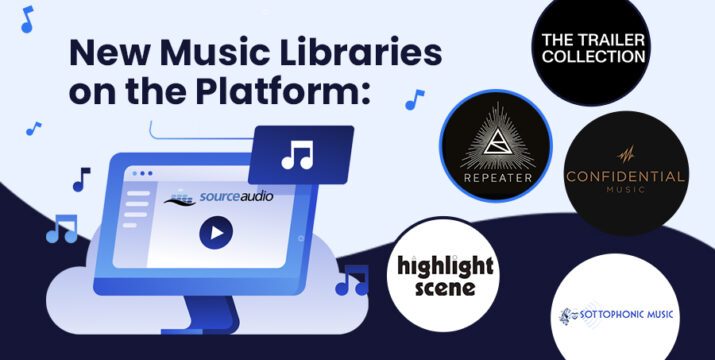 New Music Libraries on the Platform: REPEATER, Confidential Music, The Trailer Collection, Sottophonic Music, HIGHLIGHTSCENE
We're thrilled to share that the following music libraries have just joined the SourceAudio platform!

REPEATER - Listen Here
REPEATER is a boutique music & sound design resource aiming to provide premium cinematic quality production for all forms of visual marketing. Founded by composer/sound designer Anthony Baldino (Tenet, Uncut Gems), composer/drummer Tony Hajjar (At The Drive-In/Sparta), and business ops/music licensing consultant Johnny George, REPEATER prioritizes the client's needs while always maintaining a high aesthetic standard. Services include premium, second-to-none sound design, a carefully curated library of production music, as well as custom music services for any form of visual media & marketing. REPEATER also works with a growing roster of artists for all of your sync needs.

Confidential Music - Listen Here
Confidential Music was founded in 2012 by composer John Samuel Hanson and mixer Kyle Biane. The duo built the library with the idea of crafting evocative scores for motion picture advertising. It is not only about getting their clients what they need, but sharing their vision and realizing it from conception to the screen.

The Trailer Collection - Listen Here
The Trailer Collection collaborates with world-class Hollywood film composers to create score-quality tracks tailored for big blockbuster impact. They have recently launched their first album, The Henry Jackman Trailer Collection, aimed at motion picture advertising. The multi-award-winning British composer Henry Jackman has scored an incredibly diverse roster of Hollywood films: action blockbusters such as X-Men First Class, Captain America: Civil War, and Jack Reacher: Never Go Back, dramas such as Captain Phillips, The Kingsman, and Cherry, comedies such as Kick-Ass 1 & 2 and The Interview, and family entertainment such as Pixels, Wreck-It Ralph, Pixels, and Jumanji: The Next Level. The Trailer Collection's founder describes the library as minimal, artist-first, and egoless. "We don't need to shout; our writers' resumes tell you all you need to know … it's just about the music. This is premium music for premium trailers. Expect boutique service, low-volume, and no-filler, high-quality music every time."nbsp;

Sottophonic Music - Listen Here
Sottophonic Music was launched in 2019 by composer/songwriter, Stephen R Phillips, who in 2001 founded the well-known TV and film song catalog, Bosshouse Music. Springboarding off of Bosshouse's years of success, Sottophonic focuses on creative partnerships in television, film, and advertising. During Bosshouse's run, the Bosshouse team secured thousands of sync placements in a wide variety of iconic television series such as Dexter, True Blood, Lost, Shameless, and countless others. National advertising campaigns such as Garnier, IKEA, McDonald's, the MLB, the NBA, the NFL, ABC, NBC, FOX, the Minion franchise, and CBS all turned to Bosshouse to assist with their branding. For all music and creative inquires, email Stephen at: stephen@sottophonicmusic.com For all licensing and clearance inquires, email Amy Roberts at: amy@sottophonicmusic.com

HIGHLIGHTSCENE - Listen Here
Comprised of producers and composers with decades of experience in motion pictures, commercial film, and broadcast media, HIGHLIGHTSCENE offers a broad array of services in creating, producing, and managing sound and music for their clients' work. HIGHLIGHTSCENE continually strikes to build industry partnerships with an open mind and to advance the careers of their artists.