Congratulations to All the Production Music Award Winners on the SourceAudio Platform!
By SourceAudio | Updated November 17, 2022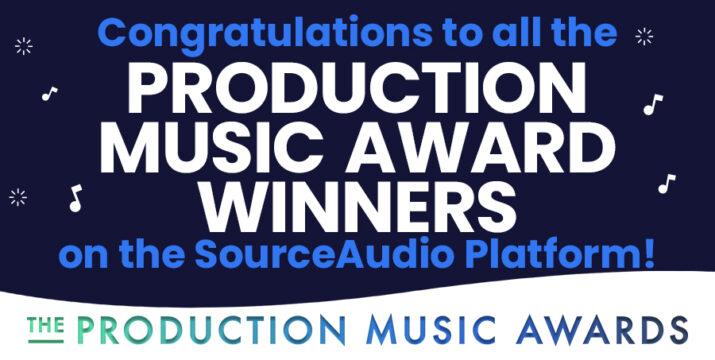 Last but certainly not least of the 2022 award ceremonies for music synchronization, the Production Music Awards acknowledged all of the following companies who we are so proud to have on SourceAudio. Congratulations on your well-deserved wins!


Extreme Music
Winner of:
Best Acoustic Pop/Rock Production Music Track
"Somethign in the Water"
By Malory Torr
Best Ambient/Minimalist Production Music Track
"Cave Water"
By Praers
Best Electronic Production Music Track
"Get Money"
By Stuart Winters, Tiger Gates, Alex Nova
Best Hip-Hop/Rap Production Music Track
"Win or Lose, It's What I Do"
By Lorne Balfe, Steve Kofsky, Russell Emanuel, Kevin Risto, Chelson Strong
Best Use of Production Music in Television Advertising
"Always Go the Distance"
In the Production "Sure – Watch Me Move"
By Lee Richardson, Jonathan Murrill, Tom Ford, James Cocozza
Best Use of Production Music in Sports Promo
"The Search Goes On"
In the production "Commonwealth Games"
By Rupert Pope
---
BMG Production Music
Best Indie/Alternative Production Music Track
Liquid Sunshine
By Bea Parks, Jack Lake, Mike Monaghan, Tomas Greenhalf
Best Rock Production Music Track
Let the Rain In
By Holly Henderson
Best World Production Music Track
Aye Kamine
By Aditya Narayan, Vayantara Bhatkal
Best Wildcard Production Music Track
Aye Kamine
By Housequake, McMalaise
---
Elephant Music
Winner of:
Best Use of Production Music in a Television Trailer
"Deception"
In the production "Landscapers"
By Sean Redmond
Best Use of Production Music in a Film Trailer
"Dresden"
In the production "Don't Worry Darling"
By Simon George Begg
---
Universal Production Music
Winner of:
Best Trailer Production Music Track
Megalith
By Si Begg, Damon Baxter
---
West One Music Group
Winner of:
Best Newcomer
AdELA
---