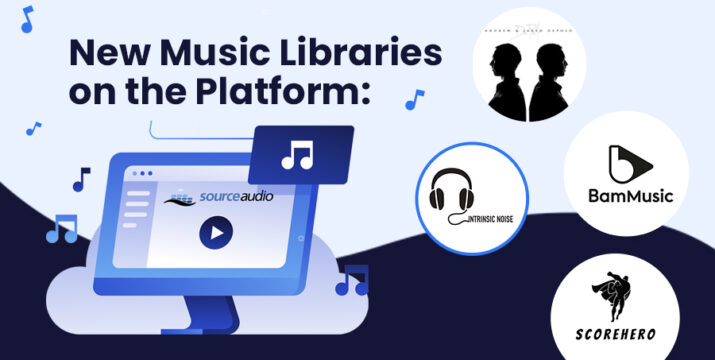 New Music Libraries on the Platform: DePolo Music, Bam Music, ScoreHero, Intrinsic Noise
We're thrilled to share that the following music libraries have just joined the SourceAudio platform!

DePolo Music – Listen here

Twin brothers Andrew & Jared DePolo write music that connects to the heart of story. Their work has been featured on NBC, TBS, E!, Bravo, USA, TruTv, and the Madden series from EA Sports. From epic cues for their hometown Cleveland Browns, to captivating scores featured in films & documentaries, the DePolo brothers bring to life that which ceases to be seen.

Bam Music – Listen here

Who better to trust with your music choices than a culture collective of passionate music lovers, innovative creators, and avant-garde connoisseurs? That's BAM to the core. Born out of Montreal's hip Mile End and headquartered in Paris' artsy "9ème'' neighborhood, Bam Music is an ever-expanding cooperative of indie labels and music architects from around the globe—a fresh and inspiring music resource for all media makers. Think, equal parts French flair, cheeky Londoner, and Cali cool. Bam Music provides award-winning, high-quality music to elevate your productions. Bam Music's team is au courant about worldwide music trends, and they deliver impactful sounds for advertising, branding, promo needs, & more. Together, the labels in Bam Music's collection offer the spectrum of orchestral, indie, rock, vintage, and soul to world, electronic, trailer, pop, and beyond.

ScoreHero – Listen here
On a mission to save the world of cinematic music, ScoreHero is the personal music catalog of renowned trailer composer Caleb Swift. Utilizing years of experience in music production, custom productions, and sound design, ScoreHero brings a fresh blockbuster sound without compromising creativity. Having provided music for many of the most anticipated films and television series in recent years, Caleb's understanding of music composition for sync is unparalleled.

Intrinsic Noise Music – Listen here

Intrinsic Noise Music is a Hollywood-based production music library founded by Daniel Clem who brings experience from a variety of Los Angeles music publishers.  Drawn from foundations in the trailer music industry, we strive to incorporate new custom sounds using current production techniques that convey our unique edge.