New Music Libraries on the Platform: Bricks By Milk, True Music, 45Y Music, Pure Audio Solutions
By SourceAudio | Updated July 8, 2023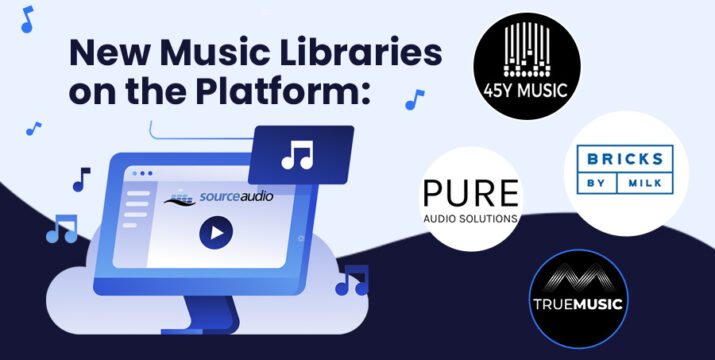 We're thrilled to share that the following music libraries have just joined the SourceAudio platform!
Bricks By Milk – Listen here
Bricks by Milk supplies music and voices for productions, taking care of every audio aspect, balancing budgets, and finding high-level solutions. Their staff has worked for years in record production, soundtracks, on the most important sets and stages of Italian theaters, and behind the scenes of concerts and television shows. These experiences have led Milk to create a catalog of high-quality tracks of many genres that's constantly updated and suitable for all kinds of audiovisual projects. Over time, the company has created an experience for its clients where they work alongside, and not simply at the service of agencies, productions, and entrepreneurs.
True Music – Listen here
True Music is a one-call-clears-all catalog of indie artists curated by composers and music supervisors with over 30 years of experience finding the right songs and writing the perfect scores for filmmakers. This catalog was designed for cinematic storytelling. Our hard work has paid off and True Music has been featured in films and television shows across all major studios and networks including Sony, Lionsgate, CBS, NBC, ABC, FOX, CW, Netflix, HBO, BET, Showtime, Disney+, Paramount+, and A+E Lifetime.
45Y Music – Listen here
Welcome to 45Y Music, your go-to destination for captivating electronic music, charismatic hip-hop instrumentals, and gripping trailer/cinematic cues. 45Y specializes in crafting immersive soundscapes that ignite emotions and captivate audiences. Their eclectic collection features a dynamic fusion of genres, blending infectious beats, ethereal melodies, and powerful arrangements. Whether you're a filmmaker, game developer, or content creator, 45Y Music provides the perfect sonic backdrop to elevate your project to new heights. Immerse yourself in their meticulously curated catalog, and discover a world of sonic possibilities. They are enthusiasts of media and love contributing the right music to anyone's project. Let 45Y Music transform your vision into an unforgettable auditory experience.
Pure Audio Solutions – Listen here
Tap into your new favorite library of meticulously curated, cutting-edge music and sound design with Pure Audio Solutions. As a premier music library, Pure provides a diverse collection of modern songs and captivating soundscapes designed to elevate your creative projects to new heights. Whether you're working on films, TV shows, commercials, video games, or any cross-media production, Pure's one-stop licensing solution offers a seamless and convenient client experience. With a focus on innovation and quality, Pure brings together a varied selection of tracks and effects designed to engage and captivate your audience. Explore Pure's extensive catalog to unlock all the power of sound and dramatically enhance your storytelling.