How to Write Great Prompts and Get the Most Out of Artemis AI Track Searches
By SourceAudio | Updated September 24, 2023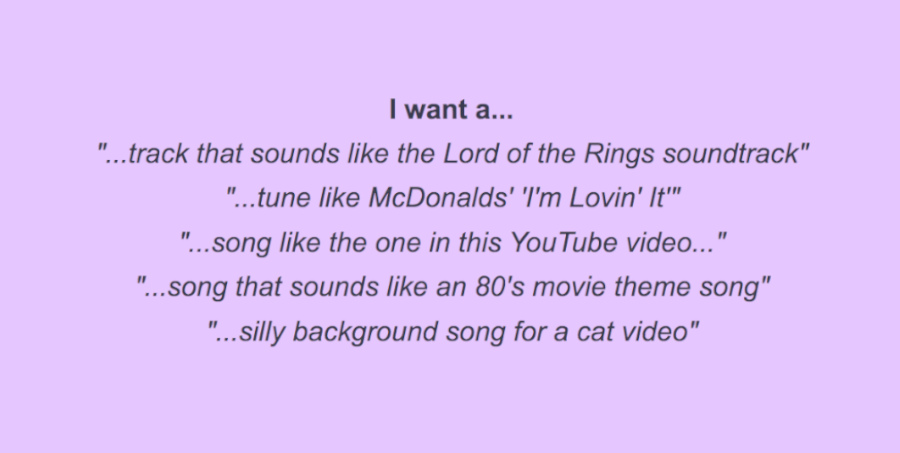 Ready to unlock all the power of our best-in-class AI music search solutions? Here's everything you need to know about prompting Artemis!

Artemis is more than just a search tool—it's your AI-powered assistant providing you with complete insight into the entire recorded history of music and media. And here's the secret: the effectiveness of your prompts is the key to unlocking the true power of AI in music discovery.
How Prompting Artemis Works
To effectively interpret your prompts, Artemis, like all LLM applications, breaks down your input into tokens. Think of tokens as the building blocks of language; they can be words, prefixes, symbols, numbers—they're bits of language broken down to its most basic components. When you type a prompt into Artemis, it's then able to interpret the entire text instantly, much like a calculator processing numbers. As your tokenized prompt is received, Artemis computes this information against its vast knowledge of music and media to provide you with the most relevant keywords.
While other chatbots need to be thoroughly primed or assigned a role to be maximally effective, Artemis is pre-primed and ready to deliver perfect results on a simple, zero-shot prompt. Artemis already knows its role as a world-class music search tool—you never need to remind it of that to get the best results like you might with other AI tools.


READY-TO-USE PROMPTS
To celebrate the release of Sonic Search v3.0, here are some of our favorite soundtracks to reference, organized by genre, that you can use for your Sonic Search or natural language search prompts!
FILM & TELEVISION SCORES
Drama
"Gladiator"
"The Dark Knight"
"Inception"
"The Social Network"
"Game of Thrones"
Comedy
"La La Land"
"Up"
"The Grand Budapest Hotel"
"Ghostbusters"
"The Simpsons"
Fantasy/Sci-Fi
"Blade Runner"
"The Lord of the Rings"
"Interstellar"
"The Matrix"
"Stranger Things"
Thriller and Suspense
"The Thing"
"The Sixth Sense"
"Under the Skin"
"Psycho"
"American Horror Story"
Documentary
"March of the Penguins"
"Life, Animated"
"Long Night's Journey Into Day"
"Man on Wire"
"Planet Earth"
ADVERTISING AND COMMERCIAL MUSIC
Jingles
McDonald's "I'm Lovin' It"
State Farm's "Like a Good Neighbor"
Kit Kat's "Give Me a Break"
Old Spice's "The Man Your Man Could Smell Like"
Coca-Cola's "Open Happiness"
Consumer Electronics Commercials
Apple's "Welcome Home" (Featuring an original score by Anderson .Paak)
Apple's "The Human Family" (Featuring an original score by Daniel Pemberton)
Samsung's "The Next Big Thing Is Here" (Featuring an original score by Woodwork Music)
Google Pixel's "Unbox the Future" (Featuring an original score by Jon Dix)
Sony Bravia's "Color Like No Other" (Featuring an original score by José González)
Luxury Brand Commercials
Chanel's "Coco Mademoiselle"
Gucci's "Bamboo"
Rolex's "Every Rolex Tells a Story"
Louis Vuitton's "The Spirit of Travel"
Tiffany & Co.'s "Will You?"
Automotive Commercials
Audi's "The Chase"
Mercedes-Benz's "The Best or Nothing"
Volkswagen's "The Force"
Toyota's "Swagger Wagon"
BMW's "The Ultimate Driving Machine"
Sports and Athletic Brand Commercials
Nike's "Just Do It"
Gatorade's "Heart of a Lio"
Adidas' "Impossible Is Nothing"
Under Armour's "I Will What I Want"
Reebok's "Be More Human"
VIDEO GAME SOUNDTRACKS
Role-Playing Games (RPGs)
"The Elder Scrolls V: Skyrim"
"Final Fantasy VII"
"The Witcher 3: Wild Hunt"
"Dark Souls"
"Mass Effect"

Action/Adventure Games
"The Legend of Zelda: Breath of the Wild"
"Uncharted 4: A Thief's End"
"Halo: Combat Evolved"
"God of War (2018)"
"Red Dead Redemption 2"
Retro and 8-bit
"Super Mario Bros."
"Mega Man 2"
"Castlevania"
"Pac-Man"
"The Legend of Zelda"
Strategy Games
"Civilization VI"
"Stellaris"
"XCOM: Enemy Unknown"
"Total War: Three Kingdoms"
"Age of Empires II"
Sports and Racing Games
"FIFA"
"NBA 2K"
"Gran Turismo"
"Rocket League"
"Tony Hawk's Pro Skater"
More Tips for Effective Prompting

While you let Artemis handles the technical complexities, here are some practical tips you can leverage for creating effective prompts:
Be descriptive. The more descriptive your prompt, the better Artemis can understand your request.
Use reference tracks whenever possible. If you can provide audio for Sonic Search, all the better!
Context matters. Consider mentioning where you'll use the music, whether it's for a film soundtrack, a commercial, or personal enjoyment.
Embrace natural language. Use everyday language—no need for technical terms.
We hope you enjoy reaping the creative benefits of utilizing Artemis as your AI guide to a paradigm of musical exploration. Through effective prompting, Artemis puts all the power of AI right at your fingertips. So whether you're selecting the soundtrack for a blockbuster trailer or your first podcast, let Artemis be your guide for finding the audio that brings your production to life.