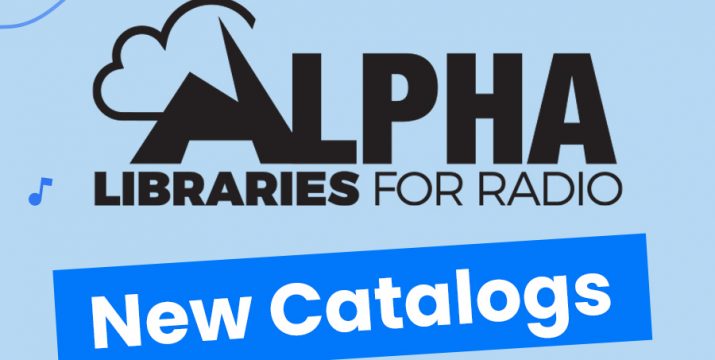 The Alpha Music Libraries track count continues to grow past 1.8 million tracks with our five most recent library sign ups: Scorekeepers, Move Music, InStyle Music, Soundfile Music, and Music For Sports. Here's a quick look into each of these great companies!
Scorekeepers
Scorekeepers houses and controls a massive collection of tracks ranging from emerging indie artists to Emmy Award-winning composers. The Los Angeles based company's tracks span all genres, moods, and instrumentations. Their extensive list of placements includes programming on Showtime, NBC, Fox, CBS, Disney Channel, SyFy, and Food Network, plus theatrical releases from Paramount, 20th Century Fox, Dreamworks, and Warner Bros Pictures. The company was founded by its current President, Vaugn Johnson, and now provides over 120,000 tracks to Alpha.
Move Music
Move Music LLC is a full-service music publishing, licensing, and administration provider based out of Los Angeles and Nashville. The library offers a wide array of genres and moods, with an especially strong selection of tracks designed as television underscores. Clients include UFC, Turner (now WarnerMedia), NBCU, TMZ, Discovery, The Style Network, and Masterclass. Move Music was founded by Timothy Andrew Edwards who heads creative, and Hunter Williams who heads licensing and operations (in addition to being the EVP of IP & Biz Dev at SourceAudio). The company provides over 2,000 tracks to Alpha.
InStyle Music
Launched in 2014, InStyle Music is a leading music licensing company for media, trusted by music supervisors, editors, directors, producers for television, film, advertising, promos, trailers, and now, radio broadcasters. Founder and CEO Pedro Costa leads the company from Toronto and has also played a major creative role in the company, keeping the library's sound on the cutting edge of broadcasting trends as their name suggests. Recent placement credits include programming on Netflix, E!, MTV, Vice, Nickelodeon, and A&E. The company provides over 2,000 tracks to Alpha.
Soundfile Music
Soundfile Music is a Los Angeles based full service music company created by composer and producer Michael Baiardi 20 years ago as a custom music house, recording studio, music library, publishing and music supervision company. The company's library of tracks offers a diverse array of music tailored for use in film, television, and now radio. Soundfile's music has been placed on The Avengers movies, ABC, VH1, TLC, Netflix, Hulu, and Amazon Prime Video, plus ad campaigns for Nike, Delta, and many more. The company provides over 7,000 tracks to Alpha.
Music for Sport
Music For Sport is a UK based sports music library specializing in high quality production music for television, film, radio, advertising, websites, social media, and now radio. The company launched in 1992 at the Barcelona Olympics and has produced ninety five albums to date in genres ranging from ambient to punk rock, to modern classical, to contemporary folk. Recent Music for Sport credits include BBC, CNBC, Sky Sports, ITV, Discovery Channel, Capital Radio, The History Channel, The Travel Channel, Inside Racing, and The National Geographic Channel. The company provides over 2,000 tracks to Alpha.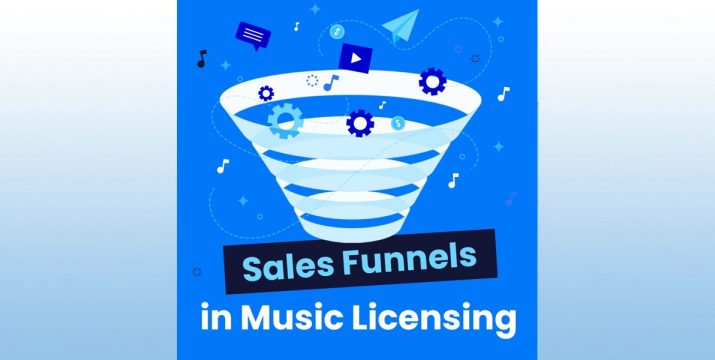 The sales funnel is a core concept in marketing across any industry where a transaction takes place. It's a visual metaphor designed to help companies understand effective selling, illustrating the customer's journey from initial awareness of a product to the action of making a purchase.
Why a funnel?
The imagery of the funnel and its wide-to-narrow shape illustrates how the beginning of the sales process sees the greatest volume of potential customers, also known as leads. The funnel is widest at the top where the initial step of awareness is taking place. As a company's marketing efforts work to push potential customers through the funnel to become sales, it becomes more narrow, as not every individual who was made aware of the product will seriously consider purchasing it. As the journey of consideration towards purchase continues, there will always be some clients dropping off until the bottom is reached where the prospective customers decide to purchase, completing their journey through the funnel.

By understanding the key points of the journey through the funnel, companies can push leads through more effectively, and identify weak points in their funnel where they are losing the most people.
Listed below is the sales funnel journey, broken into its four most essential sections and applied to a modern music licensing, supervision, or any kind of music supplier or rights management company.
Awareness
Awareness begins with the first impression a company makes on a potential customer. Get noticed by reaching out and networking with SourceAudio buyers to initiate a working connection. Beyond the platform, a paid advertisement, a referral from another brand, or a Google search listing are some of the most common places this contact is made. Funnel optimization starts here– investigate which discovery methods lead to the most sales and invest accordingly.
In any discovery situation, the goal of the first impression is a clear and simple communication of value for the potential customer, commonly referred to as the "value statement". Let them know that your service is exactly what they're looking for. In the case of music licensing, this means conveying that the music being offered can do an exceptional job of supporting their brand's story.
Interest
In the second phase of the sales funnel journey, a company should work to build the potential client's interest in the product. Connect with buyer sites so you can receive their pitch requests and deliver on your value statement by meeting the client's exact needs. These opportunities move quickly, as productions often operate on very short notice deadlines, so a fast turnaround on a brief can go a long way to building a rapport with a buyer.
If your site has an information page, you can give detailed accounts of successes seen from past clients that have used this music, and then back up these claims with data or vivid supporting information. Present this content in a clear, easy to digest manner so that your prospect is always enjoying the time they spend interacting with your company.
In some cases and depending on your sales model, a great way to push potential customers through the funnel is to offer a free trial. If your initial value statement resonates strongly with the reader, use a free trial to effectively rearrange the funnel, tapping into the decision phase and transitioning right back into interest building. Placement of this offer is key, so if a free trial is introduced very early in the sales funnel, be sure it's an "opt-in" trial, meaning payment info is not required to start the trial. Asking too much too soon with potential customers can often drive them away.
Decision
When the potential customer has thoroughly gotten to know the product, they will inevitably arrive at a point of decision, to buy or not to buy. Gain a clear understanding of what this crucial point looks like for the potential customer, and create a frictionless purchase experience, meaning, it's very easy for a client to sign up.
In addition to a purchase, many companies see success by offering lesser decisions for their customers like the free trial, or an email newsletter. Offering these low risk options and providing value in response to an affirmative decision is a highly effective way to keep a potential customer moving towards a sale. Far better to cycle a prospect back into the "interest" phase then to lose them completely.
An email newsletter can be a great place to deploy customer incentives like a SourceAudio coupon code that can help influence a positive decision. Just make sure you're not bombarding prospects, and if possible, tracking their interaction to gauge what level of outreach works best.
Action
The act of purchasing a license or advertised service is the final stage of the funnel. Reward this action more so than any other to keep your customers coming back for more. Insider offers for returning customers can do wonders to foster customer loyalty.
Once you've made a sale, leverage SourceAudio's robust in-house data studio for rapid growth. Analyze actions from your biggest clients with detailed reporting on their play and download history, plus individual track stats and search trends to identify your most popular material.
Use powerful and easy-to-install analytics add on's to identify patterns in site traffic and figure out the best sources for high-quality conversions ("conversion" meaning they've been converted from a lead to a client, and "high-quality" meaning they are likely to purchase a high volume over their lifespan as a customer).
Now that you've got a handle on the sales funnel, you can get started building awareness, informing your leads, influencing positive decisions, and driving action to build a strong base of clientele.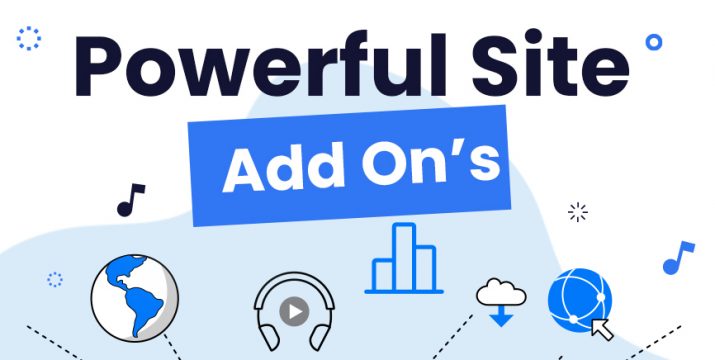 Collect data and chat with customers using SourceAudio supported site add on's like Facebook Business Manager, Olark, Google Marketing Platform, Hubspot, and more.  Connect these services in just a few clicks with our easy to use set up tools.
Live Chat from Olark
Keeping clear communication with customers is an asset for any company. That's why live chat solutions like Olark have sprung up to make it easy for online customers to chat with companies whenever help is needed.
Chances are you've probably used one of these chat applications before. Olark installs an expandable chat window on your site that appears in the bottom right of the webpage. When engaged, the site user is connected with a support rep from the company.
When a customer sends you a message from an Olark chat window, you'll get notified on your desktop. Olark provides you with your customer's name and location, and even lets you track the user as they navigate through your site. In addition to text messages, the chat window also lets users send image files for effective communication and problem solving.
Connecting Olark with your SourceAudio site is a quick and easy process. Once you've signed up for Olark, log in to your Olark panel, and copy your Olark Site ID #. Next, log into your SourceAudio site, click the admin panel icon > click Add On's > paste the Olark Site ID # into the designated field, and click to Save. That's it! Your SourceAudio site will now display your Olark chat window.
Check out Olark's website for more details and pricing info.
Tracking & Analytics
The SourceAudio statistics panel provides in-depth reporting on track interaction and search activity (read all about it here), but for third party conversation data, site traffic analytics and more, hook up any of the following applications as needed.
Google Analytics
Set up Google Analytics with your SourceAudio site to access data and trends on your site's visitor activity. Machine learning capabilities and a wide array of parameters for analysis provide deep insights for analyzing your site's traffic.
Here's how to connect Google Analytics with your SourceAudio site:
1. Follow this guide in Google's support section to find your Google Analytics tracking code.
2. Log into your SourceAudio site > click the admin panel icon > Add On's > Tracking/Analytics > Google Analytics > paste the code into the Tracking ID field.
3. Click to Save Changes. That's it! This code will now be used on all pages of your site.
Google Tag Manager
Go beyond Google Analytics with Google Tag manager, allowing you to manage tags on your site for even more thorough data. Track conversions, bounce rates, and more in an easy to use ecosystem.
Here's how to connect Google Tag Manager with your SourceAudio site:
1. Follow this guide in Google's support section to find your tracking code.
2. Either directly copy your container ID--i.e. "GTM-XXXXXX"--or copy the install code for either the <head> or the <body> section.
3. Log into your SourceAudio site > click the admin panel icon > Add On's > Tracking/Analytics > Google Tag Manager > either paste the container ID into the Container ID field or use the Parse From Code button below to extract it from the code.
4. Click to Save Changes. That's it! This code will now be used on all pages of your site.
Facebook Pixel
Facebook Pixel uses a piece of code to track conversions and key metrics from Facebook ads. Facebook Pixel helps you optimize your Facebook ads, build targeted audiences for future ads, and remarket to prospective customers.
Here's how to connect Facebook Pixel with your SourceAudio site:
1. Visit this article in Facebook's help section to learn how to create and install a Facebook pixel
2. Copy the code from the "Manually add pixel code to website" section.
3. Log into your SourceAudio site > click the admin panel icon > Add On's > Tracking/Analytics > Facebook Pixel > use the Parse From Code button to extract the necessary fields from the code.
4. Click to Save Changes. That's it! This code will now be used on all pages of your site.
Hubspot
A HubSpot tracking code allows HubSpot to monitor your website traffic, and provides you with analytics and insights on your traffic. The service provides much of the same data as Google Analytics, but offers significant differences as well. Many marketers use both programs, Hubspot for a big picture of the data and Google for the details.
Here's how to connect Hubspot with your SourceAudio site:
1. Follow this guide in HubSpot's knowledge base to find your tracking code.
2. Copy the code.
3. Log into your SourceAudio site > click the admin panel icon > Add On's > Tracking/Analytics > Hubspot > use the Parse From Code button to extract the necessary fields from the code.
4. Click to Save Changes. That's it! This code will now be used on all pages of your site.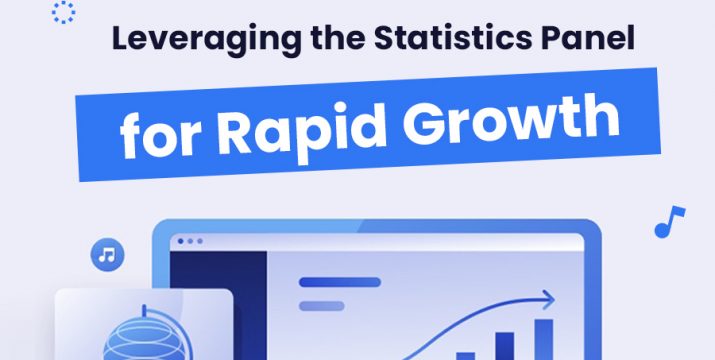 Data is a hot commodity and an integral part of a company's plan for success. SourceAudio offers statistics features designed to offer actionable insights that music companies can leverage for rapid business growth.
Identifying Your Greatest Assets
The statistics panel makes it easy to track down your greatest assets: your most active users, and the tracks that receive the most interaction. Visit the Music Stats section for play and download insights for every track, album, artist, or catalog on your site. Grouping and sorting tools make it easy to quantify the performance of your material and identify what sounds are in high demand with potential for growth.
For a deeper dive into any single track's performance, admins can access a Stats and Activity page on each track's listing where every play and download on that track is logged with the user's information (if the activity is from a logged out user an IP address is listed) and the exact date and time of the activity.
To view activity by user, visit the User Stats section where all activity data is aggregated by user login listing. View all the plays and downloads by any single user. Sort users by greatest play or download activity over the last day, month, week, or year. Get a clear picture of your most active customers.
By utilizing these carefully designed panels, you can quickly and easily see a clear picture of the assets and growth opportunities that can be leveraged to build a successful business plan.
Identifying Trends and User Response
As new releases are rolled out, it's critical to track how they are received and how customer behavior evolves.
Use the Company Sent section of the statistics panel to view complete stats on all sent playlists, albums, and tracks. Within this section, you can click to expand any sent listing to display when it was sent, who it was sent to, how many times the link was opened, and all the plays and downloads from that send. If you only want to see the listings you've sent from your own account in specific, these same insights are available from the Sent section in your User Dashboard.
Determining what clients are searching for is another key component to tracking evolving customer behavior. Visit the Search Trends section of the statistics panel to view the top 100 most used search entries of the day, the last week, the last month, or over the entire history of your site. Check this list regularly to gauge trends and identify opportunities.
Finally, to acquire your site's play and download data in its most raw form, head to the User Stats section and use the export tools seen on the lower right-hand side. These exports provide full spreadsheets of sitewide activity from all users within any given date parameter.
> Use "Export Cumulative User Report" to export a spreadsheet of play/download history for all relevant users. (I.e. User-centric data).
> Use "Export User Report With Tracks" to export a spreadsheet of all plays and downloads, listing complete track metadata, time of play/download, and user information of who played/downloaded (I.e. Track-centric data). 
Note that the "Export User Report With Tracks" export provides complete metadata for all the play and download listings. All correlations and patterns are on display so that businesses can identify and quantify every aspect of their users' behavior.
Capitalize on the wealth of data SourceAudio supplies for music companies. Track demand, supply the evolving market, position your company for success.