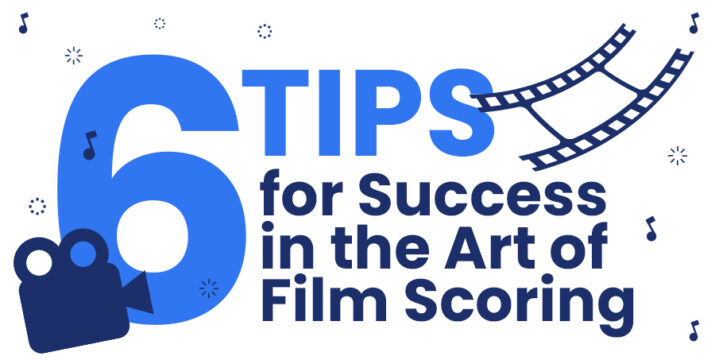 So you're scoring a film or short feature—you've been tasked with creating an immersive and memorable soundscape to accompany your client's story. It's up to you to set the tone, evoke deep emotion, and breathe life into a production at its most vital moments. 
The art of film scoring is not just about composing beautiful music; it requires a deep understanding of the film and its characters, an ability to craft music that interacts with these elements in just the right way, and a mastery of the technical aspects of music production.

In this list, we'll share the talking points we hear more than any others from successful composers discussing best practices and techniques to help you achieve success in this exciting field.
Study the film and its story
It's tough to overstate the importance of this essential preliminary step. Before you start writing music, familiarize yourself with the intricacies of the film and its story. Many film scorers take detailed notes on the key plotlines, characters, and moods over the course of several viewings. This will provide you with a much-needed, clear understanding of what the feature needs from a musical perspective.
Maintain proper communication with the production team
Good communication is a must in just about any career, and on a film, it's typically in your best interest to work closely with the director to understand their vision for the film. Communicate your sonic ideas clearly (they're not usually not going to know what that extended voicing jazz chord with the #11 sounds like), and listen to the director's feedback as things come together to ensure that your music serves its intended purpose: to enhance the film.
Experiment with expressive sounds and textures
Be bold in your sonic experiments! Film scorers employ a wide range of musical textures and sounds to create the perfect mood for each scene. From delicate strings to driving percussion to FM synthesis to SFX straight from the field, don't ignore the vastness of the palette at your disposal.
Use recurring themes and motifs
A well-written film score often uses musical themes and motifs to connect different scenes and create a cohesive musical landscape. Consider using recurring themes for characters, locations, or recurring emotions to give your score depth and meaning.
Work with an audio engineer
If you don't have all the expertise you'd like to on the technical side, a good sound engineer can be just what you need to bring your musical vision to the next level. It's also important to know the fundamentals so you can work closely with the audio engineer, so check out our posts Optimizing Effects Order in Your Signal Path, Audio Production Essentials: How to Mix Sub Bass, An Introduction to EQing in Mixing, and A Beginners Guide to Mastering Audio.
Take inspiration from other film scores
Finally, don't be afraid to take inspiration from other film scores. Study the work of great film composers to see how they have approached similar scenes or moods. By building upon their techniques, you can find yourself on the fast track to success, greatly enhancing your own work, and leveraging everything together to develop your own unique style.