Yes, track uploads are now available on the platform! Whether you just need to upload a single track or 20 full albums all at once, this new tool has you covered. We can handle as many songs as you want to give us in one simple step-by-step operation. First, we'll give you some quick highlights and then we'll show you exactly how it works.
Upload Feature Highlights:
Upload one song or as many songs as you want all at once.
Upload multiple formats for each song or ask SourceAudio to automatically create mp3's, AIFF's or WAV's for you - with no additional work for you to do.
Watch SourceAudio's smart upload tool read the embedded metadata in each file (whenever present) and intelligently fill in the track information on the site for you.
Use our batch operations tool at the end of the upload process to edit the metadata on each individual song or for all songs at once before you make them live on your site. This is great if you know you want all songs to belong to one album or a specific label - you tell us to update the whole list and it's done in one simple command.
Preview track playback and make sure all your metadata is tightened up before you publish it to the site. Once you publish, we create the waveforms and your new tracks are up and available on your site.
Step-by-step guide to using the new feature:
<br>
» Step 1: Go to the new "Upload Tracks" section of your Admin Panel
» Step 2: Click the "Choose Files" button and select all of the songs you want to upload
» Step 3: SourceAudio will read your metadata embedded in the files, prepare them for upload, and you just need to click "Start Upload" to proceed
» Step 4: Sit back and watch your upload progress
» Step 5: Your upload is complete, now move on to the next step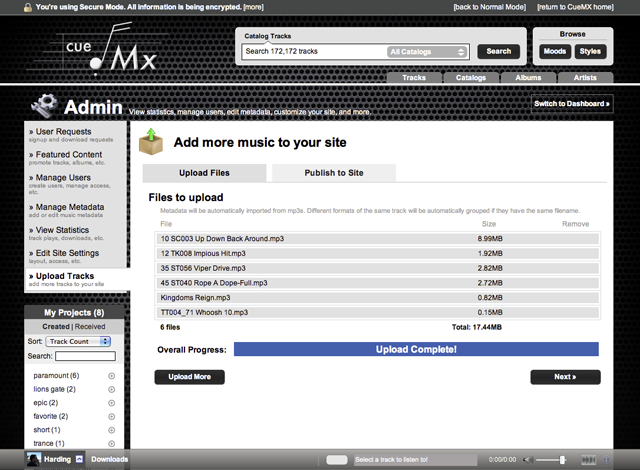 » Step 6 (Final Step): Edit metadata on one or more tracks at a time, attach alternate file formats to your tracks - or tell SourceAudio to auto-generate them for you - and then publish your tracks to your live site!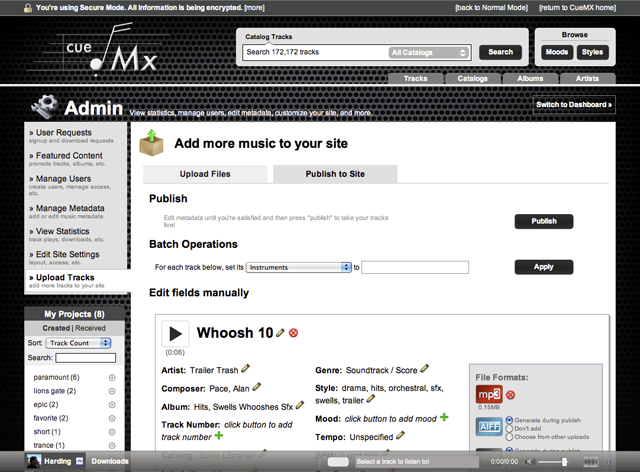 Now go give it a shot, it's super easy to use, extremely powerful, and will make your life of managing tracks, versions, metadata, and search & distribution a whole lot easier!