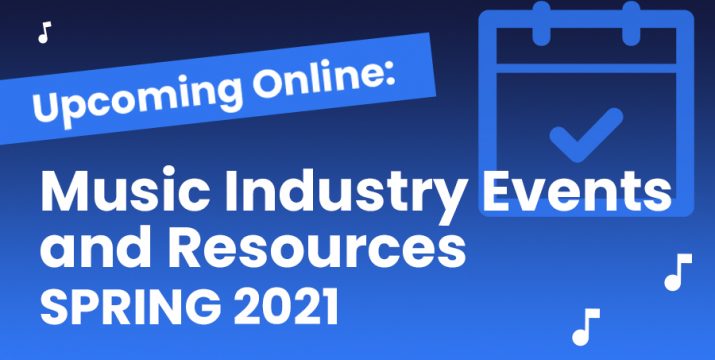 Check out our handpicked list of the best online resources for composers and music businesses in the coming months.
Music Week Tech Summit – March 31
Music Week Tech Summit is an exploration of how music and technology are working together in 2021 to help artists, managers, labels, and publishers reach new audiences. The virtual event will feature exclusive insights from the freshest start-ups on the block and the digital giants shaping the future of the industry. Speakers include executives from Universal Music Group, TikTok, Warner Music, Spotify, YouTube, United Talent Agency, Roblox, Ticketmaster, and many more industry leaders.
Register on the Music Week Tech Summit website, here.
Pan-Am Indie Summit – April 15
At the inaugural Pan-Am Indie Summit participants will engage with various trade organizations, meet other business owners through one-on-one networking meetings, and gain deep insight into the various markets across the Americas. The fully virtual event is jointly organized by A2IM (USA), ABMI (Brazil), ASIAr (Argentina), CIMA (Canada), IMICHILE (Chile), and WIN (global), and is designed to connect independent music communities ranging all the way from Alaska to Tierra Del Fuego. The full-day event will include panels, presentations, and more with the intention of creating a community and virtual social space for our members to collaborate. Pan-Am Indie Summit will be held on a new digital platform that offers additional opportunities for spontaneous interaction, such as an event lobby and breakout rooms.
Register on the Pan-Am Indie Summit website here.
Balanced Breakfast Virtual Music Summit 2021 – April 16 and 17
Join Balanced Breakfast virtually from their San Francisco HQ as they bring all of the BB groups together for their fourth National Music Industry Summit. Meet professionals from San Francisco Bay Area, Seattle, Portland, Los Angeles, Denver, Nashville, Austin, Charlotte, Reno, and more. Learn from panels discussing everything from social media to licensing. Balanced Breakfast is a group of local music industry professionals that meet for "breakfast" on a regular basis. Attendees talk about actions we can employ to keep local scenes as a place where musicians and industry professionals can make substantial progress in doing what they love… music.
Get tickets on the Balanced Breakfast website, here.
The Future Festival & Think Tank presented by WISE – April 21-24
WISE's Future Festival & Think Tank is a China-based global summit connecting thought leaders from creative, science, and tech communities. Now in its second year, the hybridized virtual/live event features a special "Island(s) of New Realities" segment in which "protagonists from the metaverse", i.e. artists, musicians, gallerists, and technologists, join together in a panel format to discuss futurism and art. Operating in partnership with Reeperbahn Music Festival, musical artists from Reeperbahn will be joined by a delegation of 50+ European music industry professionals who will be meeting their Chinese counterparts to participate in panel discussions and virtual company visits.
Learn more on WISE's official website, here.
jazzahead! – April 29-May2
From April 29 to May 2, the jazz world will meet digitally for four days at jazzahead! to network, exchange ideas, attend conferences and panels, and experience 32 showcase bands in the official program. The event will take place via a virtual platform that enables the active participation of exhibitors and specialist participants. jazzahead! will offer a variety of networking opportunities, both one-on-one and for larger groups. The jazzahead! digital experience aims to allow a fluid exchange within the international scene under the best possible professional conditions, despite the pandemic, according to the jazzahead! motto, "close together from afar".
Register on the jazzahead! website, here.
Canadian Music Week Virtual Conference – May 18-23
Now in its 38th year, Canadian Music Week is Canada's leading annual entertainment event dedicated to the expression and growth of the country's music, media, and entertainment industries. The conference aims to provide a platform for domestic and international delegates to exchange ideas, explore trends, conduct meetings, and make connections, all completely online. All functions will take place virtually from May 18-23 as the entire event combines multifaceted, information-intensive conferences, a trade exposition, awards shows, and the nation's largest new music festival. Detailed schedule TBA.
Get tickets on the CMW website, here.