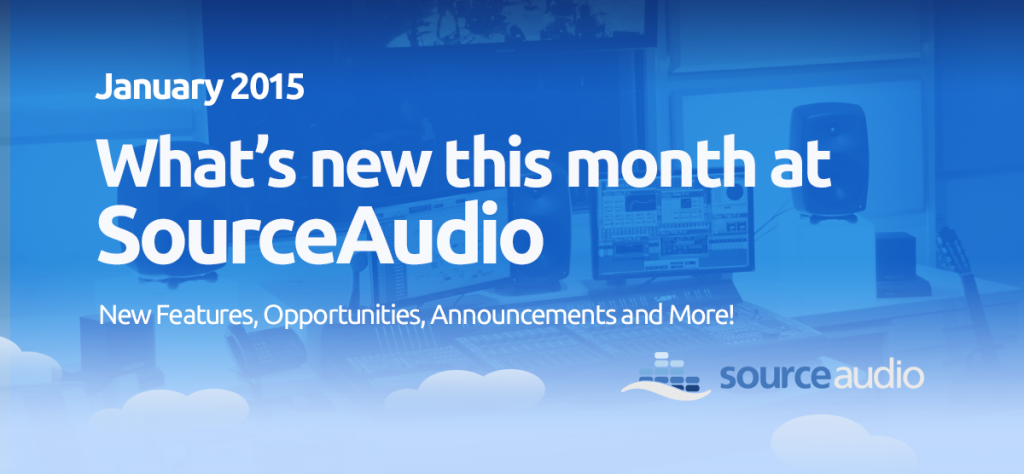 » SourceAudio Welcomes Hunter Williams to Our Team

We are incredibly excited to announce Hunter Williams as the newest addition to our management team. As many of you already know, Hunter is a very respected and distinguished professional in the music industry with 20 years of experience in management and executive roles at a leading music rights organization (SESAC). He is also currently the Executive Director of the Production Music Association.
Hunter will be our leading force behind several exciting new initiatives we will be announcing this year. His masterful understanding of copyright & asset management, the PRO space, and his vision of the current landscape, opportunities, issues and new solutions that can be realized through technology make him an absolutely perfect fit for our team. Please welcome Hunter to SourceAudio the next time you see him and feel free to contact him anytime at hunter@sourceaudio.com.
» NAB 2015 -- Make Sure You Come See Us at The Wynn!
SourceAudio will be exhibiting again this year at NAB, this time we won't be on the show floor but we'll be in one of the official NAB exhibitor suites at The Wynn! We will be hosting a variety of fun sessions, cocktail hours and much more in the suite so be sure to come by and see Dan, Geoff, Andrew and Hunter while you're in Vegas!
» New Feature Updates & Enhancements
Album Genre Filters: You can now assign genres to albums making filtering albums by genre a new standard feature on your site! Assigning album genres works just like any other metadata field - by editing the album on the site or by using a spreadsheet - and once your albums have assigned genres the new genre filters will instantly appear on your album list page.
We also helped you get started with your album genres! If your albums contained all tracks from the same genre then we already applied that genre to your album as well so there's no work to do on your end. Your album genre filters should be live and working right now!
The New Genre Page: We recently added a new standard page to all sites -- the Genre browsing page. To preview this page simply go to your site and replace the end of the URL after the last "/" with "#!genres" so that it looks like this: yoursite.sourceaudio.com/#!genres . To enable your new Genres page just visit the Tabs tool in your Admin Panel. You'll see it as a new standard tab that can be added just like tracks, albums, catalogs, labels, artists and composers.
The new genre page simply pulls in all of your site's genres and displays them in alphabetical order. Give it a shot!
File Delivery Tool Enhancements: We further improved the speed of our new file delivery tool and we added several new delivery agent/partner "presets" including Soundminer, Soundmouse and many more. If you haven't tried out our fully-integrated, low-cost file delivery tool that allows you to send formatted music and metadata to any of your agents/partners, you should give it a shot! The first 100GB of transfer are free!
» New Licensing Opportunities - Red Fuse/Colgate
Red Fuse, Colgate's dedicated agency within the WPP family, is in need of temp animatics for over 1 hundred projects this year. These temp spots will be for internal use only but there's always a good chance for some temp love! Check out the full details of this new opportunity in the Programs and Opportunities section of your Admin Panel and if it sounds like a good fit for you, opt-in and sign the agreement digitally on your site to enroll!
We have some big announcements coming in 2015 that we can't wait to tell you about. Stay tuned!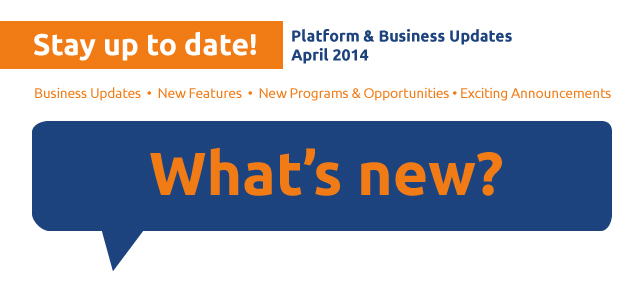 Lots of great stuff happened in April - let's get right into it!
» Business Updates
SourceAudio added 33 new sites to the platform in April, our fastest-growing month ever. Thank you to all of our clients both new and old -- we're just getting started!
We produced and distributed a new audio demo reel for Alpha Music Libraries. Whether you're part of Alpha or not, it's a cool listen so check it out by clicking the big blue play button right here when you have a minute. Eric Chase - a long time radio pro and a voice we've all heard on stations across the country for many years - performed the VO for us and we think he nailed it.
Alpha Music Libraries continues to add new stations and clusters and we're gearing up for a big second half of 2014!
» New Partners & Opportunities
We're working closely with two great companies to help copyright owners & representatives on our platform better monitor and collect on their assets. These new services benefit both rights holders and broadcasters so we encourage everyone to take a look.
License ID: The future of audio copyright protection is now. Learn how it works »
Royalty Vault: Royalty auditing and income tracking services. These guys are true experts who can seriously help you collect. Learn More »
» Product Enhancements & New Features
Here's what's new on the platform in April:
AVID EDL Cue Sheet Creation Tool (BETA): Upload Avid EDL's and quickly generate, organize, save and send cue sheets from your SourceAudio site. Just look for the new "Upload EDL" button at the top of any cue sheet on your site and give it a shot!
Lyric Search: Our new friends at Epitaph Records helped us make this a priority in April and we think a lot of you will enjoy it. If you have a "Lyrics" field in your metadata you can now search for words or phrases and we'll return track results that contain lyric matches. Look for the new "Lyrics" tab on your search results page the next time your search term appears in any song lyrics.
» What Else Are We Working On?
Lots of great stuff coming soon. Here are the highlights:
License ID: We're still cranking away at integrating License ID's watermarking technology into the platform. We're true believers that it'll be a game-changer and we're putting the resources behind it so that it's seamlessly available to you via your SourceAudio site. Stay tuned for the launch date!
3rd Party File Delivery Tool: For all of you who need to deliver files and metadata to 3rd party partners, agents, or clients, this new tool is going to make pushing updates to them easier than ever. You will simply set up the unique delivery requirements for each partner just once, save their settings for future use, and deliver your files and metadata to them with just a couple easy clicks. We're excited about this one and we know it's going to save many of you some serious time and effort delivering files in the future.
That's it for April. More great stuff coming very soon...stay tuned!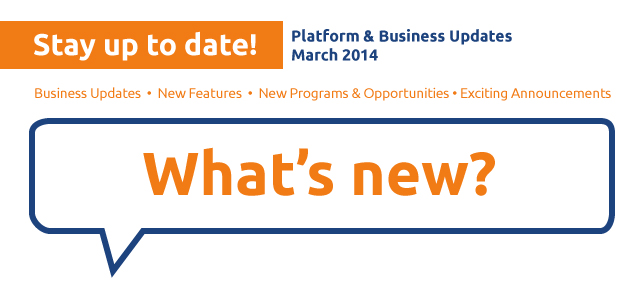 We're always working away on new features, programs and opportunities for all of our partners on the platform. We have a lot of great stuff to share with you this month so let's get right into it!
» Business Updates
Alpha Music Libraries has officially launched and we're excited to announce that we've already signed several radio station cluster blanket deals in large U.S. markets! Word is out that we've got the newest, freshest, and largest production music product for radio and stations are jumping on board. In addition to the clusters who have already signed, we've got a TON of demos out to stations across the country and we're excited to get them on board soon as well. All great news for each of you Alpha Music Libraries program participants!
Our new YouTube channel recently launched and we'll be adding more and more tutorial/walkthrough videos to it over time. Jarrett is knocking those out on a regular basis so feel free to point your clients and team members to this great video how-to resource anytime they would like a little instruction on how to best use the platform. You can find it anytime right here: https://www.youtube.com/user/sourceaudiocloud/feed
We will be at NAB all week long, and we're sharing a booth with 5 Alarm Music so if you're going to be at the show in Vegas during the first week of April, come by and see us!
» New Licensing & Distribution Opportunities
There are two new licensing & distribution opportunities we will be making available to you in the Programs & Opportunities section of your admin panels within the next few weeks. Stay tuned for full details on the two following licensing programs coming your way soon!
Radley Studios: Presented by Clutch Music Supervision, make your music available for license in television shows & specials created by Radley Studios.
CORE Media: Also presented by Clutch Music Supervision, make your music available for license in television shows & specials created by CORE Media.
» Product Enhancements & New Features
Here's what's new on the platform:
SOLR 4: We upgraded to the newest version of SOLR - the core search tech that powers many/most of the content and media sites we all use everyday - so searches and page loading is faster than ever.
New artist pages: We've enhanced the artist and composer pages to show larger images and to also display the artist/composer's bio whenever it's available in the metadata.
Send Grid: Send Grid is a great tool that helps system-sent emails to arrive in the recipient's inbox instead of their spam folder and it works great. SourceAudio now runs Send Grid to be sure your emails are always received and tests show that it's working incredibly well.
Multiple playlist tabs: Now when you publish playlists you can assign it to more than 1 playlist tab. Playlist tabs can be named and managed like any other tab and you can have as many as you'd like! Just publish a playlist and you'll see how to create your newest playlist tab.
Audio player enhancement: You'll notice that the player at the top of the site now always displays a small timeline scrubber, making it very easy for users to scrub through songs when they navigate away from the page they were on or when they are viewing their tracks in simple mode (sans waveform).
Stem/Alt-mix zip file downloads: Now you and your users have the options to download all related stems/alt mixes for a track when alt mixes are present and available. The download experience is the same as it was before, but you now have the option to download the single file or all related files at once.
» What else are we working on?
Lots of great stuff coming soon. Here are the highlights:
License ID: We're integrating a new technology created by our friends at Audiosocket called "License ID" that will allow copyright owners to more effectively manage and track their licensed audio files through a new watermarking and monitoring technology. Full details coming soon!
Shazam: In the near future anyone hosting music on SourceAudio will be able to instantly have their music assets fingerprinted and indexed by Shazam, making their music instantly identifiable by anyone who tags a piece of content containing their song(s). This opens up some really cool identification and post-engagement opportunities for music reps and brands associated to the content.
We hope you enjoyed this month's update. Stay tuned for another update next month and we look forward to seeing a lot of you in Vegas!