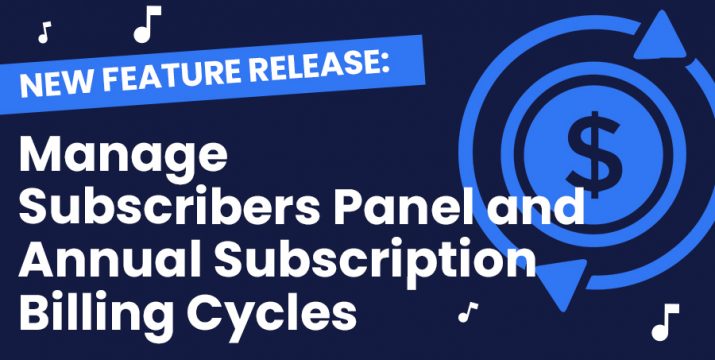 New Feature Release: Manage Subscribers Panel and Annual Subscription Billing Cycles
We're very excited to announce two powerful new enhancements in the e-commerce suite!
Manage Subscription Status and Download Credits
The e-commerce panel now features a new sub-tab called Manage Subscribers.
From this page, site administrators can look up any user account and see all the details of any active subscription. Start typing in a user's name or email and you'll see their name, email, subscription plan name and status, the number of download credits the user currently has available on their account, and an option to terminate the user's subscription.
When viewing a user's currently allotted download credits, you can change that number and click save to adjust the number of download credits available. Issue or revoke credits at any time to make refunds or account adjustments seamless and hassle-free.
Offer Annual, Quarterly, or Any Multi-Monthly Billing Cycles
E-commerce subscription plans can bill and renew on any monthly basis. For example, a subscription plan can renew every one month, every two months, every three months, etc.
Set long-term, bulk plans at a discount to lock-in big clients. You can even offer a yearly plan of equivalent value to a monthly plan at a discounted price to entice a buyer into signing up for longer.
Set a plan's billing and renewal cycle during its creation process in Braintree. Log in at braintreepayments.com, then go to Subscriptions > Plans > New Plan, where you'll see the Billing Cycle field to bill every _ months.
If you're unfamiliar with Braintree or want to learn more about e-commerce, check out our complete guide to the e-commerce suite powered by Braintree.