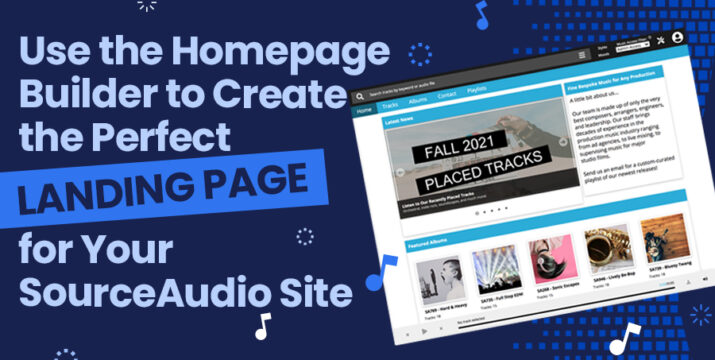 Use the Homepage Builder to Create the Perfect Landing Page for Your SourceAudio Site
The SourceAudio homepage builder makes it easy for site admins to create a beautiful, high-functioning landing page for their SourceAudio library site.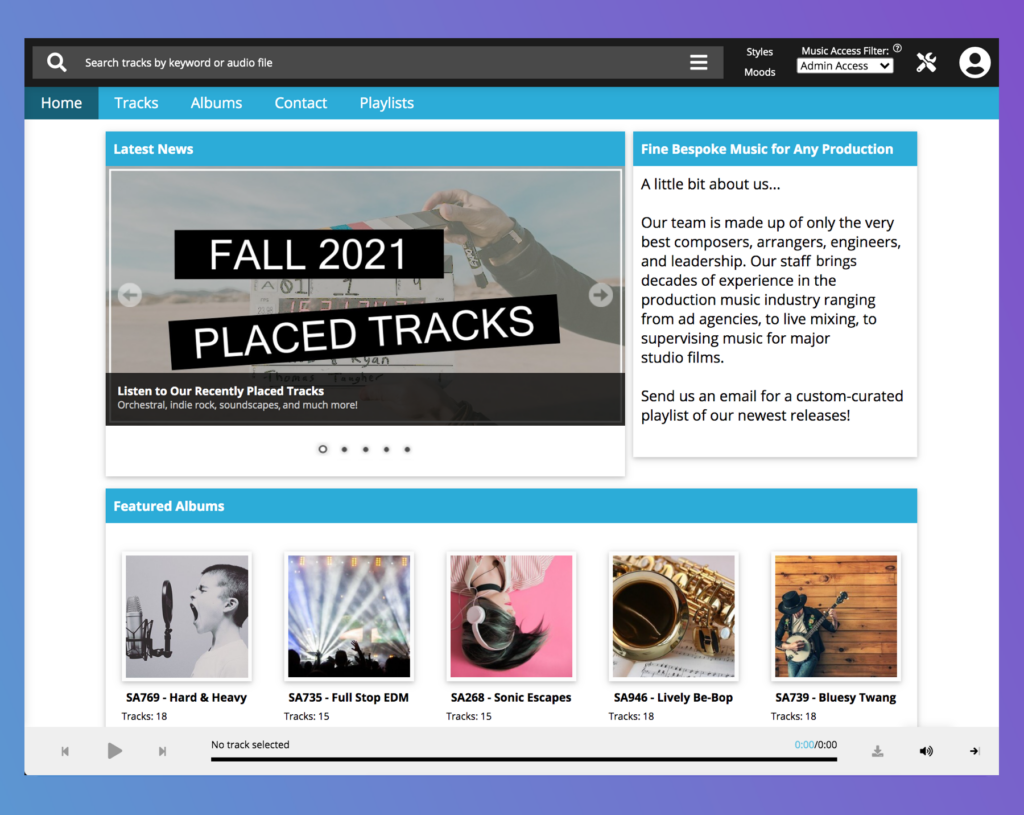 The tools require no programming knowledge. Simply head to the page builder in your admin panel, then drag and drop items from the Available Components section on the right-hand side into the layout section in the center of the page. As you position your components, they'll change shape to fit into your design.
Most components' contents can be edited from the homepage builder, while "featured" components import their content from the "featured" material you've selected.

Here's a quick breakdown of each component available for your homepage.
Carousel
Show off branding material, recent placements, or any graphic you'd like to display in an image carousel. Customize the rate at which images change and add informative subtitles to your images (or let the graphics speak for themselves).
Text Block
Add a text block component that can feature text, graphics, links, or even an embedded video. Within a text block component, you'll find all the same tools available to customize the contents of a custom page, providing a multitude of customization possibilities.
Blog List
The blog list component provides a panel that displays listings for all the stories you want to share with your clients. Add as many blog entries as you'd like, and they'll appear as clickable listings that each lead to a unique full-page display. Add images and stylized text formatting. You can even embed with HTML, as each blog entry offers the same editing tools as a custom page or text block.
Social Links
Enter the links to your company's Facebook and Twitter profiles, and each connected social account will display a "Follow" button for each channel.

Featured Tracks, Albums, Artists, Labels, Catalogs, and Playlists
Unlike other components, "featured" components synchronize in real time with selected "featured" content. To review this functionality, head to the Featured Content tab in the admin panel, where listings can be added, removed, or re-ordered to affect which items are displayed in a featured tracks, albums, artists, labels, catalogs, or playlists component.
When you're happy with your landing page, link it to a tab in your navigation bar so that your site visitors can easily find it at any time, and fill in the "Home" bubble to designate this as the landing page for your site URL!
Looking for deeper customization?

Create a fully customizable page on your SourceAudio site with our custom page builder.